Are you experiencing the Spotify not downloading songs issue on your smartphone? There are several factors that can cause this problem such as a very slow internet speed, corrupted Spotify app cache, or even an outdated app just to name a few. You will need to perform several troubleshooting steps to fix this problem.
Spotify is an audio streaming and media services. It has over 422 million monthly active users, including 182 million paid members, making it one of the biggest music streaming service providers. More than 82 million songs, including those with digital copyright restrictions, are available on Spotify from record labels and media firms. Basic functions are free with commercials and restricted control as part of a freemium service, however other capabilities like offline listening and commercial-free listening are only available with paid memberships. In October 2021, there are 180+ nations where Spotify is accessible. Users can make, update, and share playlists and search for music based on an artist, album, or genre.
Spotify app does not download music? Here's how to fix it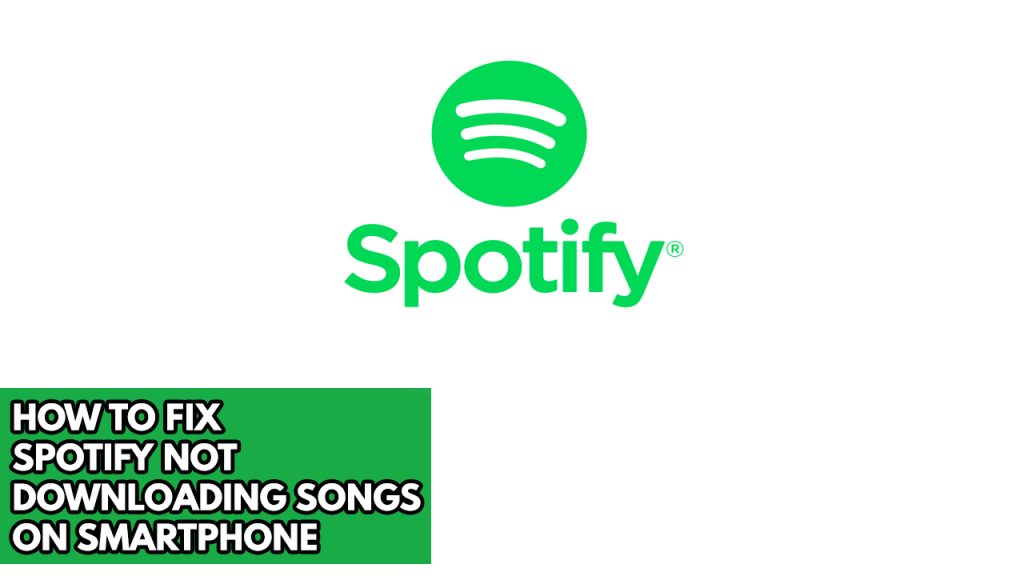 The music not downloading issue is one of the problems you could run into when using the Spotify app. This can be difficult, especially if you want to listen to your playlists offline or without a mobile phone or Wi-Fi connection.
Here's what you can do to fix Spotify not downloading songs issue.
Solution 1: Check your internet connection
In this situation, you must first check that your smartphone has a good internet speed. Making sure that the download speed is quick in particular can help you download the songs much faster.
With the use of online speed test checkers like speedtest.net, you can determine your internet speed's current condition is good for mobile download.
Checking internet speed
Step 1: Open your browser on your phone. Choose any preferred internet browser you want.
Step 2: Type speedtest.net to have your internet speed check. Speed test site is one of the most popular web tools to check your connection speed.
Step 3: Press the Go button. Pressing Go button will start the speed test.
Step 4: Wait for the results of the speed test to be completed. Find out how fast you can download and upload.
Watch the download, upload, and ping results carefully. How well your connection performs will be determined by these results.
By following these instructions, you can determine if your networking hardware is to blame for a Wi-Fi network connection that is unstable.
Step 1: Your smartphone should be turned off.
Step 2: Remove the power cords from your Modem and Router.
Step 3: Reconnect your modem and router to the power supply after a minute and turn on the devices.
Step 4: Wait for the lights to come on again.
Step 5: Turn on your smartphone.
Step 6: Reconnect your phone to the internet.
Here's what you can do to avoid any possible network issues.
Step 1: While using the Spotify app, try to unplug any other WiFi-connected devices. The gadget will be able to use the full amount of internet bandwidth as a result.
Step 2: When using Spotify, get closer to the router. The device will be able to get a significantly stronger Wi-Fi network signal as a result, which will speed up the connection.
Step 3: If your router has two bands, consider connecting to the 5 GHz frequency rather than the 2.4 GHz band.
Additionally, you ought to try turning off your phone's Wi-Fi connection and enable mobile download via your cellular network. Your phone will utilize the data connection from your network in this manner.
Verify that your account has enough data credits for cellular data networks. It's important to avoid having a slow internet speed if you use mobile data to download Spotify songs. It's ideal for your phone to have a 4G LTE or even 5G signal and have proper internet connection to download music.
Solution 2: Restart Spotify
Restarting the Spotify application is one of the quickest ways to solve this download music issue. It's conceivable that the issue is due to a brief app bug that prevents the Spotify tracks from downloading. Simply restart the program to resolve this.
Force close Spotify application
Step 1: Open the Settings menu.
Step 2: Select Apps & Notifications.
Step 3: Select App Info.
Step 4: Find YouTube Music and select it.
Step 5: Tap the force Stop icon.
Step 6: Tap Ok to continue.
Open the app again then check if the Spotify not downloading songs still occur.
Solution 3: Check storage space permission for Spotify download
It's possible that Spotify is not permitted to access the storage on your phone. The app needs your permission in order to download songs you've chosen.
spotify storage permission
Step1 : Open Settings.
Step 2: Go to Apps.
Step 3: Go to Manage Apps.
Step 4: Select Spotify.
Step 5: Tap App permissions.
Step 6: Make sure that storage is selected.
Solution 4: Clear app cache files
Spotify's cached data being corrupted is another reason why downloading a song will fail. Since this would enhance the user experience overall, the majority of apps will keep the most frequently used data in the cache memory. But occasionally, this cache may get messed up and cause problems.
Clear cache YouTube Music
Step 1: Open Settings.
Step 2: Tap Apps. Select All apps.
Step 3: Select YouTube Music from the list of available apps.
Step 4: From the App info screen, open Storage.
Step 5: Tap Clear cache.
Solution 5: Update Spotify
Use the most recent Spotify version if possible because it has numerous bug fixes and new features. The download playlist issue you are seeing may probably be resolved if you update the app to the most recent version.
Updating Spotify on Android smartphone
Step 1: Access Play Store app .
Step 2: At the top right, tap the profile icon.
Step 3: Tap Manage apps & device. Apps with an update available are labeled "Update available."
Step 4: Tap Update.
Solution 6: Reinstall Spotify
If the problem continues, a corrupted app may already be to blame. Install a new version of Spotify from the Google Play Store or App store after uninstalling the current one to fix Spotify not downloading songs issue.
Frequently Asked Questions
Who is the #1 artist on Spotify?

Ed Sheeran with 82 million monthly listeners.

How much does Spotify pay per 1000 streams?

It is between $2 and $4 per 1000 streams on Spotify.

How much does Spotify pay for 1 million streams?

One million streams on Spotify might bring anywhere between $1,000 and $8,000 for an artist.

What is the number 1 podcast on Spotify?

The Joe Rogan Experience. Before joining Spotify, "The Joe Rogan Experience" was the most downloaded podcast in the US in 2023, and it currently holds the top rank as the most listened-to podcast of 2021.

Is Spotify free with Amazon Prime?

Using Amazon Prime won't grant you free access to Spotify premium account.