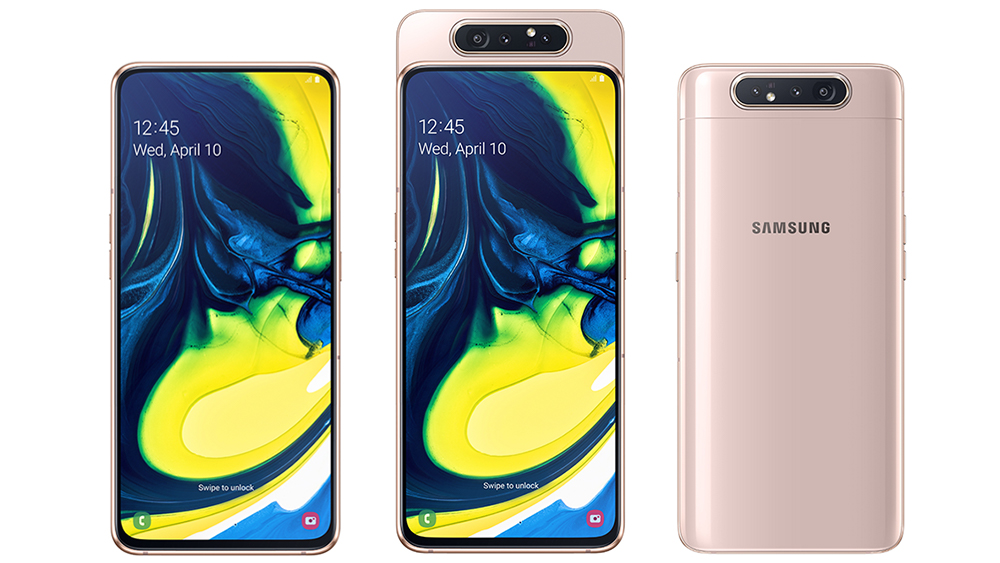 Samsung officially announced that consumers will be able to purchase the Galaxy A80 later this month. Coming in as a mid-range device, the Galaxy A80 shares a lot of design aesthetic with the Galaxy S10.
There's actually a very unique aspect to the Galaxy A80 — a rotating camera module. Pull the camera upwards, and then rotate it 180-degrees, and you have a wicked front-facing or rear-facing camera setup. The camera is a 48-megapixel lens with a Ultra Wide Lens and 3D Depth Camera.
The screen is bigger than ever at a whopping 6.7-inches in size. It's got Full HD resolution, instead of the Quad HD we see on Samsung's flagship devices.
As far as other specs go, it's got a  Snapdragon 730 processor, 8GB of RAM, and 128GB of internal storage. Keeping the lights on is a 3,700mAh battery, and it ships with Android 9.0 Pie installed.
The Galaxy A80 will be able available in Malaysia, Central America, Europe, and parts of Africa. Price will vary depending on the market it's bought in.
source: Samsung