The highly anticipated Samsung Galaxy Z Fold 5 has been under the spotlight in recent weeks, with leaked renders hinting at a fresh design and improved features.
MySmartPrice recently shared the first-ever leaked press render for the upcoming foldable smartphone, revealing significant changes such as a virtually gapless folding design and support for S Pen.
Enhanced Hinge Design Enables Flat Folding
One of the most critical aspects of any foldable phone is its hinge mechanism. The Samsung Galaxy Z Fold 5 is expected to sport an upgraded hinge system that eliminates the teardrop-like gap seen in previous models, allowing it to fold completely flat.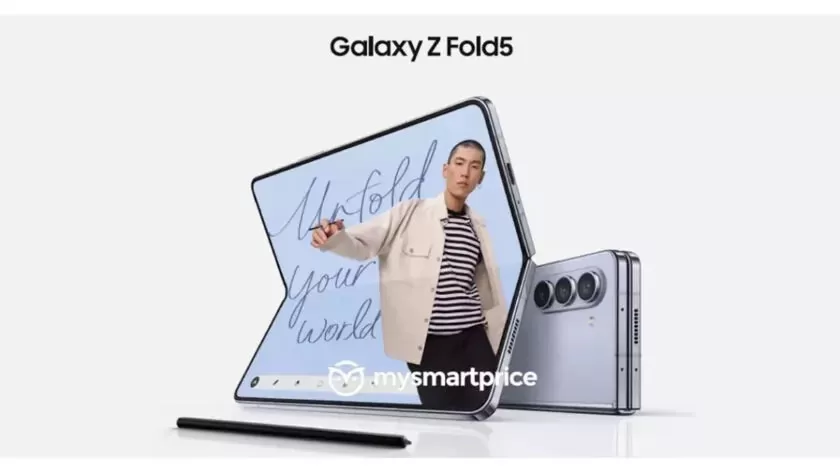 This could tremendously improve usability and durability, given that dust and pocket lint will have fewer chances of entering the inner display.
Slimmer Bezels and Display Enhancements
Another notable change hinted at by the leaked render is the reduction in bezel size around the inner display. While official press renders sometimes have exaggerated bezel dimensions, getting an almost bezel-less inner display would be an appealing design upgrade.
As for the display technology, leaker Yogesh Brar shed light on the phone's specifications. The main foldable panel could be 7.6-inch AMOLED with a 120Hz refresh rate, while the external screen may measure 6.2 inches with an HD+ resolution.
S Pen Compatibility but No Built-in Slot
The leaked render also confirms the compatibility of Galaxy Z Fold 5 with Samsung's S Pen stylus. However, there seems to be no dedicated slot incorporated into the device's design for storing it when not in use; this aspect might disappoint some potential buyers, as it reduces convenience.
Powerful Performance Specs
The leaked information also suggests that Samsung Galaxy Z Fold 5 will be powered by a Snapdragon 8 Gen 2 SoC processor, coupled with up to 12GB of RAM and 1TB storage.
The foldable phone may come with a 4,400 mAh battery supporting 25W charging and feature One UI 5 based on Android 13.
Upgraded Camera Setup
The new Samsung Galaxy Z Fold's camera system seems to have received an upgrade as well. We expect a triple-rear unit with a 50MP main sensor, alongside a 4MP under-display selfie camera inside and a 10MP one on the external display.
Upcoming Launch Event Confirmation
Although an exact launch date has yet to be confirmed, Samsung is set to introduce the Galaxy Z Fold 5 and its sibling, the Galaxy Z Flip 5, at an event in Seoul at the end of July. Availability for these devices is anticipated in early August.
With its cutting-edge design elements, powerful specifications, and enhanced usability, Samsung Galaxy Z Fold 5 promises to be a beautiful addition to the already-enviable range of foldable smartphones offered by the company.