Applications make your phone more useful but they too may cause some issues. In this post, I cited some app-related problems with the #Samsung #GalaxyS6 including issues with the stock Email client. The first problem is about the Spam Filter icon that disappeared.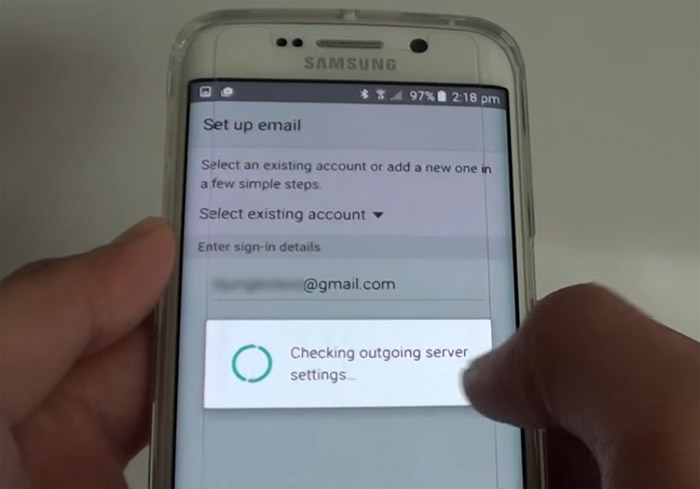 Continue reading to learn more about other problems I cited in this article and how to address them. Some of them may happen to you any time. It pays to know what to do just in case. Here's the list of the issues you can find here…
For those who have other issues, you may visit our S6 troubleshooting page and find issues that are similar to yours. You may use the solutions we provided. However, if you need further assistance you can always contact us directly by completing this form and hitting submit after. Make sure you include all important details about your problem.
---
Galaxy S6 Spam Filter icon disappeared from the stock email app
Problem: I don't have a spam folder for email.  How can I filter out the spam?  I use Roadrunner.  After opening a spam email and tapping MORE, the options that are listed are:  Mark as unread, Save email as file, Add to Priority senders, Compose new email, and Print.  I took the phone to a Verizon store and they are baffled.  He tried removing the email and reinstalling and that didn't help.  This has been from the beginning when I got my new S6.
Troubleshooting: The Spam folder is one of the default folders when you setup your email account, so I believe it's still there. To find it, open the Email app and when you're on the inbox where you can see your messages, tap the arrow pointing to the left located on the top-left corner of the screen to view existing folders and then scroll down a bit. You should see the Spam folder there.
Now, about filtering spam emails, this issue is settings-related. I understand you already took the phone a Verizon store and their technicians were also baffled upon seeing there's no spam filter option. The thing is, you guys may be looking at the wrong screen; try going back to inbox (where you can see the list of your emails), tap and hold on the offending message until checkboxes appear on the left side of each message. Now, you should see some new icons at the bottom; find the icon that looks like a "crossed out circle" with a plus (+) sign on it. That's the Spam Filter button you're looking for.
However, if you the spam filter button isn't one of the icons, then the problem has something to do with the settings. You need to remove the account and set it up again using IMAP and not POP3. I don't know what kind of email, you use but if you need assistance, you better contact your provider's tech support and ask them to guide you through setting up an IMAP account on your phone.
Owner having difficulty saving contacts from call log
Problem: In trying to save phone numbers to contact from call log, it defaults to the google account and it appears the only way I can move it to my device is to cut the number out from the google account (where the phone automatically places the number by default) select the device tab and paste the number there. This is very frustrating. Any ideas will be helpful.
Answer: I'm not so sure what you meant by "google account" because it seems to me like you're referring to a certain app. There is, however, no app that's called Google Account. But the way to fix this issue is to determine what app pops up when you're trying to save a number and then reset its defaults:
From any Home screen, tap Apps.
Tap Settings.
Scroll to 'APPLICATIONS,' then tap Application manager.
Swipe right to the DOWNLOADED screen.
Scroll to and tap the app in question.
Tap Clear defaults.
Gear VR app keeps popping or starting up on the Galaxy S6
Problem: Gear VR app is starting on its own and the screen turns black with a white x in the corner. The device doesn't switch off and when its restarted it goes back to black screen with x and the device can't be used. I never downloaded this app and I've only had the phone 1month its brand new.
Troubleshooting: First of all, try to check the microUSB port on your phone to see if there is some kind of a debris or lint or if one of the pins got bent and touches the other. Clean it out if you see something strange or try to straighten out the bent pin with a toothpick. Also, if this is the case, you may need a technician's help if you can't do it.
However, if there's no debris or if all the pins are good, then the only option left for you to do is disable all Gear VR related apps and services via Applications Manager.
From any Home screen, tap Apps.
Tap Settings.
Scroll to 'APPLICATIONS,' then tap Application manager.
Swipe right to the DOWNLOADED / ALL screen.
Scroll to and tap the app that has Gear VR in its name.
Tap Force Stop or Disable.
Galaxy S6 showing "Unfortunately, Email Sync has stopped" error
Problem: Hi!  Thanks for being a great resource!  I am constantly receiving the message "Unfortunately, Email sync has stopped".  But the emails ARE syncing.  I use the stock email app.  This just started happening last week or so.  This message pops up every 2 minutes and constantly interrupts other things I am doing.  I cleared the cache and data from all the app features and I wiped the partition cache.  I played with notifications etc and nothing is fixing this.  HELP!  Thanks. – Eric
Troubleshooting: Email Sync is one of the pre-installed services that handles all syncing process of all email clients in your phone regardless whether they're pre-installed or third-party. So, the best way to troubleshoot this problem is to boot the phone in safe mode to immediately isolate the issue.
Turn off your Galaxy S6.
Press and hold the Power key.
When 'Samsung Galaxy S6' appears, immediately release the Power key and then press and hold the Volume Down button.
Continue holding the Volume Down button until the phone finishes the restart.
When you see Safe Mode on the lower left corner of the screen, release the button.
While in safe mode, observe closely if the error still pops up. If so, then it's a firmware issue more than anything else, otherwise, there is an app that might be crashing and it might be the reason why the Email Sync service is also crashing. In this case, find that app and uninstall it, otherwise, you need to do that factory reset but before that, you need to backup your data.
From the Home screen, tap the Apps icon.
Find and tap the Settings icon.
Under the 'Personal' section, find and tap Backup and reset.
Tap Factory data reset.
Touch Reset device to proceed with the reset.
Depending on the security lock you used, enter the PIN or password.
Tap Continue.
Touch Delete all to confirm your action.
User has difficulties editing contacts information on Galaxy S6
Problem: I have a new S6 and have trouble with the contacts editing, I cant do these:
Photo – If you want to assign a picture to the contact, tap the Contacts Photo icon.
Name – Option to enter the contact's name.
Phone number – Option to enter the contact's phone number.
Email – Option to enter an email address for the contact.
Groups – Option to assign the contact to one or more contact groups (optional).
Ringtone – Option to set a specific ringtone for the contact.
Add Another Field – Option to add more contact details like Address, Notes, Nickname, Relationship, and more.
Except I can add name, number and email, nothing else. My partner has the same phone and she can. Help please.
Answer: It might be just a bug or a glitch in the system but these things happen all the time. There aren't no permanent fix for this issue yet but there sure is a workaround. Try this:
Take note of contact info.
Deleted the contact.
Now create a new contact with the same information.
I hope this helps.
Spams aren't filtered on stock email app with Yahoo email
Problem: Using the standard email app with my yahoo account, I get hundreds of emails a day (mostly spam). The problem is, I do not see these same emails when I check my email on my laptop.  I am assuming Yahoo is killing these for me but the app is bringing them in. The 2 inboxes never seem to match. Can I fix this?
Answer: That's right! When using the stock email app, you need to manually set filters for unwanted messages and it will take time trying to add hundreds of spam emails to your spam lists. This is isn't an actual problem because that's how things should be when using the app but there's one way you can stop all this–use the official Yahoo Mail app. It has access to Yahoo's servers and settings, just what you need to make your email work the way you want.
BonTon app no longer works on Galaxy S6
Problem: Had some issues with my email.  Resolved those but installed and uninstalled some of the above mentioned in trying to do so.  Now, my BonTon app which was working just fine, no longer shows the scannable barcode for coupons.  It just shows a box.  I uninstalled and reinstalled it many times, but that doesn't help. 
PS:  I work there so I buy a lot of stuff.  The app is great when it' working.  What did I do?  How can I fix it?
Suggestion: It might that the app is no longer compatible with the system or may have some issues with it but try doing this:
From any Home screen, tap Apps.
Tap Settings.
Scroll to 'APPLICATIONS,' then tap Application manager.
Swipe right to the DOWNLOADED / ALL screen.
Scroll to and tap the app in question.
Tap Clear cache.
Tap Clear data, then OK.
Tap Uninstall and confirm your action.
This time, try downloading it from the Play Store again and see if that works. If not, it's time you contacted the developer about it.
One of two Gmail accounts doesn't sync properly on phone and PC
Problem: I have two Gmail accounts, personal and business.  Both show as syncing regularly and both operate fine on the phone.  However, the business account does not update to the PC and vice versa.  The personal account is working fine both ways.  This has been going on since I got the phone and I have tried all the workarounds on this site, including reinstalling and everything else.  I even tried accessing my business account with Outlook, but it too did not sync with my Gmail on the PC.  It is very frustrating.  How can this be solved?
Suggestion: For this kind of problem, we really need to do some tests to know what the problem really is but sadly, we cannot do that and considering there isn't enough information we really can't assume things. But here's one thing that might work–setup one Gmail account on the stock email app and use the official Gmail app for the other. I hope this helps.
Galaxy S6 could not share .VCF files
Problem: I had a S3 prior to my S6. I could share name cards vcf that include full info on the contact I wanted to share. Name, address, phone #s, email. With S6 you can only send name, 1 phone # which you can't choose and email.  It also doesn't format so that receiver can add to their contact list with a click of a button. Am I missing something? The old .vcf share cards were awesome.
Answer: There are some features that no longer exist on the new Galaxy devices and we really can't anything about that. For .VCF files, they can't be opened by any app in your phone and save the contacts automatically. However, your phone has a default service that handles these kinds of files so the values inside the file will be populated as contacts.
Open the Contacts app, tap the More icon on the top-right corner.
Tap Settings.
Now touch Import/Export contacts.
Tap Import button.
Choose your preferred storage location.
Choose the .VCF files you want to import.
Tap Done.
Make Email app to load more than 25 emails at a time
Problem: Pre-installed email app will only load 25 emails at a time. If I don't swipe down to load more after deleting the first 25, emails will remain on the server unread. Most mornings I receive 60 emails and another 75 during the day. They are not automatically being shown on the phone.
Answer: Try opening the Email app, tap More and then Settings. Under More settings, find the option Number of emails to load and change its value.
Galaxy S6 shows like a remote beaming Wi-Fi that's freezing the screen
Problem: When I turn my phone on a little icon will be on my screen that sort of looks like a remote beaming WiFi. I can move it around on the screen but when I try to tap it, it freezes my screen. I don't know what the app is or what it's supposed to do. I have the manually reboot my phone every time. And sometimes when I start it back up, the little circle isn't on my screen. And my phone works fine. 
Answer: I think you're referring to the Smart Remote app. If you're not using it, you can just disable it.
From the Home screen, tap Apps.
Tap Samsung apps, and touch Peel Smart Remote.
On its Home screen, tap the Settings icon on the top-right corner.
Touch Settings.
Scroll down to Remote Control section.
Toggle the switch next to "Show remote control on notification panel" Off.
Connect with us
We are always open to your problems, questions and suggestions, so feel free to contact us by filling up this form. This is a free service we offer and we won't charge you a penny for it. But please note that we receive hundreds of emails every day and it's impossible for us to respond to every single one of them. But rest assured we read every message we receive. For those whom we've helped, please spread the word by sharing our posts to your friends or by simply liking our Facebook and Google+ page or follow us on Twitter.