Having text messages that aren't arranged in chronological order is one of the issues many Samsung Galaxy S5 (#Samsung #GalaxyS5) owners encountered. It's easy to fix it but we understand why many are seeking assistance when it occurs. Everyone would think the issue is with the messaging app because the messages are messed but it's not. Read on below to learn how to fix this problem.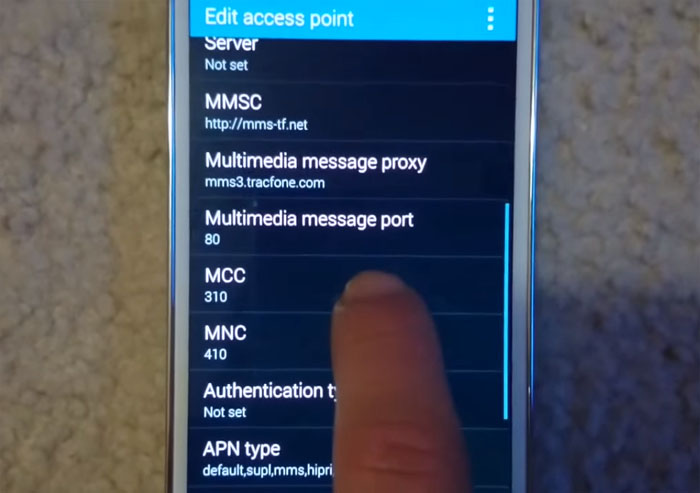 I included more messaging related issues in this post but many are related to MMS and/or group messaging. For these issues, it would always be wise to consult with your service provider, although you may try checking the APN settings to see if they're correct or not. For your reference, here's the list of the problems I cited in this article:
If you have other concerns and need further assistance, you may contact us directly by filling up this questionnaire. All we ask of you is sufficient information about your problem so please provide us all necessary details. You may also visit our S5 troubleshooting page and see if there are issues that are similar to yours. You may then use the solutions we already provided.
---
Text messages are not arranged in chronological order, S5 doesn't notify when messages come in
Problems: First things first, I have a Samsung Galaxy S5 Active. I can text people just fine, however my messages are always out of order i.e. in a conversation the recipients replies will appear as if I received them before I replied. Use the example below:
(other person): Hey, what's up (22:41)
(other person): About to leave work! (22:46)
(me): Not much, what about you? (22:42)
This happens all day. Sometimes it will seem as if I have gotten no responses yet they'll still be ordered as if I received them from my replies (imagine my example above) but the "other persons" responses are all on their side of the screen and my responses are on my side only. The time stamps even signify the in between responses.
The other concern I have is that when my phone is locked it will not make the noise for the notification, it will just light up as if it were on silent, so I'll end up not being notified of the message until I actually check my phone. Don't really know if this is a common problem or not but haven't been able to find answers searching online. Thanks in advance for the help!
Solution: This problem has been so common to Galaxy S5 owners and it always has something to do with the time and date settings in the device. It may seem like a very complicated issue but it's actually very easy to fix. That said, here's the first procedure I want you to do:
From the Home screen, tap the Apps icon.
Launch Settings.
Under 'System' section, tap Date and Time.
Make sure Automatic Date and Time, and Automatic time zone are checked.
I am almost certain this procedure alone can fix the problem but if ever the same thing happens when new messages come in, it must be something to do with the caches and/or data. So, you need to do this to fix the problem for good:
From any Home screen, tap Apps.
Tap Settings.
Scroll to 'APPLICATIONS,' then tap Application manager.
Swipe right to the DOWNLOADED screen.
Scroll to and tap Messages.
Tap Clear cache button.
Tap Clear data button, then OK.
The other problem you specified may also be fixed when the first one is addressed.
Galaxy S5 can receive MMS but can't send
Problem: Hello, I have a Verizon S5 and switched to cricket prepaid. The phone was working fine with MMS messaging for the most part (I was being included 2x in the group text). Anyway the actual issue is I traveled internationally and used the phone. I was not using data and had to reboot the phone due to charging issues. After rebooting the phone, I then bought a prepaid SIM card in the country and was able to text. When I returned to the US and switched back to the cricket SIM card, my MMS was having issues.
After going to cricket, they verified that my APN is correct. I am receiving MMS messages fine (group text, pictures, etc.) but cannot respond to group text or send pictures. I have:
Changed APN's to confirm its properly working
Verified with Cricket the correct APN
performed a SIM card switch at Cricket store
What is the next step to solving this problem? Please respond to this email. Thank you!
Troubleshooting: I understand you already did everything to fix this problem to no avail so I think it's time you did the master reset and then reconfigure the APN. As far as MMS is concerned, coverage, account status and correct APN settings are the three requirements to make things work. But since you've already verified all of them, it's time to bring the phone back to its factory settings and set it up again.
Backup everything including your contacts, pictures, apps, settings, etc. using Samsung Smart Switch. Then, remove your Google account and disable all screen locks and follow these steps:
Turn off the device.
Press and hold the following three buttons at the same time: Volume Up key, Home key, and Power key.
When the phone vibrates, release the Power key but continue to press and hold the Volume Up key and the Home key.
When the Android System Recovery screen appears, release the Volume Up and Home keys.
Press the Volume down key several times key to highlight 'wipe data / factory reset.'
Press Power button to select.
Press the Volume down key until 'Yes — delete all user data' is highlighted.
Press Power button to select and start the master reset.
When the master reset is complete, 'Reboot system now' is highlighted.
Press the Power key to restart the device.
Once the reset is done, set up the correct APN settings again. I hope it will work this time.
Galaxy S5 can't send picture messages even if data limit has not be reached yet
Problem: My phone will not send multimedia images via text.  I have not yet reached my data limit, and I am currently using Google hangouts for SMS, however the same issue persisted after I switched to messages, and after I performed a soft reset.  T-Mobile is my current carrier, and I have recently switched to the S5 from a Samsung Galaxy Blaze and am using the same SIM card.  I was able to send images from the Blaze, however I am having issues now that I am sending from the S5.  The images I am attempting to send are approximately the same size as the ones I sent on the Blaze. 
Troubleshooting: It means your S5 hasn't been properly setup yet to transmit multimedia messages over mobile data. But I assume you did turn on mobile data in your phone while trying to send MMS.
You need to setup a new APN so your phone can connect to T-Mobile's mobile data network. Here's how to do it:
Step 1: Go to Settings, scroll to 'NETWORK CONNECTIONS' section and tap More networks.
Step 2: Touch Mobile networks and then Access Point Names.
Step 3: Tap the plus sign at the top-right corner to create new APN.
Step 4: Now, enter these values for each specified field:
Name: T-Mobile US LTE
APN: fast.t-mobile.com
Proxy: <Not set>
Port: <Not set>
Username: <Not set>
Password: <Not set>
Server: <Not set>
MMSC: https://mms.msg.eng.t-mobile.com/mms/wapenc
Multimedia message proxy: <Not set>
Multimedia message port: <Not set>
MCC: 310
MNC: 260
Authentication type: None
APN type: default, mms, supl
APN protocol: IPv4/IPv6
APN roaming protocol: IPv4
Turn APN on/off: APN turned on
Bearer: Unspecified
Mobile virtual network operator type: None
Mobile virtual network operator value: <Not set>
Step 5: Tap the More icon on the upper-right corner and tap Save.
Step 6: Tick the check box next to the APN you just created to choose it.
After all this, you may now try to send MMS and if something goes wrong, try calling T-Mobile and ask for their support because this is as far as you can go when it comes to troubleshooting MMS problems.
Galaxy S5 unable to receive group messages from iPhone users
Problem: I am able to send MMS group messages to iPhone users, but not receive them. I can receive one on one messages from an iPhone user, but not in response to a group chat. I've tried several text apps (including the default app 'messages'. I checked the iPhones to make sure their settings would convert to SMS in case that was the issue, but with no luck. I've done factory resets and swapped phones. Please help! Thanks, Ryan.
Troubleshooting: First off, if you're an iPhone convert and use the same phone number, try to de-register your number from iMessage.
I'm not really sure if you can exchange MMS with all the iPhone users in your group because you haven't indicated that in your description but if you do, then it must have something to do with the settings in your phone especially the APN.
I think you need assistance from you provider regarding this matter because it takes trials and errors to find out what the problem is and eventually fix it.
Can't receive group text from a specific contact with new phone
Problem: Greetings, I am having issues with receiving texts messages from a particular person through a group text message. I used to receive and be able to see the messages from said person until they got a new phone (an HTC phone with Verizon). I am able to receive and view messages from all other people in this group text except for the one I just mentioned. Additionally, I am able to view this person's messages when I message them individually, which is really odd. Is there any way to troubleshoot this or go about fixing this? Thank you!
Answer: I think the problem in on their end and I believe it has something to do with the mobile data settings in their phone. I understand you can communicate with said person individually and I assume you meant through text. It's because individual text messaging is SMS and doesn't need mobile data to be transmitted. On the other hand, group messaging is already considered MMS and this is where the problem begins.
What you need to do is tell the person to check the settings in his/her phone or call his/her provider and have it fixed so he/she can join your group conversation.
Galaxy S5 text messaging transmission often fails
Problem: Every so often my text messages won't go through. And when that happens, it's frustrating. Sometimes it only last a few minutes, others, a few hours. I go through the whole normal procedure of restarting phone first , when that fails, then i pull the battery..when that fails, I'm normally pissed by then.
Suggestion: For this problem, it's better that you do troubleshooting with your service provider's tech support so that they can check on their end the quality of the signal your phone receives. I think the problem has something to do with the coverage because if it's an issue with the phone's radios, then the device shouldn't be able to send messages at all.
Connect with us
We are always open to your problems, questions and suggestions, so feel free to contact us by filling up this form. This is a free service we offer and we won't charge you a penny for it. But please note that we receive hundreds of emails every day and it's impossible for us to respond to every single one of them. But rest assured we read every message we receive. For those whom we've helped, please spread the word by sharing our posts to your friends or by simply liking our Facebook and Google+ page or follow us on Twitter.