One of the advantages that the #Samsung #Galaxy #S5 has over other flagship Android smartphones is that it comes equipped with a microSD card slot. Users can simply insert a card of up to 256GB in size to add storage space to the phone. This allows for more photos, movies, music, and other data to be stored in the device. There are however instances when issues can occur because of this microSD card. This is what we will tackle today as we address the Galaxy S5 stops recognizing microSD card issue & other related problems. We have gathered several issues of this nature sent to us by our readers and have provided the best possible troubleshooting steps below.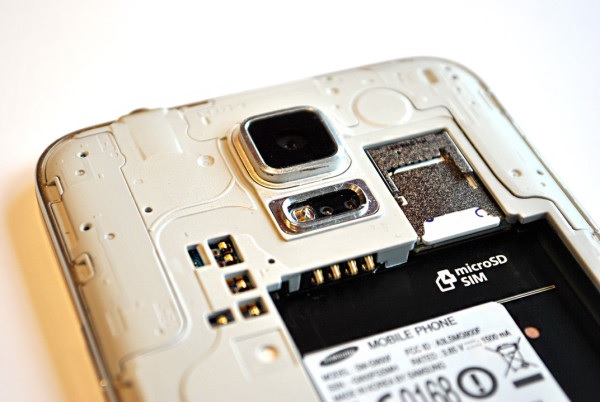 If you own a Samsung Galaxy S5  or any other Android device for that matter then feel free to contact us using this form. We will be more than happy to assist you with any concern that you may have with your device. This is a free service we are offering with no strings attached. We however ask that when you do contact us try to be as detailed as possible so that an accurate assessment can be made and the correct solution can be given.
If you would like to browse the previous parts in this series then check out this link.
You may also reach us at our Facebook and Google+ social media accounts.
S5 Stops Recognizing microSD Card
Problem: My phone stopped recognizing that I have an SD card in it even though I've been using it for months. Last week I noticed the pictures in my gallery that were on my SD card wouldn't open and I turned my phone off and back on, that's when it wasn't recognized. I took the card out and put it back in and it asked me to format the card but I don't want to lose all those pictures. Do you know what I can do for this?
Solution: Confirm first if the problem is card related by taking out the microSD card from the phone then let your computer read it. You will need a card reader to do this. If your computer can't read the card then it could already be corrupt. You can try to use some of the popular data recovery software to retrieve your photos.
If your computer recognizes the microSD card then you should copy the data stored in the card and save it in your computer. Once the backup has completed insert the card back to your phone. Since the issue is most likely caused by the phone you need to start the device in Safe Mode then check if the microSD card can be detected in this mode. If the card is detected then the issue could be caused by a third party app you installed in your phone. Find out what app this is and uninstall it.  If the issue still occurs even in Safe Mode then I suggest you backup your phone data and do a factory reset.
S5 Data Appears In Internal Storage After Moving To microSD Card
Problem: My phone wants to update the software but does not have enough memory. I have an sd card installed and my photos are meant to go to that but don't . When I move my videos and photos manually to the sd card the device storage says they have been moved and shows 0mb in the device storage for a few seconds and then everything re appears again ( and is also on my sd card too) I have liked your Facebook page. Hope you can help.
Solution: If the data you moved to the microSD card keeps appearing in the internal storage of your phone then this could be caused by a backup sync solution you have in your device. Do you have an app installed that syncs your data to the internal storage of your phone? If you have then try to disable this app first.
If you don't know of any app that syncs data back to your phone then I suggest you backup your phone data then do a factory reset. Once the reset is done manually check for the software update.
S5 Checking SD Card For Errors
Problem: I tried to go into my camera/gallery this morning and my phone froze up.  I turned it off and when it was restarting, the sd card icon on the top wouldn't go away.  It just kept saying "checking sd card for errors".  The phone wouldn't respond to any of my requests (opening other apps, etc.)  It just stayed in a state of "semi-frozen".  The gallery did not show any of the pictures or videos I had on my sd card.  When I remove the sd card, the phone functions fine.  Do I just need a new sd card?  Do they suddenly stop working that quickly?
Solution: It's possible that the microSD card has developed some corrupt sectors making it inaccessible. This usually happens when data is written into it and is suddenly interrupted which in this case is caused by the phone freezing.
For this issue you need to take out the microSD card and have your computer read the microSD card. You will need a microSD card to do this. If the card is detected then you can copy the data stored in it to your computer. If the computer detects that the card has a problem then you can use the CHKDSK command to fix the card. Take note that the data stored in the card could be lost in this process.
S5 Not Registering microSD Card
Problem: I bought a 64gb SanDisk recently.  I tried to copy my data from my old Samsung 8gb disk (using the SanDisk adapter). Halfway through my phone stopped registering the Samsung sd card. Now my phone won't even register it like it used to
Solution: If the phone is not recognizing the 64GB microSD card then I suggest you format this card first using your computer. You will need a card reader to do this.
Once the format is complete try to copy the data again. If the same issue occurs then the problem could be caused by the phone software. I suggest you use your computer to copy the data from the old microSD card to your new card. Since this is just a temporary solution and the problem could still occur in the future a more permanent solution would be to wipe the cache partition of your phone from the recovery mode. If this doesn't work then a factory reset is highly recommended. Take note that you need to backup your phone data before doing the reset.
S5 Photos Moved From Internal Storage To microSD Card Can't Be Read
Problem: I moved all my photos from my internal memory to an external memory (64gb SD card) to free up some space since my phone wouldn't let me view my photos in the gallery unless I freed up some space. However, I cannot see any of my photos in my SD card when I go through My Files. When I go to My Gallery, all I see are little black boxes with the exclamation marks. I looked at the storage and the amount of memory that previously took up my internal memory was now in the sd card. I just can't see my photos. Is there anyway to recover them? I also took some more pictures when I ran out of space in my internal memory, which directly saved to the sd card. I also cannot access those.
Solution: Try taking out the microSD card and have your computer read the contents of the card. You will need a card reader to perform this step. If you are unable to view the photos then the card is most likely corrupt. If the photos can be accessed then I suggest you copy them to your computer then proceed with the steps listed below.
Try using another microSD card in your phone then check if the same issue occurs.If it does  then the issue could be caused by your phone software. You should backup your phone data then do a factory reset. Once the reset is complete check again if the issue still occurs.
S5 this Folder Is Empty Error
Problem: "This folder is empty" is the message I get from my computer when I plug my Galaxy S5 to my computer via USB. I used to be able to view and access two folders; Phone and Card, where I could move pictures, files, and music from my computer to my phone, and vise-versa. But ever since I got tricked into downloading this IPhone want-to-be format for my phone I am unable to. This hinders my work and my fun. I need this fixed. what needs to be done?
Solution: Do you have another computer which you can connect your phone to? I think the issue is caused by your computer and not by the phone since you mentioned that this occurred right after you installed a software.
S5 Memory Issue: Storage Not Ready Error
Problem: Heya,  I have a Samsung s5 and I am trying to use a app to enable me to use a x32 mixing console remotely and the app says my memory is not ready.  The message reads: Memory issue: storage not ready. I brought a new sd card as my last one wasn't happy anyway but the issue is still there.Any recommendations? Cheers
Solution: Does this issue occur only when using the X32 app? If it does then it could be an app issue. Try uninstalling the app then install a fresh version from the Google Play Store.
Feel free to send us your questions, suggestions and problems you've encountered while using your Android phone. We support every Android device that is available in the market today. And don't worry, we won't charge you a single penny for your questions. Contact us using this form. We read every message we receive can't guarantee a quick response. If we were able to help you, please help us spread the word by sharing our posts with your friends.