Welcome to another post of our Samsung Galaxy S5 troubleshooting series! This post covers some of the common issues for this device.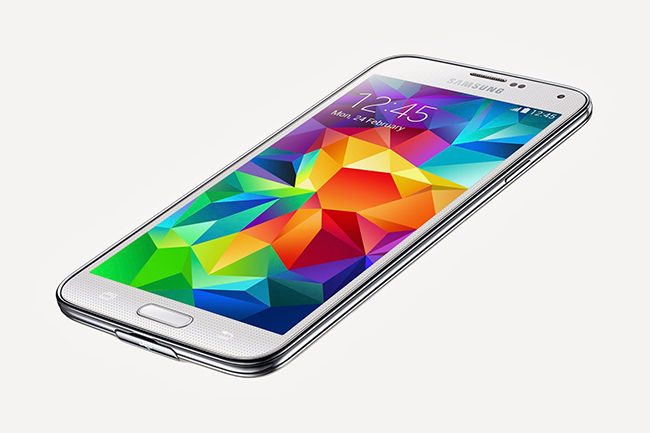 If you have other concerns regarding your Samsung Galaxy S5, don't hesitate to shoot us an email at [email protected] and we will do our best to get back to you as soon as we can. We will appreciate it very much if you can provide as many details as possible. If you are getting error messages on the screen, or have observed unusual phone behaviors,  kindly include them in your email. The more information you can provide, the easier for us to assist you. 
Should you prefer to contact us through social network sites, you can also engage us by visiting our Facebook and Google+ pages.
——————–
Samsung Galaxy S5 keeps on rebooting after interrupting the update to Lollipop
Problem: Hey. I had started downloading the Lollipop update and an important text came through and I opened it, interrupting the update. Ever since my phone is going nuts. It kept powering off, didn't have my lock code anymore. It won't work properly so for now I'm using an old Droid Razor I had stuffed away years ago! Please help. I hope I didn't break an expensive phone just by opening a text! —  Wendy
Troubleshooting: Hi Wendy. Interrupting an update, however minor, can usually lead to problems like the one you are experiencing right now. It's always recommended to find a good time before downloading any update so you can leave the device to do its job without interruption. We hope your S5 will still be receptive to our suggested troubleshooting steps because if not, you have no other choice but to ask for a replacement unit from your provider or Samsung.
Since the problem is most probably on the software side, we want to try the following solutions first before should go for a replacement.
Power up your S5 in Safe mode. If you haven't tried this before, just follow this link from our tutorial page on how to boot your S5 in Safe mode. While in this mode, your phone is put in a diagnostic state, allowing only first party apps to run as well as returning all settings to default. This is mostly performed if a user suspects that a third party app may be messing with the operating system, or if the phone suffers from performance issues. Please observe if some of your basic apps like messaging and phone calling apps are working normally. Afterwards, restart the phone and continue to observe if the problem is still there.
Wipe cache partition. This troubleshooting step is usually recommended if you have updated a device to another operating system version or if the phone is having some weird glitches. Despite not having installed the full set of new operating system files, we suggest the you do the following steps to erase possibly corrupted cache on your device:
Turn the phone off.
Press and hold the following buttons together: Power, Volume Up and Home.
Release the buttons once the Android system recovery menu appears.
Use the Volume buttons to navigate to Wipe Cache Partition option.
Press the Power button to confirm selection.
Select Reboot System Now option after deleting the cache. Wait for the phone to reboot.
Factory reset. Lastly, you do a hard reset, also known as factory reset on your phone if nothing works. This procedure will wipe everything out from your phone and brings it back to its factory defaults so if you can still access your personal data, make sure you back them up. Just click on this link to see the steps how to do a factory reset.
——————–
How to update Samsung Galaxy S5 via Kies if OTA fails
Problem: Hi. My name is Cynthia and I have a Samsung Galaxy S5 and I tried doing a system update 4 times and it keeps failing and my Wi-Fi is on. Please help. — Cynthia
Troubleshooting: Hi Cynthia. Have you tried updating Android via OTA (over-the-air) method? For some service providers, updating to a new Android operating system is free, which means the data consumption will not be charged on top of their subscriber's bill. Please call your service provider and ask them first hand support for your problem. However, if you want to do the download and installation of the new operating system yourself, please continue reading.
So that your device receives a complete set of update files, make sure that your Wi-Fi connection is stable. If your phone keeps getting disconnected to the Internet when it tries to download the update, that can potentially cause complications during the installation phase. If your Wi-Fi connection is okay though, please try these other solutions:
Wipe the cache partition of your Samsung Galaxy S5. Steps on how to do this are provided above. Deleting the cache will not erase your personal data so this can be done safely.
Update Samsung Galaxy S5 via Kies. If, after deleting the cache, phone continues to fail in updating its operating system, we recommend that you use Samsung's free update tool called Kies. You must have an internet-connected computer and a USB cable for this method to work. Here's how:
Install Kies to your computer. If you haven't done this before, please visit Samsung's site  to download the Kies software. After downloading Kies, install it to your computer.
Launch Kies on your computer.
Connect your Samsung Galaxy S5 to your computer using the USB cable.
Wait for Kies to check if updates are available for your phone.
Click the Update button if an update is available.
Read the warning and click on I have read all of the above instructions.
Click on Start upgrade.
Select what data you want to back up.
Select Continue.
Click Complete.
Wait for the process to finish.
These are the only things that you can do to try to update your phone. If the problem persists, please call Samsung or your service provider for a replacement.
——————–
Samsung Galaxy S5 web browsers crashes (stock and Chrome) all the time
Problem: Hi DroidGuy. I have a recurring problem that started on my Galaxy S5 a couple of weeks ago. Whenever I use the internet on my phone, it automatically adds a slew of tabs in the background. When I try to delete a tab, they all disappear, and I receive the following message: "Unfortunately, Internet has stopped." It happens every time without fail. I have cleaned cache and data, restarted and reset, but nothing I have tried seems to help. It happens on the built-in Internet app and Chrome. I have lost the menu options that used to show up when I clicked on the three vertical dots to the right of the tabs. Instead I get "New incognito tab" and "sync open tabs with other phone". I don't share my info. Any suggestions? — Lora
Troubleshooting: Hi Lora. Looks like you have almost done everything that a user can do to try to resolve the problem. An issue like this is caused by a firmware glitch either coming from the operating system itself or from third party applications. We noticed that you did not mention powering up the phone in safe mode though. Please boot up your Samsung Galaxy S5 in safe mode and see what happens. Because your device will be in diagnostic state, you can safely uninstall apps here that might be messing up with the functions of your internet browsers. Doing this and doing a factory reset are the only solutions we can suggest in this case. If nothing works, please consider having the phone replaced.
——————–
Samsung Galaxy S5 missing photos from Gallery | File directory on Samsung Galaxy S5 has changed
Problem: Hello. All the photos in the camera file of Gallery have disappeared. The Whatsapp, Download, and Instagram pictures are all there. Where are my photos? How can I find/retrieve them? Please Help. Thanks. — Lee
Troubleshooting: Hi Lee. Files don't simply disappear on their own. Either you have inadvertently moved them before, or the storage device where they were kept no longer works. Please check if your phone's external SD card is still working. If it does, you must have unintentionally changed the directory of your apps to save pictures in a different location.
In case the issue may be caused by your phone's firmware or apps, try to do a Wipe cache partition procedure (steps provided above). You can also proceed to doing a factory reset is you badly need to find where your device is saving those files. Factory reset will bring your device back to its default state, which means Gallery apps and all directories will be back to normal. Keep in mind though that doing a factory reset will erase everything on your phone including the photos you are looking for here, so this may not be exact solution to your original problem. You still need to manually look for your pictures in your file directory if you think they are still somewhere on the phone.
——————–
Samsung Galaxy showing "Currently unable to download. Please try again later" error
Problem: Hi there ! Hope you are doing well. I need a little help here, my S5 keeps showing a pop-up (please find attached)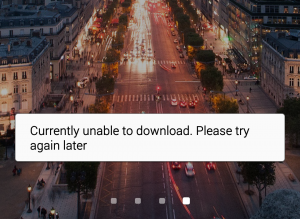 on my screen. I'm not sure why, but I got a feeling that it started to pop up after an update/install apps. I have been using my S5 since May last year and never had an issue before and it just happened recently. Kindly advise:) —  Nur
Troubleshooting: Hi Nur. Please boot your phone in Safe Mode and observe if still does the same thing. We believe that a third party app is causing this problem so the best thing that you can do here is to try to uninstall suspect third party apps starting from the most recent one. Now, this can become tedious, especially if you have no idea where to start. If you can remember installing an app before this error started popping, that may be the most likely culprit. Try to uninstall it and observe your phone.
You can also delete the cache partition of your phone to ensure that all apps have fresh set of cache.
Finally, if the issue persist, we don't think it'll hurt if you can invest some time doing a factory reset. This will bring the phone back to its factory settings and deleting any corrupt system files that may have caused this glitch.
——————–
Samsung Galaxy S5 stuck in Android logo screen
Problem: Hello my Samsung Galaxy S5 the only thing it is showing is the green Android. What can I do to fix it?
Troubleshooting: Hi. If your Samsung Galaxy S5 is stuck in the Android logo screen, your best bet is to boot it up in Recovery mode first and do a Wipe cache partition or do a factory reset. Steps are provided above on how to delete the cache partition via the recovery mode.
——————–
Samsung Galaxy S5 popping up "debug malware error 895-system 32.exe failure" error when opening Internet Explorer app
Problem: I have a new Galaxy S5 and when I started my Internet Explorer for the first time a message popped up that said "debug malware error 895-system 32.exe failure". What do I need to do to fix this? Thanks. — Howard
Troubleshooting: Hi Howard. We know that there is no official Internet Explorer browser for Android…yet so most probably the error you are getting right now is being caused by a suspicious app you have installed. There are a number of Internet Explorer look alike in Google Play Store though none of them comes from Microsoft. Please boot your phone in Safe mode by following this link. Once the phone is in safe mode, please uninstall the app you are trying to open (the Internet Explorer clone) and observe how your phone behaves. If the error continues to show afterwards, please do a factory reset.
——————–
Samsung Galaxy S5 getting a green screen after it was dropped in the shower
Problem: Hello. I have an annoying problem with my phone and I want to know if I can either get it fixed or if I can do that myself. My Samsung Galaxy S5 keeps glitching out, the screen will either flash a green screen for a long period of time or short periods of time. I noticed this usually occurs when it's night time and in mornings. I believe the reason my phone is doing this is because I dropped my phone in the shower once. When my phone is glitching out, I can still use my phone perfectly fine but it's annoying and sometimes when I try to open my phone the screen doesn't turn on so I either need to repeatedly press the on button or take out the battery so it can restart. Any help will do just fine since this has been occurring for about 2 months now. — Yuri
Troubleshooting:  Hi Yuri. The Samsung Galaxy S5 is water-resistant for up to a meter of water and can remain submerged for up to 30 minutes without incurring any damage assuming that its water-resistant seals were in place. However, if your phone was dropped to a solid surface, the shock can certainly lead to some issues including unpredictable behaviors. One of the first components to give up after a phone is dropped is the display assembly. The parts that compose the screen assembly are sensitive to shocks from drops. We suggest that you bring the phone to a local technician and have it physically checked. We think that there's a hardware problem going-on on your phone, which, we cannot resolve. You may also call your service provider and ask them for a replacement if the phone is still covered by a limited warranty.
——————–
Samsung Galaxy S5 dropped to toilet bowl won't connect to the internet
Problem: Hi. My Samsung Galaxy S5 just cannot connect to Internet and always shows emergency call because i accidently dropped it inside a toilet bowl. I cleaned and stored it in a rice bucket for about 2 days. It can be on but like I said it cannot connect to Internet but using Wi-Fi can only no connection to line Internet. — Abdul
Troubleshooting: Hi Abdul. Your issue is similar to Yuri above. In your case, the shock from the drop or water damage may have impaired the functions of your phone's mobile data antenna. If you did not change any mobile network values after the drop, the most likely reason for your problem right now may be hardware in nature. Please bring it to a shop so it can be fixed. You may also want to call Samsung or your service provider for a replacement.
——————–
How to turn on Smart Network Switch on Samsung Galaxy S5
Problem: Hi. Over the last week or so, I've been having an odd problem with my Galaxy S5 (running 5.0) where after I've been connected to Wi-Fi for any period of time more than a few minutes, and then disconnect from Wi-Fi, the mobile data then doesn't reconnect unless I reboot the phone (it works fine after that).
I've tried re-setting the APN to default, and turning the mobile off and on but they have no impact. Is there any solution to this that doesn't involve turning my phone off & on every time I leave the house? Thanks. — Alastair
Troubleshooting: Hi Alastair. The answer for your question is by enabling the device's Smart Network Switch, which is a feature designed to make it more convenient for users to seamlessly "switch" between available network types without manually going under Settings menu all the time.
From the Home screen, tap Apps icon.
Tap Settings.
Tap Wi-Fi.
Make sure that the box next to Smart network switch is checked.
——————–
How to create a backup of Memo app and others on Samsung Galaxy S5
Problem: I have had my Samsung Galaxy S5 for a while now but recently I did a Samsung update. There are times when I can't get the screen to respond to my touch it will freeze up & I have to remove the battery and replace it to reboot it. It may work afterwards or sometimes I have to repeat it again. And also I can't make any outgoing calls. Each # I dial it always says CALL ENDED.  If I have to replace my phone. How do I save the information that I have put on Memo notes. Ultimately I just want to know is there anything I can do to correct this behavior. Thank You. — Beverlyn
Troubleshooting: Hi Beverlyn. Please do the things that we always recommend if a user encounters possible software issue on their Samsung Galaxy S5:
Clear cache partition
Safe Mode
These are troubleshooting steps that you may have already encountered if you read our posts.
If you want to continue with the replacement though, you can use Helium – App Sync and Backup to create a backup of all your apps including your Memo notes. Instructions on how to use it are provided in the Google Play Store page so just click on the link to start making a copy of your files.
——————–
Brand new StraightTalk Samsung Galaxy S5 cannot send SMS
Problem: Brand new S5, mint, StraightTalk (prepaid). Phone is perfect for the exception it won't send text messages but can receive them. It tries to send a message, takes a moment then fails. StraightTalk sent me the SIM card and it's my first CDMA/GSM hybrid phone as all mine before were simple CDMA and didn't need SIM cards. Ideas? — Grey
Troubleshooting: Hi Grey. The only party that can resolve your issue is StraightTalk. The issue right now may be caused by incorrect network provisioning settings so please tell them to doublecheck if your APN settings are correct. Sending you another SIM card won't work if the phone is not properly configured. Checking your network settings is easy but you need to get the correct values from them so calling them again is the only best course of action for you.
Connect with us
We are among the very few people who offer free Android support online and we are serious about it. If you happen to have an issue you want to share, kindly ensure to provide details of the problem as well as a short background or the things you were doing prior to noticing it. Feel free to contact us regarding your concerns, questions and problems. If you are getting error messages on the screen, or have observed unusual phone behaviors,  kindly include them in your email. The more information you can provide, the easier for us to assist you.You may reach us at [email protected] or post on our Facebook and Google+ pages.