Welcome to another installment of our troubleshooting series where we aim to help our readers who own the #Samsung #Galaxy #S5 fix some of the issues that they might be experiencing with their phone. Today we will tackle the Galaxy S5 cannot send text message to premium phone numbers issue & other related problems. What happens in this case is that the phone can receive text messages from premium numbers ( those 4, 5 or 6 digit phone numbers) but can't send a text to one. We will address this problem as well as other text messaging issues that have been sent our way.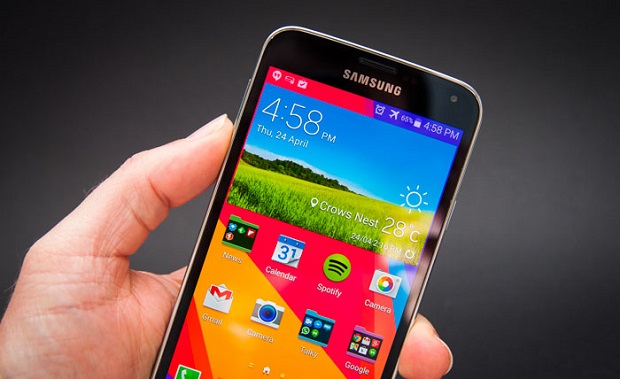 If you own a Samsung Galaxy S5  or any other Android device for that matter then feel free to contact us using this form. We will be more than happy to assist you with any concern that you may have with your device. This is a free service we are offering with no strings attached. We however ask that when you do contact us try to be as detailed as possible so that an accurate assessment can be made and the correct solution can be given.  
If you would like to browse the previous parts in this series then check out this link.  
You may also reach us at our Facebook and Google+ social media accounts.
S5 Cannot Send Text Message To Premium Phone Numbers
Problem: I receive text messages from partial phone numbers and am unable to reply. I also cannot send to partial phone numbers. For example, I have a text message from 883773 or 90421 asking me to confirm an appointment by replying with a Y for yes or a N for no. I reply and get a gray "failed" message with an ! point after it. If I want to initiate a text to a partial phone number for whatever reason, I also get a fail. Is there some setting that I need to turn on or off? This capability was available on my iPhone 5 but I don't know how to resolve it on my Samsung Galaxy S5 Android phone.
Solution: This issue can usually be resolved by changing a setting in the text messaging app. The ability to send out text messages to premium numbers might be blocked right now by the messaging app as a way to prevent unauthorized charges on your account. You can however change this by following the steps listed below.
Go to Settings – More – Application Manager –  All tab – Messaging

Scroll to the Permissions section then to the Send premium SMS setting.

You can change this setting to "Ask" or "Always allow".
Once this is done you will now be able to send out text messages to premium numbers.
In case the issue still occurs then you will need to check if an app you downloaded is causing the problem. Start your phone in Safe Mode then try sending out a message to a 5 or 6 digit number. If it sends out then there might be an app installed in your phone that's causing the problem. Find out what app this is and uninstall it.
S5 Text Message Is Not Being Delivered
Problem: I frequently text with my family and we all have Samsung Galaxy 5's. Intermittently I show the text as being sent yet it's not delivered to the receiver/addressee. This could be a one-to-one text or to multiple recipients. I've tried things I've read on various boards like clearing the cache, restarting, pulling the battery, etc. I'm open to any suggestions. BTW, ATT wasn't much help just telling me that "sometimes it happens".
Related Problem: My phone can send texts and receive texts but there are time when I don't receive all the texts, example I was texting a friend and they replied then I replied and waited for their reply back and never received it and they showed that they sent it. Not sure how to fix that
Solution: Since this is an intermittent issue then it's going to take some time to determine what the exact cause is. Listed below are the troubleshooting steps that needs to be done for this particular issue.
Check if the network is causing the problem. Does the problem only occur when you are sending a message in a particular location? That area might not have a good signal from the network which in turns causes this problem.

Check if an app you installed in your phone is causing the problem. To do this just start the phone in Safe Mode then observe if the issue occurs in this mode. If it doesn't then the problem could be caused by a third party app. Find out what app this is and uninstall it.

Try clearing the cache and data of the text messaging app.

Wipe the cache partition of your phone from the recovery mode.

Backup your phone data then do a factory reset.
If the issue still occurs even after performing the steps listed above then you should try getting a replacement SIM to check if the SIM card is causing the problem.
S5 Can't Send Receive MMS
Problem: I've read through several fixes for my issue, but none yet that fix my problem. I have a Samsung S5, Verizon phone unlocked and used on ATT. I can't send/receive MMS.  My 4G isn't lighting up in the status bar, so not I'm not sure how to make it connect to data. In Settings > Data Usage, Mobile data is checked. I've heard you have to turn wifi off to send photos?? Is that true? Settings currently as follows: Name: ATT phone APN: phone Proxy: not set Port: not set Username: not set Password: not set Server: not set MMSC: https://mmsc.mobile.att.net MMM Proxy: proxy.mobile.att.net MMM Port: 80 MCC: 310 MNC: 410 Auth. Type: default,mms,supl,hipri APN protocol: IPv4 Bearer: unspecified Mobile virtual network: None
Solution: The sending and receiving of MMS requires an active mobile data subscription. Since your phone is not getting any data signal and it appears that your phone is already using the correct APN settings then I suggest that you try switching between the different network modes of your phone and check which one allows the sending and receiving of MMS.
Tap Settings

Tap More Networks

Tap Mobile Networks

Tap Network Mode

Try any of the following Global, LTE/CDMA, LTE/GSM/UMTS
S5 Unable To Make Or Take Calls
Problem: My phone is a Samsung Galaxy S5 As of a couple of days ago, I am unable to make calls or take incoming calls. Making a call, I can see the number been dialled  and as soon as the number is connected, the phone rings just once and then cuts off and the same happens with incoming calls as soon as I press the answer button, the call gets disconnected. Please advise what do I have to do to get my phone working again. I am receiving emails, texts and can access the internet.
Solution: Perform the troubleshooting steps listed below to fix this particular issue. Check if the problem still occurs after performing a step then move to the next step if it still does.
Confirm with your carrier if you have an active call subscription available.

Turn off the phone then remove the SIM card. Wait for a minute then reinsert the SIM card and turn on the phone.

Try to check if you can make calls while the phone is started in Safe Mode. If you can then the problem could be caused by an app you downloaded. Find out what app this is and uninstall it.

Wipe the cache partition of your phone from the recovery mode.

Backup your phone data then do a factory reset.
S5 Emergency Calls Error
Problem: On my Samsung Galaxy s5, I am not able to make calls with my phone. It only says emergency calls only. It's a straight talk SIM card on AT&T phone that has been unlock, isn't it suppose to work no problem, let me know if there's anything I need to do to solve this
Solution: If you are getting the Emergency Calls error on the screen then this means that the phone can't communicate with the network. Listed below are the troubleshooting steps that you need to perform to fix this problem.
Check with your carrier if your account is active.

Check if the SIM card is properly inserted in the phone.

Check if the SIM card that you have works on another phone.

Restart your phone.

Backup your phone data then do a factory reset.
If the above steps fail to fix the problem then you should bring your phone to a service center and have it checked.
Feel free to send us your questions, suggestions and problems you've encountered while using your Android phone. We support every Android device that is available in the market today. And don't worry, we won't charge you a single penny for your questions. Contact us using this form. We read every message we receive can't guarantee a quick response. If we were able to help you, please help us spread the word by sharing our posts with your friends.