One of the best ways to keep a smartphone new is to regularly check for new software updates and install them on the device. The #Samsung Galaxy #S4 for example which was released in 2013 would not become relevant today if Samsung did not constantly release software updates for the device. Initially running on Android Jelly Bean, this phone has been upgraded to Android KitKat and just recently to Android Lollipop.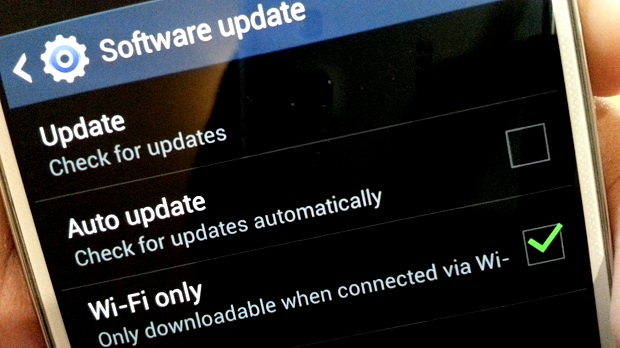 There are however instances when despite the device clearly running on outdated software it will not get the latest updates. This is what we will be resolving today as we tackle the Galaxy S4 doesn't want to update issue & other related problems.
If you own a Samsung Galaxy S4  or any other Android device for that matter then feel free to contact us using this form. We will be more than happy to assist you with any concern that you may have with your device. This is a free service we are offering with no strings attached. We however ask that when you do contact us try to be as detailed as possible so that an accurate assessment can be made and the correct solution can be given.  
If you would like to browse the previous parts in this series then check out this link.  
You may also reach us at our Facebook and Google+ social media accounts.
S4 Doesn't Want To Update
Problem: My phone doesn't want to update its operating system. I had to restore the phone to factory settings recently since I am borrowing it for the time being. I have tried checking for updates, but the phone returns in saying that there are no new updates, when I know that there are updates. I need the update to run the Insurance app that I have installed as part of my policy.
Solution: There are various reasons why your phone is not updating. If your device is rooted or is running on a custom software then it won't be able to get any official updates. If the security counter in your phone has been tripped ( this happens when you root the phone, it will stay tripped even if you unroot the device) then you also won't be able to get the software update.
Another reason why your phone is not getting any update is if it is an unlocked device and you are now using it on another network. What happens in this scenario is that the phone will be looking for updates on its original network server and since it is now on a different network then no updates will be found.
Try updating your phone by connecting it using a USB cord to a computer with Kies or Smart Switch running. There's a possibility that you may be able to get the update this way.
If the phone does not update then you can manually install it to your phone which is a process called flashing. You will need the stock firmware file (updates software version) of your phone as well as a computer software called Odin. Instructions on how to flash your phone can be found at several of the popular Android forums online.
S4 Verizon Phone Not Updating On Straight Talk
Problem: Hello. I have a Verizon galaxy s4 I bought from someone else. They did a factory reset on the phone before my purchase. I am now using the phone on straight talk. I was wondering if there is a way update the os from KitKat to Lollipop. I have tried using the phone's check for updates option. I am unable to use kies or Odin due to no Internet at home. Thanks for reading!
Solution: It's important that you try to use Kies first to update your phone as this usually works. Since this is a Verizon model the phone has been programmed to check for updates on the Verizon servers. Since your phone is now on the Straight Talk network the device is not able to access the Verizon servers thus the update can't be found.
It's either you use Kies or Smart Switch to do the update. If that fails then one last option is to flash your phone with the latest official update. You will need a copy of the updated firmware file as well as a computer software called Odin. Instructions on how to perform this procedure can be found at several of the popular Android forums online.
S4 Error Installing Software Update
Problem: this includes the system updates for the operating system i think cause it says installing system update… then when it gets 100% it says error and stays still on the samsung logo
Solution: You will need to do a factory reset on your phone then download the update again. Start your phone in recovery mode then do a factory reset from here. Take note that this will delete your phone data so make sure you have recently made a backup copy of your data. Once the reset is complete download the update again and install it.
S4 AT&T Software Update Interrupted Issue
Problem: Tried to do the AT&T Software Updated  but see the following error:  Software Update Interrupted Issue.  Have tried 4 times now but still unsuccessful.
Solution: This problem is usually caused by insufficient internal storage space in your phone when trying to get the latest Lollipop update. Try clearing app some storage space in your device  by clearing up its cache or uninstalling apps that you don't regularly use. If possible, you should backup your phone data then do a factory reset. Once the reset is done download the update again and let it install.
If the issue still occurs even after a factory reset then you should bring your phone to an AT&T or Best Buy Samsung location and have the update manually installed.
S4 Can't Update Due To Insufficient Storage
Problem: I wrongly assumed updates were automatic and have simply cleared them when they appeared thinking they had actually happened…  I have therefore not updated my phone and am now unable to do so as I do not have sufficient memory.  I don't want to lose my contacts and photographs so am fearful of deleting any used apps in case I do this.  Please can you advise?  Sorry – woman over 60 who does not understand 'clouds' or any advanced technology!!!
Solution: It's very important to regularly backup your phone data as you will never know when your phone might quit working on you. Once this happens it will be difficult to recover those important contacts and photos. The best way to backup your phone is by using a computer software called Kies or Smart Switch. You can download this for free from the Samsung website and install this to your computer. Run the software then connect your phone using a USB cord to your computer. You will be able to backup your phone data and do a software upgrade using Kies or Smart Switch.
S4 Back And Home Button Not Working After Software Update
Problem: My phone pestered me to perform a security update, which I did. After the update, my back button and menu button have been not usable. The menu button is glitchy and doesn't respond as expected. The back button doesn't work at all. I backed up and factory reset the phone, then reloaded, but the buttons still don't work. Even with the fresh reset, before the reinstall, the buttons weren't working.Since I need the phone for work, I reinstalled my apps, but if a back button is required, I'm screwed!
Solution: By any chance do you have an Exchange or Activesync account setup on your phone? Try removing this account then check if the issue still occurs. If it doesn't then a security policy is causing this problem. Try checking if there is another software update available for your device that could have a fix to this issue.
S4 OTA Update Not Available
Problem: Hi I want to upgrade my software (there are a few apps that I would like that require software >4.2.2), OTA is not working. I took my mobile to one of our Samsung shops here and the guy said that upgrading my mobile will crash my phone. He tried to upgrade using Kies but that didn't work either. Is he talking rubbish? Should I try another Samsung shop? Sorry, I am not the most tech-savy person, hope you can make sense of what I need.
Solution: Upgrading the phone software will not necessarily crash the device, instead it will enhance it with several new features and improvements. Now there are various reasons why your phone is not getting the OTA update and one of this is if your phone software has been modified (rooted, running on custom ROM). If this is the case then even Kies will not update your phone software. What is needed is for the phone to be flashed with the original updated firmware. This can be done at the Samsung shp or you can do it yourself. Instructions on how to flash your phone can be found at several of the popular Android forums online.
Feel free to send us your questions, suggestions and problems you've encountered while using your Android phone. We support every Android device that is available in the market today. And don't worry, we won't charge you a single penny for your questions. Contact us using this form. We read every message we receive can't guarantee a quick response. If we were able to help you, please help us spread the word by sharing our posts with your friends.