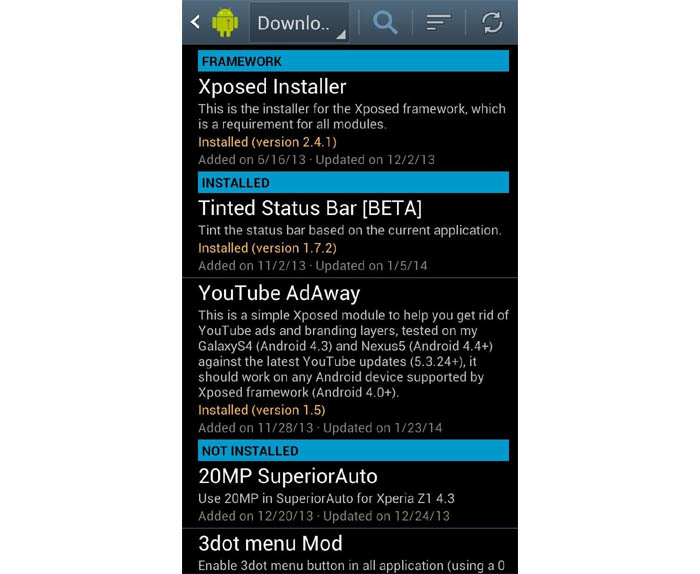 We already have running troubleshooting and tutorial series for Samsung Galaxy S3 but we found it necessary to start tips & tricks series so that you can get the most out of your device. There are ten sections in this post containing tricks that you may find useful. The first one, of course, is the one-click rooting procedure for users who are willing to take the risk followed with a bit complicated (but free) way to network unlock the S3 to be used with other GSM providers.
We will be publishing one part of this series each week so I urge you to stay tuned. Another reason we want you to stick around is because we provide free support to our readers. If you have problems and questions with your phone, we are always willing to help. You may email us at [email protected] or visit our Samsung Galaxy S3 Troubleshooting page, which contains hundreds of problems and ways to fix them. You may also post your concern on our Facebook and Google+ pages.
Click on a link below to jump to a section:
How to One-Click Root Galaxy S3 Using Towelroot
If you've been a long-time Android user and fond of customizing your phone, you probably have gone through the nightmare of rooting your phone using early, complicated procedures. During those times, it was easy to brick your phone and it was always a challenge to uninstall countless bloatwares placed by Google, Samsung and your carrier on your device.
Fortunately, it is now easier to root any Android device. The infamous iOS jailbreak wizard George Hotz developed a tool to make rooting easier for us. The tool's name is Towelroot and it's free. Follow the steps below to proceed with the rooting process.
Step 1: Enable Unknown Sources
You will be side-loading a third-party app and you can only do so if you allow the phone to install .apk from unknown sources.
From the Home screen, tap the Apps icon.
Launch Settings.
Tap Security.
Under Device administration section, find Unknown sources.
Tick the checkbox next to Unknown sources.
Step 2: Download and Install Towelroot
With the phone already set to allow installation of apps from unknown sources, follow the steps below to download and install Towelroot.
Log on to Towelroot website using any web browser.
Tap the lambda symbol to initiate the download of tr.apk.
Once you receive the notification that the download has been completed, tap on it to begin the installation. In case you swiped off the notification, you can find the .apk file by using the Downloads app.
Once the .apk installer launches, read the information on the screen if you so desire, then tap Install.
In case you're prompted that the file you're trying to install will bypass Android's security, just tick the box next to I understand and still want to install it.
Tap Install anyway.
The installation will be finished in 2 or 3 seconds.
Step 3: Rooting the Phone with Towelroot
With Towelroot already installed on your Galaxy S3, it is time to proceed with the proper rooting. The process will be straightforward and you can literally root your phone in one click/tap.
Launch the Towelroot app.
Now tap the make it ra1n button to begin the rooting process.
After a few seconds, you will be prompted, "Thank you for using towelroot!" It means the rooting was successful.
Step 4: Verify Root
If Towelroot said rooting was successful, then your phone must already have root access but of course, it won't hurt to verify it.
Launch Google Play Store.
Search for Root Checker.
The first one to appear must be the one you're searching for. Tap on it to begin the download and installation.
Launch the app after the installation.
Tap the Verify root button.
If the rooting was successful, you should be prompted with, "Congratulations! This device has root access!" Otherwise, repeat the entire process.
Step 5: Install SuperSU
Rooting opens the phone to more possibilities but it also opens it to a lot of risks if you're not vigilant. There are a lot of malicious apps out there that if given root access, they can gather sensitive information. You don't want to give these apps root access that's why it is imperative you install SuperSU.
Launch Google Play Store.
Search for SuperSU.
Tap the one developed by Chainfire to begin the download and installation.
With SuperSU installed, you can now easily deny or grant root access of any of your apps.
How To Network Unlock Your Galaxy S3 (4.1.1 or later)
An unlocked Galaxy S3 can be used from one GSM carrier to another. This, of course, is possible only if you're already out of the contract period with your previous carrier. You may ask your network provider to unlock your phone for you but it's always not as easy as you think it is. You can also bring the phone to a local store and pay a certain amount for a tech to unlock it but why pay if you can unlock it yourself?
The procedure below in just one of the unlock methods available for you to use. But bear in mind that it will only work if your phone runs Android 4.1.1 or later. The process will be straightforward and safe, so there's nothing to worry about. Just follow these steps and you'll be fine:
Step 1: Make Sure the Phone Runs the Latest Firmware
Again, this method will work only if your Galaxy S3 (regardless of the model) is running Android 4.1.1 or later. It is, therefore, imperative that before you proceed, you check the Android version. Here's how…
From the Home screen, tap the Apps icon.
Tap Settings to launch it.
Scroll down to and tap About device.
Find the Android version.
If your phone has a lower firmware version, don't proceed with the unlocking. Instead, update it first to make sure everything will run smooth.
Step 2: Unlock the Phone
There's a secret code you will have to dial to bring up a menu that will allow you to manipulate the network settings of your phone. Assuming you've already updated your phone, proceed with the steps below with extra care. Make sure you choose the correct options.
Don't insert the new SIM card yet!
Open the Phone app or the dialer.
Dial this secret code to bring up the Secret Mode menu: *#197328640#
With options already visible on the screen, tap [1] UMTS. If you've made a mistake in choosing, hit the Menu key and select the correct.
The next screen will display the UMTS Main Menu, choose [1] DEBUG SCREEN.
Under the Debut screen, choose [8] PHONE CONTROL.
In the next screen, select [6] NETWORK LOCK.
In the Network Lock screen, choose [3] PERSO SHA256 OFF and count 30 seconds. Once the time elapsed, press the Menu key and select Back.
After going back to the Main menu, choose [4] NW Lock NV Data INITIALLIZ. Wait for one minute and then reboot your phone. There will be no confirmation of a successful unlocking. The only way to confirm it is when the phone won't ask you of the unlock code.
Insert the new SIM card now.
If the phone won't ask for the unlock code, then the phone is now permanently unlocked. You can insert any SIM card and it should work. But just in case the unlocking wasn't successful the first time, repeat the same process and if it still failed, it's time you call your provider or use third-party unlocking services.
How To Turn Off Galaxy S3 Camera Shutter Sound
Turning the camera shutter on your Galaxy S3 sounds very easy to do. Well, it is. Some variants have a setting in the camera app that will allow you to turn the shutter sound. But my question is, what if there wasn't a setting to turn it off? How are you going to turn it off when it's not supposed to be turned off?
In Korea and some places in Europe, it is against the law to turn the shutter sound off for the sake of the privacy of the subject. In the U.S., Sprint doesn't allow end users to turn off this feature due to the same reason. There were posts online claiming that putting the phone in silent mode will also silence the shutter, well, it does not. Go ahead and try!
In this section, I will give you three options to choose from if you really feel like snapping photos without being noticed. There are two workarounds and one permanent solution below.
WORKAROUND: Use Third-party Camera Apps
Companies like Sprint can only impose its rule on privacy on stock apps, needless to say, it can't control third-party apps. There are a lot of apps you can download for free from the Play Store that inherently disable the shutter sound. I know a couple that I used in the past. I think they would be of great service to you if you like stealing shots from anyone or anything.
Silent Camera by TACOTY JP kinoko [link] – it's a lightweight camera app with 2.6MB in size that offers silent and continuous shooting. It's probably the best silent camera application available in the market today downloaded almost 20,000,000 million times already and with decent user reviews.
Silent Camera by Anti Pu [link] – it's the best alternative to the first app. It also offers silent and continuous snapping, although it requires Android 4.1 and later. It also has decent user reviews and the number of installs ranges from 10,000 to 50,000 only.
If there's one thing you have to bear by using any of these camera alternatives, it's the quality of the pictures. So, it's all up to you if you would want to use them.
WORKAROUND: Use the Video Snapshot Feature
When recording a video, there will be a little click sound once the recording starts and another click when ended. But aside from those sounds, which are barely audible, there will be no other noises. While recording or playing you can tap the camera icon to take a snapshot. Since the phone is basically recording a video and not taking still photos, the usual shutter sound will not play. The good thing about this method is that, you can either take a snapshot while recording or play the video later and take your time finding the right angles for you. Your choice!
The Video Snapshot is a native feature, so you don't have to scour Play Store for it. There is, however, a noticeable difference between a snapshot from a video and the normal still shot. But as far as not being noticed is concerned, this will do.
SOLUTION: Root the Phone to Access Shutter Sound File
Rooting will give you access to a lot of things in your phone, although it may sound a little extreme if you only wanted to turn off the shutter sound. But if you're willing to take the risk just to be able to take some shots without being noticed by the subject, then you should find this solution more helpful.
There are several ways to root the Galaxy S3 and the easiest method can be found above using Towelroot. Spend a few minutes rooting your phone and once you're successful, download and install Root Explorer [link] and follow these steps:
Open Root Explorer.
Navigate to the directory /system/media/audio/ui.
At the upper right portion of the screen, find and tap Mount R/W button.
Find the file Shutter_01.ogg and add .bak to the end of the file name.
Now, the phone cannot locate the file Shutter_01.ogg, needless to say, it can't play the usual shutter sound.
To bring the phone back to its original operation, revert the changes you made.
I hope that you can find these things useful enough.
How To Automatically Disable Data & WiFi Connections When Idle
The battery is the first component to deteriorate over time but as much as you want to make it lasts longer, there are some features you cannot just turn off. The best examples of these features are WiFi and/or mobile data. Yes, you may turn them off whenever you don't use them but such tasks will become a hassle.
There are now apps that can help you manage wireless connections in your phone to lengthen the battery life. One of those apps is LeanDroid developed by Teqtic, which I personally use in all my phones. The good thing about this app is that you don't have to setup specific profiles to make the phone works the way you want it. Just setup the conditions on its one-page interface and you're good to go. I outlined a very simple guide for you to follow:
Launch Google Play Store.
Search for LeanDroid.
Download and install the app.
Once installation is complete, open the app.
Now choose which connections will be disabled and set your conditions.
LeanDroid's default settings work best for me. I mean, I didn't bother to set my own conditions like when to turn WiFi and mobile data off. I just used the preset conditions and I personally could say I saw a noticeable improvement in the battery life of every phone I had the app installed. So, if things look a little complicated for you, don't change anything.
DISCLAIMER: TheDroidGuy.com is not, in any way, associated with the developers of apps cited in this post. If I sounded like I was promoting these apps, it is because I used them first-hand and know exactly what their benefits are.
How To Color Code Battery Levels On You Galaxy S3
I used to display the actual battery percentage on the status bar of my phone so I can quickly glance at it and know how much juice is left. It gets the job done but the icons get more cluttered if there were a lot of them at the top of the screen. I want my status bar icons at the minimum as I always love minimalist designs.
I stumbled upon on application that makes it easier to know how much battery is left. The app is called Energy Bar developed by IJP. As the name implies, the app will place a thin bar at the top of the screen to serve as your reference to know how much juice is left. You can adjust its thickness and color to your preference.
Open Google Play Store.
Search for Energy Bar.
Download and install the app.
Once installation is finished, open the app.
Before you set your preferences, hit Activate at the upper right corner to enable the app and you can see in real-time the effects of your settings.
Set Bar Thickness.
Choose Origin of the Bar. I prefer Center.
Tick the box next to Autostart on boot but leave Always Alive! checkbox unticked.
Swipe left to go to Colors tab.
Set your Segments. I prefer 10% increment.
Choose a preferred color for each segment.
Hit Activate button again to apply color changes.
If you want more information on available options, swipe left to go to Guide tab.
How To Install Flash Player on your Galaxy S3
This is for the benefit of the users who don't know yet why their phone cannot play flash videos. Adobe discontinued support for its Flash player for Android that is why post-2012 devices don't come with Flash player.
Adobe may have halted its support but it kept its archives online alive. Basically, all you need to do is download the .apk file and sideload it to your phone like any other apps. Don't worry, the entire process is ridiculously easy. Just follow the steps below and you'll never go wrong:
From the Home screen, tap the Apps icon.
Launch Settings.
Tap Security.
Under Device administration section, find Unknown sources.
Tick the checkbox next to Unknown sources.
On your Galaxy S3, open any web browser and tap on this link to automatically download the .apk file.
Once the download is finished, tap the notification to install it.
After the installation, you will see the icon of Flash Player app.
You can now view Flash videos using any web browser but Google Chrome.
Set Brightness Levels for Individual Apps
Your Samsung Galaxy S3 has a built in app that controls screen brightness manually or automatically based on the amount of light the light sensor receives. It does the job well in dimming the screen or making it brighter if necessary. However, there was never a pre-installed app that allows end users to adjust screen brightness of individual apps. Fortunately, there already is a free app available on the Play Store that will allow you to adjust screen brightness for each of your app. It doesn't require a root or advanced Android knowledge. Just a common sense and you're good to go:
Launch Google Play Store.
Search for the app called Screen Controls developed by Humayuon.
Once found, download and install it to your phone.
After the installation, open the app. It has a very simple and straightforward user interface.
There are three tabs: All apps, Favorites and Running apps. You may switch between these tabs to find the app you're looking for.
Choose an app and tap on it.
The next screen will allow you to set Screen Timeout and Brightness for that specific app. Drag the sliders to your preferred levels.
To make the app automatically run during boot up, tick the checkbox next to Start on Boot.
Do the same for each app you want to configure the screen timeout and brightness for.
You may also get the full version for a small fee but the free version is enough for average users.
Two Simple Ways To Tell Your Battery Is Bad
Lithium-ion batteries like ones used in your Galaxy S3 will degrade over time with expected life span of 2 to 3 years. After that, you'll notice the battery won't last as long as before and in some cases, the phone will randomly reboot. There are, of course, other symptoms that when you look into them a little closer, you will end up suspecting the battery and you're probably right. But how can you tell in less than 5 seconds that the battery is bad?
Check the Liquid Damage Indicator (LDI)
Water is the arch enemy of any electronic device including your Galaxy S3. If there was an instance that the phone was soaked wet in any liquid agent, there's a big chance both the phone and the battery have been damaged. Samsung already anticipated this that's why you can find two LDIs when you pop open the back cover and remove the battery.
The first one can be found on the back of the phone itself below the large sticker that bears phone information. The second LDI is on the battery. If you're experiencing power-related issues (these are the most common symptoms), check the LDIs immediately. If both stickers turned red, pink or purple, then the phone and the battery are touched by liquid. The former can be cleaned and dried out but if the battery was shorted, there could be enduring effects to its performance and this prompts for a replacement.
Check for Bulges
Another common sign of a bad battery is a bulge. Usually, the bulge will develop in the center because the area is a lot softer than on the sides. A little bulge may not be detectable by the naked eye that's why you need the help of a table with a smooth and flat surface.
Lay the battery on the table and flick one corner with your finger.
If there's a bulge, the battery will spin for a few seconds but if it won't, then lay it on the one side.
Flick the corner again to see if it spins.
A battery with a large or small bulge must be disposed of properly. The battery will develop a bulge due to several reasons:
Overheating
Short circuit
Charging using defective chargers
Leaving the phone to charge for too long
Enabling hardware-intensive features like heavy data transfer and WiFi tethering
Make Your Music Player Sleep At Specified Time
Do you need music to soothe you to sleep? If you do, then you'll be interested in this topic as it will allow you to add sleep timer to the music app so that the phone will not drain the battery further playing music you couldn't hear anymore.
I've been using an app called Sleep Timer (Turn music off) for several months now and it gets the job done the way I want it. There are several other apps in this niche but I'm already attached to this one with its straightforward functions and interface. It supports almost all music apps and since I often listen to FM radio through TuneIn Radio app, Sleep Timer works best for me.
Launch Google Play Store.
Search for Sleep Timer (Turn music off) app.
Download and install.
Open the app after the installation and you can setup the timer right there and then.
Just drag the slider around the circle to set the timer.
Now tap Start & Player to begin countdown and launch the music player of your choice or Start to begin the timer only.
There will be a notification for the ongoing countdown, which will let you stop or extend the time.
Under its Settings, you may also enable Shake Extend option so that you can extend the time by simply shaking the device. Of course, you will have to preset an extension time.
Other settings would allow you to set Sleep Timer to perform other functions, although it may require root.
DISCLAIMER: TheDroidGuy.com is not, in any way, associated with the developers of apps cited in this post. If I sounded like I was promoting these apps, it is because I used them first-hand and know exactly what their benefits are.
How To Install Xposed Framework
If you are into customizations, then you must accept the idea of rooting your beloved Galaxy S3. But it doesn't stop there! To give you all necessary access to new modules, you need to install Xposed Framework (thanks to XDA developer rovo89) on your phone. For average users, don't sweat because it's not really that geeky as it sounds. All you need to do is sideload an .apk file and good to go. I've outlined the ways below, make sure you follow:
From the Home screen, tap the Apps icon.
Launch Settings.
Tap Security.
Under Device administration section, find Unknown sources.
Tick the checkbox next to Unknown sources.
Using a web browser on your phone, follow this link to download the latest Xposed Framework .apk file.
After the download, install it like any other app.
After the installation, launch Xposed Installer and go to Framework section.
Tap Install/Update button.
After the update was installed, reboot your phone.
With Xposed Framework already installed, search for and download modules to begin customizing your Galaxy S3.
Bottom Line
There are countless of ways you can set your Galaxy S3 to do things you want it to do automatically but most of the time you need help from apps especially if you are not into rooting. But for users who like to take risks just to unleash the full potential of their device, there are several other tweaks and tricks you can do to make your phone even smarter than it already is. It is up to you to balance if the benefits are worth the risk. While we want you to get the most out of your phone, we don't want to compromise the safety of your device. I hope the tips and tricks I cited in this post can help you enough.