We seem to be receiving some #SIM card related issues with the #Samsung Galaxy Note 5 (#Note5) so we looked into them but so far, nothing is alarming. SIM cards get damaged from time to time and the good thing about this unfortunate incident is that you can always ask your provider for another SIM card that bears the same number. But the thing is you need to isolate the problem to know if it's an issue with the SIM card itself or the phone.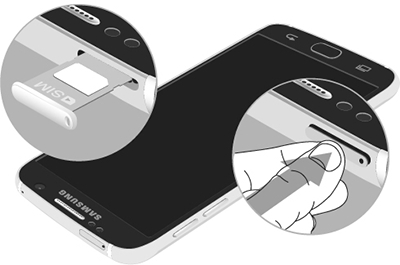 In this post, there are two issues I tackled. The first one is about a unit that can no longer detect the SIM card it used to detect before while the second one is about a Note 5 that can't recognize other SIM cards. Read on to understand more about these problems and learn how to troubleshoot your device.
If you have other issues with your device, make sure you drop by our troubleshooting page for we have already addressed hundreds of problems with the Note 5. Find issues that are similar with yours and use our solutions or troubleshooting guides. If they don't work or if you need further assistance, contact us by completing our Android issues questionnaire.
Galaxy Note 5 can no longer detect SIM card
Problem: I have a Galaxy Note 5. Everything else is working except text and phone calls because my phone can no longer detect the SIM card. Already tried rebooting it many times but no avail. Can you help me please?
Troubleshooting: It seems that it's a SIM card problem, although there's also a possibility that it's a phone problem. To isolate the problem, here's what you need to do:
Step 1: Clean the SIM card connector
Pull the SIM card tray out and then remove the SIM card. Use a dry clean cloth to wipe its connectors. Make sure there's no corrosion and after that, insert the SIM card back and then try to turn the phone on.
If the problem is still there, then try to insert a different SIM which you know is working or just rule out the possibility that it's just a firmware issue. Reset your phone.
Remove your Google account and disengage the screen locks to make sure you won't trip the Factory Reset Protection (FRP).

Turn off your Samsung Galaxy Note 5.

Press and hold the Volume Up, Home and Power keys together.

When the device powers on and displays 'Power on logo', release all keys and the Android icon will appear on the screen.

Wait until the Android Recovery Screen appears after about 30 seconds.

Using the Volume Down key, highlight the option, 'wipe data/factory reset' and press the Power key to select it.

Press the Vol Down button again until the option 'Yes — delete all user data' is highlighted and then press the Power key to select it.

After the reset is complete, highlight 'Reboot system now' and hit the Power key to restart the phone.
Seek assistance from your provider if the problem persists after this.
Galaxy Note 5 cannot recognize other SIM cards
Problem: I have a note 5. I need to buy a phone in which I can swap sim cards because I travel abroad very often. Eg. When I tried using lyca and lebara in UK and Europe my phone did not detect the sim. The same sim cards worked perfectly well in my note 3 neo. Please help. I sent my phone to samsung service center several times but they could not sort things out for me. Please help. I need a phone which will support swapping sim cards.
Troubleshooting: Hi! Traveling abroad using your preferred sim card is a lot more convenient than buying a new phone. By using your preferred sim card, all your contacts will be tracked and it will be easy for you to keep in touch. While acquiring a new phone could be more a hassle since you need to consider its functions, like messaging, high-end specs, an amazing display and yes a very good camera that you can only have by choosing Samsung Galaxy Note 5.
Still, we need to consider a very important detail: It comes with a carrier lock. But what is a carrier lock? Samsung Galaxy Note 5 is an expensive smartphone. This is the reason why carriers subsidize the purchase price in exchange for, on average, a two year contract. But nothing to worry, this issue can be solved in three ways: Unlocking your Samsung Galaxy Note 5 by Code, Rooting, Asking your current carrier for the code.  
Unlocking Samsung Galaxy Note 5 by Code
Unlocking your Samsung Galaxy Note 5 by using code is the cheap, safe and everyone can do it, as no technical knowledge required. To obtain a code here's how to do it:
You need to find an online provider.

Place an order. Just go to the order page and provide details.

A valid email address – this is where the code will be sent to you.

The name and the country of the carrier you originally got your phone from.

The phone's IMEI – this is a 15-digit number which can be found by dialing *#06#

After placing the order with the chosen time frame, an email with the unlock code will be sent to you.

Insert another SIM card in your Samsung Galaxy Note 5 from a different network provider and the phone will display a message "SIM Network PIN".

Type the code you just received.

Tap Unlock Now. From that, the phone will now display "Unlock Successful" and you now have all the freedom to use your Samsung Galaxy Note 5 with any carrier around the globe.
Rooting your Galaxy Note 5
This is another way to unlock your phone. Basically it works on some users but it is very risky, since it can cause damage to your phone. It also needs a proper documentation and should be done by a professional. As well as not recommended by the majority of smartphone users.
Asking your current carrier for the code
Some carriers will give you the code while others won't. You can only acquire this code by giving phone calls to them. Hence, a big fee for the unlock code should be expected.
Bearing this in mind and following these ways will let you freely use your Samsung Galaxy Note 5 with any sim card that you wished. On the other hand, it will also let you stay away from the idea of buying a new phone.
CONNECT WITH US
We are always open to your problems, questions and suggestions, so feel free to contact us by filling up this form. This is a free service we offer and we won't charge you a penny for it. But please note that we receive hundreds of emails every day and it's impossible for us to respond to every single one of them. But rest assured we read every message we receive. For those whom we've helped, please spread the word by sharing our posts to your friends or by simply liking our Facebook and Google+ page or follow us on Twitter.