The #Samsung #Galaxy #Note4 is one of the many Android smartphone models whose storage capacity can be further increased with the addition of a microSD card. If you have a large library of music, videos, or photos then it's best to move this data to the microSD card to make more room on the internal storage of the phone for more important things ( such as games). While the phone generally can detect and use the card instantly when it is inserted into the phone there are instances when certain issues can occur which we will be addressing today. In this latest installment of our troubleshooting series we will tackle the Galaxy Note 4 stopped reading 256GB microSD card issue & other related problems.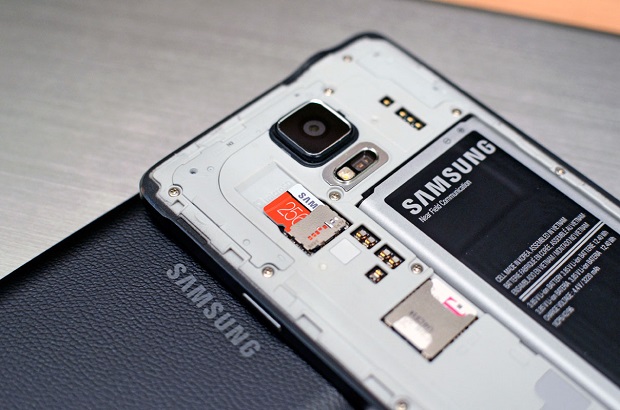 If you own a Samsung Galaxy Note 4  or any other Android device for that matter then feel free to contact us using this form. We will be more than happy to assist you with any concern that you may have with your device. This is a free service we are offering with no strings attached. We however ask that when you do contact us try to be as detailed as possible so that an accurate assessment can be made and the correct solution can be given.  
If you would like to browse the previous parts in this series then check out this link.  
You may also reach us at our Facebook and Google+ social media accounts.
Note 4 Stopped Reading 256 GB microSD Card
Problem: HI my note 4 used to read my 256g sd before.aND all of a sudden it just stopped. I put a other sd cards like my 16,32,and 64 sd card and they all worked fine. the only sd card my phone doesn't read anymore is my 256g. can u please help me figure this out or is this all because the update?
Solution: For this particular issue you will need to confirm first if the 256GB microSD card is indeed working. Remove the card from your phone then let your computer read it. You will need a card reader to do this. If the card can't be read even by your computer then it could already have some corrupt sectors. You will have to replace this with a new one. However, if the card can be detected and read by your computer then the problem could be on the phone side which we will be checking.
Follow the troubleshooting steps listed below to fix this issue. Check if the problem still occurs after performing each step and move to the next step if the issue still occurs.
Turn off the phone and remove the battery and microsD card. Press and hold the power button for at least a minute. What this does is it clears the phone circuit of residual charge and clears out its RAM. Reinsert the battery and microSD card then check if the phone can detect the card.

Start the phone in Safe Mode. If the issue does not occur in this mode then it could be caused by an app you downloaded. Find out what app this is and uninstall it.

Try wiping the cache partition of your phone from the recovery mode.

Backup your phone data then do a factory reset.
Note 4 Keeps Damaging microSD Cards
Problem: I've been through 3 micro SD cards and they all seem to burn out the latest one didn't last 2 days and each time I lost some good pictures and files I can  not get back I put the card in a computer using an adaptor and the computer can't read it so I know the SD card can't be read either its corrupt or just burned out prior to this happening I notice the phone gets hot what is causing this I have bought cheap cards and expensive cards it don't matter they just keep burning out why is this happening I've never had this happen in any other phone I have had in the past is there a problem with the note 4??? Thank you
Solution: There are three factors that can cause this problem.
The microSD cards that you got are unfortunately lemons.

A glitch in the phone software is causing this problem.

Some hardware issue is damaging the microSD cards.
For now we can eliminate the possibility that you got multiple defective microSD cards since you mentioned that you tried using cheap and expensive cards.
The second factor, where the software could be causing the problem is what we will be taking a look at right now. Follow the troubleshooting steps listed below to fix this problem.
Start the phone in Safe Mode then check if the microSD card gets damaged when the phone is running in this mode. If it doesn't get damaged then the problem could be caused by an app you downloaded. Find out what app this is and uninstall it.

If the phone still damaged microSD cards when the phone is started in Safe Mode then I recommend that you backup your phone data then do a factory reset. Once the reset is complete check if the issue still occurs.
If the troubleshooting steps listed above doesn't work then this could already be a hardware related problem. If this is the case then you should bring your phone to a service center and have it checked.
Note 4 microSD Card Is Unsupported Needs To Be Formatted
Problem: Hi, I'm using a Galaxy Note 4 and just recently I have this error with my SD card. It says that it's unsupported and needs to be formatted but when I tried to format, the error message appear, (Command '11 volume partition disc 179,64 public failed with '400 11 command failed) I tried safe mode, erasing any apps I have downloaded, format through my mac and it doesn't work. Can you help me out?
Solution: It appears that the partition table of the microSD card is corrupted. There's a way to fix the partition of the microSd card however you will need a Windows machine to do this since you will be using the CHKDSK command. Once this is done format the card using the FAT32 partition.
If CHKDSK fails to fix the card then you should just replace it with a new one.
Note 4 Can't Move Apps From Internal Storage To microSD Card
Problem: On Saturday, 1/28/17, I updated my phone. Now I cannot move my apps from the 32GB internal storage to my microSD card. My microSD card has 189 GB available, and now when I try to do updates I get a nag saying the updates won't be installed because I don't have enough room on my internal 32GB!!! What the F__k!!! Please help.
Solution: Apps are generally installed in the internal storage of the phone instead of the microSD card. Some apps however allow you to move the installed file from the internal storage to the microSD card. However, when the app gets updated it will then be again transferred back to the internal storage. You can try using a third party app such as LINK2SD to move your apps to the SD card. Take note though that your phone must be rooted in order for you to use these apps.
Regarding the updates not installing due to not enough storage space you need to verify if this is indeed true. If your phone is running out of space then you will need to make some room for the updates to download. Move your personal data ( music, photos, videos) to the microSD card. If you phone has sufficient space and the issue remains then try the following troubleshooting steps listed below.
Wipe the cache partition of your phone from the recovery mode.

Backup your phone data then do a factory reset.
Note 4 SD Card Gets Corrupted After Update
Problem: Hi I have a Samsung galaxy note 4 and twice after doing a software update my sd get corrupted. I actually had a software update two days ago and then I notice some games were greyed out in my apps and when I went into storage yet again my sd card got corrupted, any ideas how to stop that from happening and why is the software corrupting my sd card. Thanks
Solution: Normally, a software update will not corrupt a microSD card. Since you mentioned that some of your games greyed out after the update then something has gone wrong. Are your games installed in the internal storage or in the microSD card? If they are installed in the microSD card then there's a chance that this problem will occur.
Here's what you need to do to determine the exact cause of this issue. Backup your phone data then do a factory reset. Once the reset is complete download your usual apps but install them to the internal storage of your phone. Observe if the issue still occurs.
If the problem persists then this could be caused by a faulty microSD card. You should try replacing this card with a new one to fix the problem.
Note 4 Pictures Missing From Album
Problem: I own a Galaxy Note 4 and have my service through Verizon. I recently noticed that nearly 1,000 pictures are missing from my "Camera" album in the Gallery and I have no idea where they went. I have a a 5GB "Cloud" backup account set-up through Verizon that is currently full (pictures are not there) and a Google "Photos" account that I just set-up to back-up the pictures that remain in the gallery. I have not manually deleted or authorized any sort of automatic deletion and am not able to find those pictures ANYWHERE. Please help!
Solution: What I can suggest right now is to try starting your phone in Safe Mode then check if you can view the missing photos in this mode. Make a backup copy of the photos if they are available in Safe Mode.
You can also try to connect your phone to your computer then using the  file explorer of your computer check for the photos.
If the photos are still missing then they may have been deleted.
Feel free to send us your questions, suggestions and problems you've encountered while using your Android phone. We support every Android device that is available in the market today. And don't worry, we won't charge you a single penny for your questions. Contact us using this form. We read every message we receive can't guarantee a quick response. If we were able to help you, please help us spread the word by sharing our posts with your friends.