Meta has recently announced its newest addition to the virtual reality (VR) platform – Quest Plus, a subscription-based gaming service designed specifically for its VR headsets.
The new service comes ahead of the planned fall release of Meta's Quest 3 VR headset and will cost users $8 per month or $60 annually.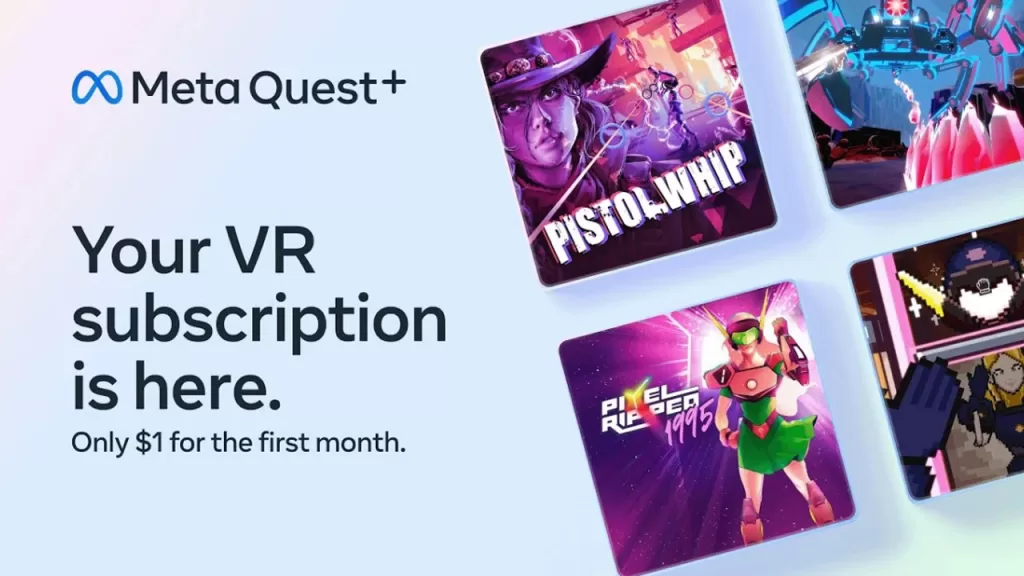 Quest Plus Details and Compatibility
The innovative subscription service will be compatible with the current Quest 2, the recently announced Quest Pro, and the upcoming Quest 3 headsets. However, it should be noted that Quest Plus will not work with the original Oculus Quest.
Quest Plus is scheduled to launch in July, with early subscribers receiving their first month's access at an introductory rate of only $1. Upon subscription, customers can expect to receive a few new games added to their library each month.
However, these games will only remain in their library as long as they are subscribed to the service. This format closely resembles popular gaming services like PlayStation Plus and Xbox Live Gold.
New Games and Prospective Titles
The initial games available through Quest Plus in July include Pistol Whip and Pixel Ripped 1995, both highly praised by critics and audiences alike. In August, subscribers can look forward to playing Walkabout Mini Golf and Mothergunship: Forge as part of their subscription package.
Meta's VR subscription service stands out from other platforms like PlayStation, which does not currently offer VR games in its gaming subscriptions.
Competitive Pricing and Attraction for Budget Gamers
Considering the recent price drop of the Quest 2 headset to $300 and an expected competitive price for the upcoming Quest 3 headset, this new subscription service may attract budget gamers seeking a straightforward way to experience a curated selection of games without further spending on individual titles.
The ultimate success of this venture will depend on how appealing Meta's game offerings are to subscribers.
Comparison to Other Gaming Subscription Services
With the introduction of Quest Plus, Meta puts itself on par with gaming giants Microsoft and Sony. Microsoft's Xbox Game Pass and Sony's PlayStation Plus both offer subscription-based access to a wide range of games.
HTC, another VR headset manufacturer, has already launched its own subscription service called Viveport Infinity in 2019, which provides access to hundreds of VR games, apps, and videos.
Expanding Meta's Portfolio with Subscription Services
This move by Meta comes as the company further invests in subscription services. Earlier this year, Meta introduced the verification service known as Meta Verified for Facebook and Instagram users. In addition to granting a verification checkmark, the subscription includes additional security against account impersonation and direct access to customer support.
As VR technology continues to advance and grow in popularity, it's clear that companies like Meta are looking for new ways to stay competitive in a rapidly evolving market. The introduction of Quest Plus could be an essential step toward differentiating its platform and solidifying its foothold in the VR gaming landscape.