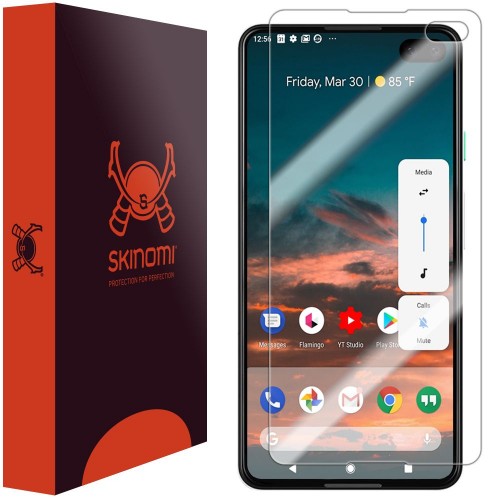 As we inch closer towards the Pixel 4 launch, it's only normal to encounter a barrage of leaks. One of them is now coming from accessories manufacturer Skinomi, supposedly revealing dual front cameras for the upcoming Pixel 4. The rendering also appears to show a dual speaker layout, potentially minimizing accidental blockage of the speaker grill. Interestingly, the listing mentions that this screen protector is for the regular Pixel 4. Leaks in the past have indicated that the Pixel 4 XL might also have dual cameras on the front.
Previous renders have revealed a single front camera for the standard Pixel 4, putting this new leak in contrast with what we know so far. With no official confirmation in sight, most reports are suggesting an October announcement with subsequent release, following the pattern from the past couple of years.
Previous rumors have also indicated that the Pixel 4 XL will come with dual rear cameras, thus offering a comprehensive camera setup for shutter bugs. With each passing year, we've seen the Pixel handsets getting better and better. The expectations this year are no different.
Google recently announced the Pixel 3a and the Pixel 3a XL as viable mid-ranged offerings in the crowded segment. The focus has seemingly shifted onto the flagship Pixel 4 lineup now as leaks have repeatedly indicated.
Are there any features that you're looking forward to with the Pixel 4 lineup?
Source: Skinomi
Via: GSMArena