With the U.S. ban on Huawei on the verge of easing up, the Chinese manufacturer is continuing its merry run in China. The company's recently launched Nova 5 lineup was marketed heavily in China, and it seems like the results are showing. Huawei has now announced that it has sold around 2 million Nova 5 smartphones within a span of just 30 days.
The three phones were announced on June 21 by the company. This honor is split between the three phones in the lineup – the Nova 5i, Nova 5, and the Nova 5 Pro. All three handsets are mid-rangers and debuted with Huawei's Kirin 810 SoC.
Huawei also launched another handset in the Nova 5 lineup, known as the Nova 5i Pro, although it was launched a few days ago and is hence exempt from this new milestone. Unsurprisingly, the Nova 5 series remains limited to China, but given the fact that we've seen a handful of Nova phones launch outside the region, we're hopeful of seeing these eventually on global shelves.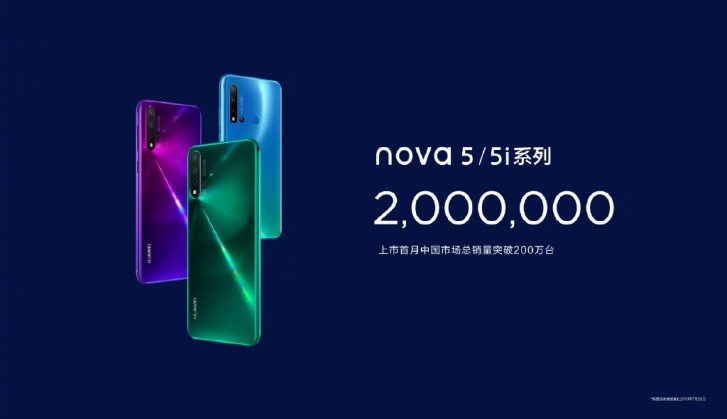 Huawei focuses on the high-end as well as the budget/mid-ranged market segment. This is perhaps why the company has remained successful despite several recent setbacks, particularly in the U.S. As for the release of the Nova 5 in the U.S., we're not holding our breath at this point. But as is the case with most smartphones, we can never really tell. Perhaps the device will appear on Amazon along with other top online retailers in a few months from now.
Would you like to see the Nova 5 lineup Stateside? Sound off in the comments below.
Via: GSM Arena