It is important to update your ROG Phone 3 firmware as this will come with several improvements to make the device run better. You can get the update automatically using the Over The Air method or you can do a manual update.
The Asus ROG Phone 3 is a premium Android gaming smartphone that was first released last July. It has several outstanding features that aim to provide the best gaming experience possible to its user. Under the hood you will find the Snapdragon 865+ processor which when combined with 16 GB of RAM, 512 GB of storage, a 144 Hz refresh rate AMOLED display, and a 6000 mAh battery can make any game run smoothly.
Getting the latest software update on your Asus ROG Phone
Most Android smartphones available in the market today will get regular software updates. The updates usually contain security patches, additional features, or bug fixes that can help your device perform much better.
This particular model for example has had several updates ever since it was first released. These updates addressed most of the issues the early adopters were experiencing. If you own this particular model then here's how you can update it.
Prerequisites:
Plug your phone to its charger.
Make sure the battery has at least 15% power.
Updating the firmware of your ROG Phone 3 automatically
You can follow these steps to get the Over The Air update of your device.
Time needed: 5 minutes.
Getting the latest software update
Tap on Settings.

You can do this by swiping up from the Home screen then tapping on the Settings icon.

Tap on System.

This is where you can find the detailed system info, backup, and reset options of your phone.

Tap on System update.

Your phone will automatically check if any updates are available.
If any updates are available then you should Tap the download now button which should download and install it. Your phone should restart once this is done.
If your phone is already running on the latest update then here's what it will show.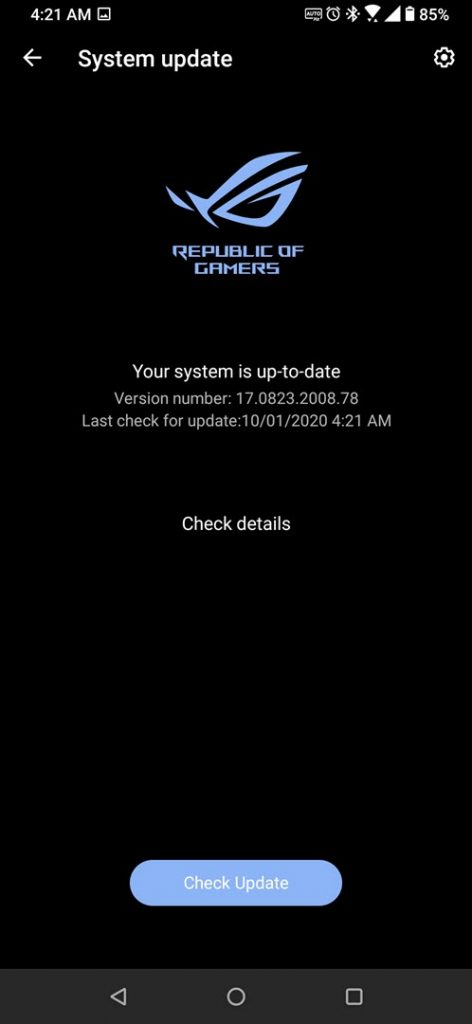 Updating the firmware of ROG Phone 3 manually
You can also manually download your phone software by getting the update from https://www.asus.com/Phone/ROG-Phone-3/HelpDesk_BIOS/. Once you have downloaded the zipped update file make sure to copy this in the root directory of your phone. Restart your phone then check for the firmware update notification pop-up on the status bar.
After performing the steps listed above you will successfully update your ROG Phone 3 firmware.
Visit our TheDroidGuy Youtube Channel for more troubleshooting videos.
Also Read: