Do you want to record video of the Samsung Galaxy Z Fold 4 screen? You don't need a third-party app to do this as your Android phone already has a built-in screen recorder feature which you can easily use to record a video of your screen activity.
The Samsung Galaxy Z Fold 4 is one of the latest premium smartphone models available in the market that makes use of an interesting form factor as it has a foldable display. It's a flagship quality device that uses the latest Snapdragon 8+ Gen 1 chipset, has a Dynamic SMOLED display, and has a triple rear camera system. Unlike a regular phone that only has one display, the three-display design of this model makes it ideal for multitasking tasks.
How do I record my screen on my Samsung Galaxy Z Fold 4?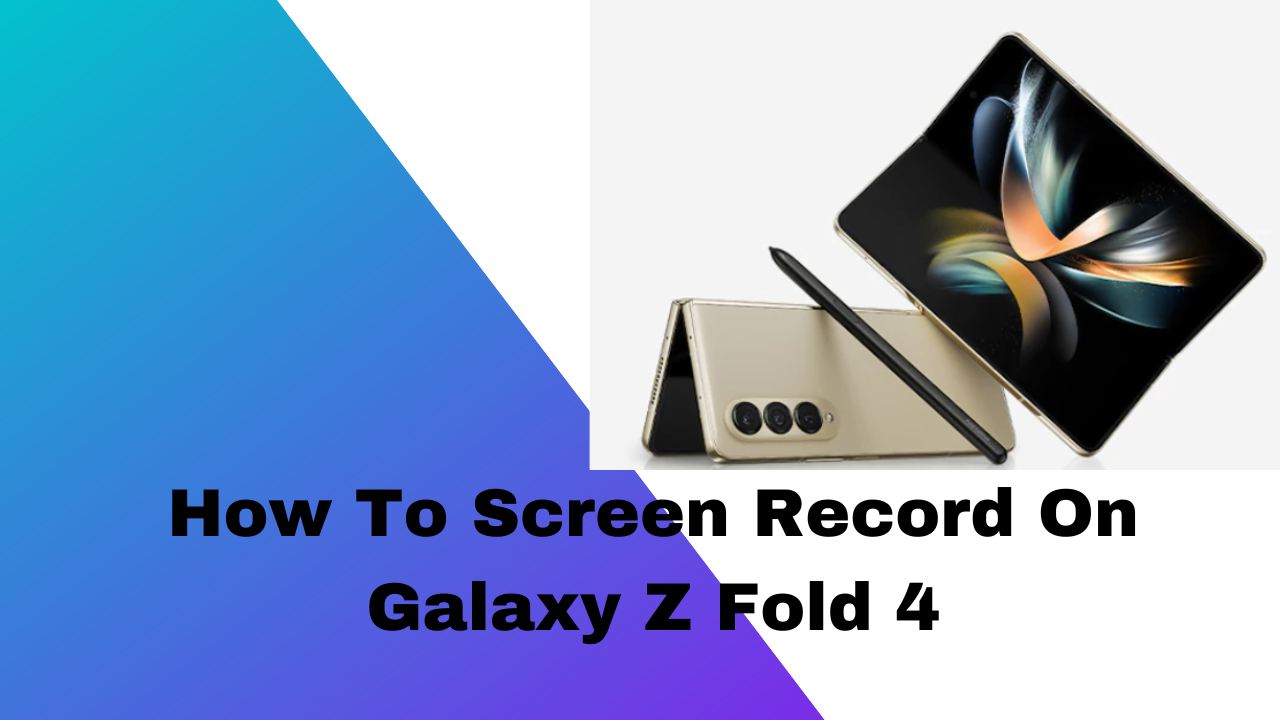 The Samsung Galaxy Z Fold 4 is a phone has an outer display and a main display on the inside. When taking a screen recording on this phone only the active display will be recorded. There is no way to create a new screen recording of both the outer and main display at the same time yet.
There are two ways you can record screen of your Galaxy Z Fold 4. You can do this from the Quick Settings menu or by using Bixby to start a new screen recording.
Using Screen Recorder tile in Quick Settings menu
The first method to get a screen recording of your phone display is from the Quick Settings menu.
Pull down the Quick Settings panel by swiping down the top of the screen with two fingers.
Tap and hold Screen recorder icon.
In the Screen recorder section, tap Sound. Choose if you want to record Media sounds or Media and microphone sounds.
Tap Video quality and choose High (1080p), which is a Full HD resolution.
Set up Selfie video size by dragging the slider to the right until you get the right size of the selfie video which will also appear in your screen recordings.
Close the settings page and then pull down the Quick settings panel again. From there, tap the Screen recording icon and your phone will start recording your screen.
To stop recording, tap the square button.
Using Bixby to record screen of your Samsung phone
You can also use Bixby to start recording the screen of your Samsung Galaxy Z Fold 4. You just need to say, "Hey Bixby, start a screen recording." This will once again open the pop-up menu in where you will be able to set your preferences for the screen recording.
How do I screenshot on my Samsung Galaxy Z Fold 4
Taking a screenshot on your Galaxy Z Fold 4 is pretty much the same as almost all Android phones. You can do this by simultaneously pressing the power and volume down button at the same time. After pressing the button combination mentioned the screen flashes white or you will see a screenshot animation. This means that the screenshot has been successfully taken.
You will then see a screenshot toolbar at the bottom of the screen. There are three buttons available, the edit button, the enable scroll capture screenshots or long screenshot button, and the share to social media button.
Here are a few other ways you can take a screenshot on your Samsung Galaxy Z Fold 4.
Another screenshot option is by using the palm swipe method. To use this, you must first enable palm swipe from the phone settings. Go to Settings -> Advanced Features -> Motions and Gestures. There will be an option called Palm swipe to capture. Tap on it to enable.
After enabling this feature all you need to do to take a screenshot is to swipe your palm on your phone screen.
You can also take a screenshot using the Assistant menu. This is a semi-transparent floating button that's overlayed on the phone screen. It allows you to quickly access to some of the phone's features such as taking a screenshot.
You have to enable this feature first by going to Settings > Accessibility > Interaction and dexterity and turn on the Assistant menu switch.
To take a screenshot just tap on the small circle. A number of options will appear. Tap on Screenshots. The screen will flash white, indicating that a screenshot has been taken.
Finally, you can also take a screenshot using Bixby or Google assistant. If you have Bixby Voice set up on your phone, then you can take a screenshot by saying "Hey Bixby, take a screenshot".
If you are using Google Assistant, then you can take a screenshot by navigating to the page you want to capture. To wake the assistant, say, "OK, Google." Say, "Take a screenshot."
These are the different methods you can take a screenshot on your Samsung Galaxy Z Fold 4.
Troubleshooting screen recording issues on your Samsung Galaxy Z Fold 4
If you are experiencing issues when you try to screen record on your Galaxy Z Fold 4 then here are the troubleshooting steps to consider.
Restart the Samsung Galaxy Z Fold 4
Restarting the phone will basically close all running apps and processes. The device RAM will also be cleared of temporary data. This procedure will reboot the operating system of the Samsung Galaxy Z Flip 4and reload all of its services. Your personal data, files, and apps will remain unchanged
Soft reset Galaxy Z Fold 4
Turn off the phone by pressing and holding the Bixby button and the volume down button on the side of the device.
Choose Power off.
Choose Power off again. The phone will turn off.
Wait for a few seconds.
Press and hold the Bixby button on the side of the device to turn on the Samsung phone.
Perform a software update on your Galaxy Z Fold 4
Software updates are constantly being pushed by Samsung to its devices to improve its performance, make it more secure, or even add more features.
It's always a good idea to get any new update available as this might fix any screen recording issues that you are experiencing.
Manually getting software update
Open Settings and scroll all the way down.
Find and tap Software update.
Frequently Asked Questions
How can I access new screen recording on my phone?

You can view your screenshots using the Gallery app of your phone.

What resolution are my video recording?

Your video resolution will be what you have initially set it to from the screen recorder menu.

How do I reset app preferences on my Samsung Galaxy Z Fold 4?

Launch your Settings > Apps.
Tap on Choose default apps.
Select a Default App option.
Select your preferred default app, then tap the back arrow key to apply changes.

How do I take long screenshots on my Galaxy z Fold 4?

Long screenshots or scrolling screenshot allows you to capture an entire page even if it can't fit your phone screen.
Navigate to the page you want to capture.
Take a screenshot.
When the screenshot toolbar shows up, tap the Scroll Capture button.
Tap on the screen when you want the feature to stop scrolling.

Can I edit screenshots?

You can edit screenshots before saving them by using the edit button found at the bottom.