Some PC players have reached out to us about their new game, Hitman 3 lagging or stuttering. If you are also experiencing lag, low FPS, or overall slow performance on Hitman 3, this article should help.
In this guide, we'll explain to you what are the common reasons for this problem and how best to fix it.
Causes for Hitman 3 lag, stuttering, or low framerate on PC
Some players are encountering slow performance issues when playing Hitman 3. If Hitman 3 is lagging or stuttering on you, any one of the following items must be causing it.
PC does not meet system requirements.
In order to work properly in a Windows 10 PC, you want to make sure that your hardware meets the minimum system requirements although it's highly recommended that you hit the recommended specifications for Hitman 3.
It's best to look into the requirements of the game before installing it to avoid any performance issues. For example, having a slower CPU, despite the computer using a faster graphics card may still result in lag or stuttering for some.
Other people may also experience lag or low FPS (frame rate per second) if their PC is low on memory or RAM. While Hitman 3 can run fine on 8GB RAM, the game may encounter occasional FPS drops when you run other applications while the game is active. When it comes to memory for this game, try to have more than 8GB.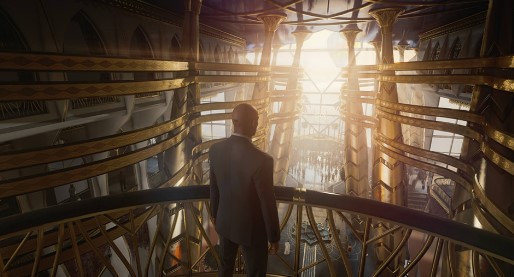 PC running out of resources.
Other applications that run in the background may affect the overall performance of Hitman 3. This is especially true if you have a slow PC. If you noticed lag during gameplays, try closing other applications that may compete with the game for resources.
To check if you have other resource-intensive applications running, try to open Task Manager application.
Random software glitch.
Windows 10 Operating System may sometimes hit a snag or internal error that can affect other applications. While some of such errors may require drastic solutions, most of the time, a simple system reboot helps. What you can do is to ensure that you keep the software environment (OS, drivers, games, other applications) of your PC updated. You can also try rebooting your computer to see if refreshing the system works.
Game coding bugs.
There's no such thing as a perfect game. All games require, especially newly released ones, regular updates and bug fixes to eventually make them more stable. Hitman 3 is no different and IO Interactive, the game developer, is already working on some known bugs since the game was released. Make sure that you keep the game updated all the time to minimize bugs.
Outdated graphics card drivers.
Hitman 3 slow performance, lag, or low FPS issues can also be caused by outdated GPU drivers. Even if you've already updated the Windows 10 OS but the drivers are not, you may still encounter problems like lag.
Drivers are the operating system of a particular hardware component. Without them, Windows OS can't use the hardware like the GPU in order to play a game. Just like any software, drivers must be regularly updated to ensure smooth operation. This is the reason why NVIDIA and AMD, two of the largest GPU manufacturers, provide updates when there are new games being released.
Corrupted game files.
While updates are mostly beneficial, sometimes, they too can be the cause of serious issues like sudden FPS drops, lag, latency, or slow performance in gaming. Incomplete installation of updates may result to broken game files, which in turn can lead to problems.
To fix any potential Hitman 3 issues due to bad files, you can use the Epic Games Launcher Verify option. We'll show you how this works below.
How to fix Hitman 3 lag, low FPS, or stuttering on your PC?
Fixing lag, stuttering, or low FPS on Hitman 3 is not straightforward. You'll need to do a number of things before you may actually fix your own issue because there's no single fix for all cases.
Below are the known solutions that you can try if you're trying to fix lag on Hitman 3.
Fix #1: Verify if PC meets minimum system requirements.
Knowing if your PC can run Hitman 3 must be done before you even buy or install it. However, if you haven't done that and now you're experiencing with the game, the first thing that you can do is double-check if your system can support it. To do that, go to EpicGames.com and see the minimum system requirements.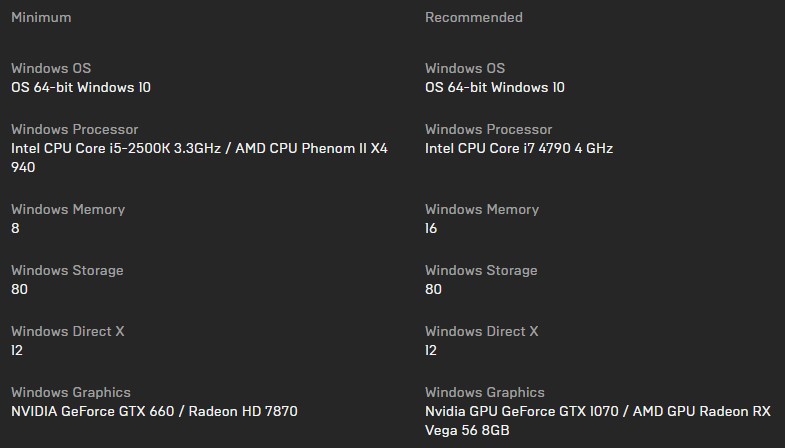 Here's a quick snap of the minimum system requirements:
CPU: Intel Core i5-2500K / AMD Phenom II X4 940
RAM (Memory): 8 GB
OS: 64-bit Windows 10
VIDEO CARD: NVIDIA GeForce GTX 660 / AMD Radeon HD 7870
FREE DISK SPACE: 80 GB
Fix #2: Update the game.
One of the easiest ways to ensure hassle-free gaming is to keep Hitman 3 updated. As mentioned above, IO interactive is actively working on patches for known bugs and reported issues, one of which is lag or stuttering.
We suggest that you let Epic Games app automatically check and install updates for you. This setting is enabled by default but if you want to check it on your system, here's how:
Open Epic Games Launcher app.
Select Settings.
Scroll down to Manage Games section and ensure that Allow Auto-Updates box is checked.
Fix #3: Update graphics card drivers.
Video games require updated GPU drivers from time to time. Make sure that yours is fully up-to-date by checking any of the links depending on what GPU you're using:
Fix #4: Close other applications.
If your PC is struggling to play Hitman 3, it may be a sign that it's running out of resources. This can happen if too many applications are open at the same time. I sometimes forget to close other applications that can take a huge chunk of CPU or memory of my PC such as Adobe Premiere or even Google Chrome (with tons of opened tabs). Once I noticed a decrease in performance in my game, or if there's a noticeable lag, that's the only time that I choose to close unused applications.
If you're like me from time to time, all you have to do is to close other apps to fix the issue.
Simply open the Task Manager program and under the Processes tab, you should see several columns such as CPU, Memory, Disk, Network, etc. CPU refers to the computing power of your PC while Memory is for RAM. If any of your other applications are using too much of any of these resources, close them and see if that will help.
Fix #5: Verify game via Epic Games launcher.
If Hitman 3 started lagging after a failed update, it's possible that you may have damaged the game files. To fix the problem, follow these steps:
Open Epic Games Launcher app.
Select Library.
Find the Hitman 3 game tile and click on the Settings icon (three horizontal dots).
Click on Verify.
Wait for the system to verify the game files.
Fix #6: Use Full-Screen Mode.
Sometimes, changing the default graphics settings of a game may also help in fixing certain issues such as lag or low FPS. For example, if you're experiencing low FPS, intermittent FPS drops, lagging, stuttering, or overall slow performance, it may be due to graphics settings that you've enabled or disabled. For example, using certain anti-aliasing option even if you have a slower GPU may result to poor rendering or lagging. Anti-aliasing refers to a technique used by a graphics card to make jagged corners and edges of an object smoother. When set too high, it may overload a weak GPU leading to slowdowns.
Also, some Hitman players reported to have fixed lagging issues on their Windows 10 system by using Full-Screen Mode instead of Windowed Mode. Try to see if that will work on your end as well.
Fix #7: Ensure PC is running on Performance Mode.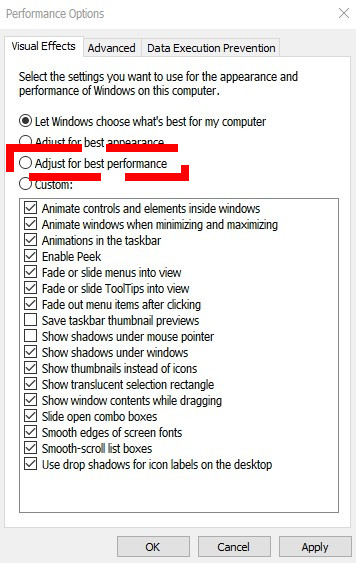 Setting your Windows 10 PC to aim for performance instead of appearance may help boost the system when playing. Here's how to do that:
Press the Windows key on your keyboard. Alternatively, you can also click on the Windows button on the lower left corner of the taskbar.
Type in "Performance."
Select Adjust the appearance and performance of Windows.
Select Adjust for best performance option.
Click Apply.
Click OK.
Other interesting articles:
Visit our TheDroidGuy Youtube Channel for more troubleshooting videos and tutorials.