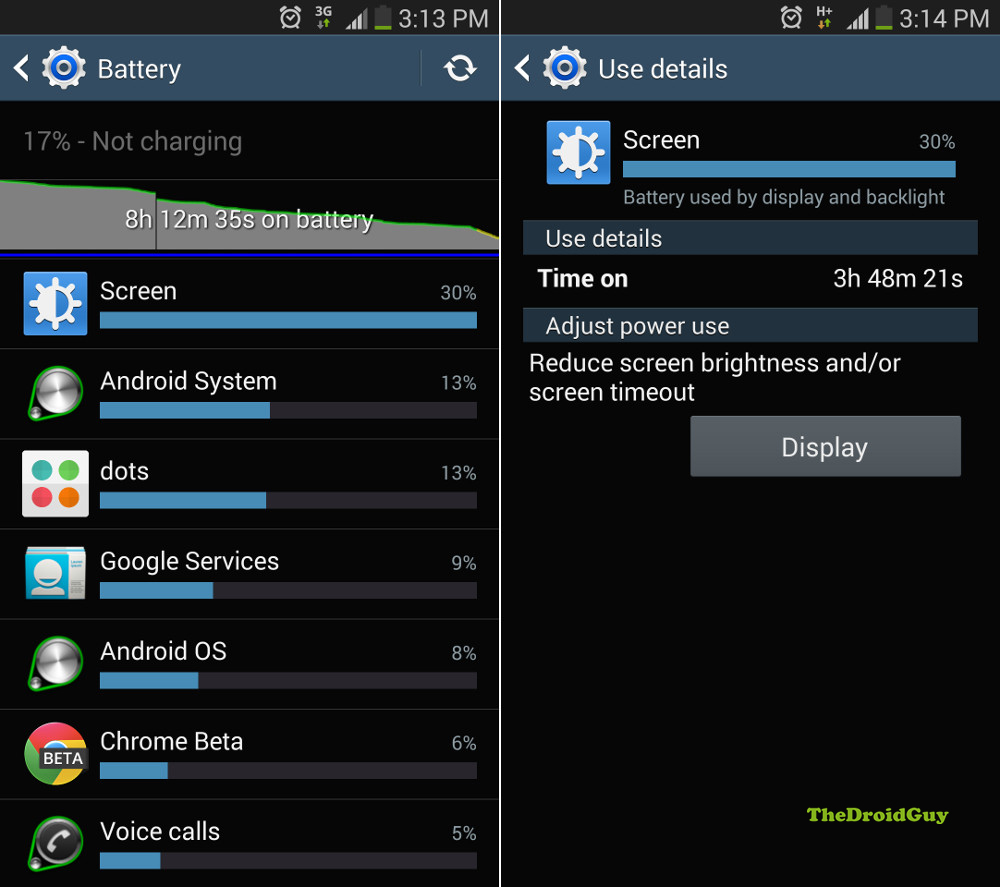 Welcome to the continuation of our Galaxy Note 3 battery-related thread. While battery drain may not be as bad for majority of Note 3 users, some suffer from extreme issues like the ones covered below. This article provides you the most effective solutions on how to fix fast battery drain problem on Samsung Galaxy Note 3. If you your own unique issue, or if you think that the solutions provided are not working, kindly notify us by using the link provided below.
Problem #1: Samsung Galaxy Note 3 battery drains faster than before
I've been using my Samsung Galaxy Note 3 for maybe 2 years now. The network was good. But when I upgrade it to Lollipop, it turns out that every time I sent messages it just kept on sending but not sent. I think my network becomes slow and it annoys me because there were some incidence that I need to use it emergency and it wasn't useful now. The fact is it's like it is killing time.
Another thing is my battery drops faster than it was before. I've been using my phone before quite good even if I played on my phone for some application. But now, I've just deleted mostly of my applications just to consume my battery. I think this should be or must be fix as soon as possible. We are living in technology right now and we the thing is that what will happen if I need to use my phone emergency but it happens to be "useless" because battery low until drained or can't sent even message because of…I don't even know why. This must be fixed as soon as possible, Sir. It maybe cause trouble for those long distance relationship because of this kind of problem that makes the phone useless. — Aliah
Solution: Hi Aliah. You must seek the help of your network service provider for your first concern. If you were able to send and receive text without this problem before, there must be a network issue affecting your area.
For your second concern, age must be factor why your battery loses power faster than ever before. After hundreds of charging cycles, a Lithium-Ion battery like the one in your Note 3 eventually becomes less efficient in holding a charge. And this situation only gets worse with time. After every charge, your battery slightly loses capacity that can work against you over time. If you are still using original battery, you may want to consider replacing it now.
If you have noticed that the battery has suddenly dropped its power level after charging it a few minutes ago, that's a clear sign for you to start thinking of a replacement battery.
Problem #2: Samsung Galaxy Note 3 battery drains faster after Lollipop update
Hey there! I bought a Note 3 SN900  in Dec 2013 and it was running like butter till i shifted from KitKat to Lollipop!
I am having several problems:
1.it gives away the signal every now and then showing no signal…i lose my connectivity at crucial time and I've to suffer a lot due to that…
It freezes and lags in almost every 10 minutes…i am not able to send texts even…it takes ages to recover…feeling like throwing the phone sometimes…so frustrating! Please do help.
3.the battery have started draining like a bullet train….i have to charge it 3-4 times at least in a day…life is stuck to charging points only! How to improve battery performance?
You're my last hope….i want my phone back…!can't live with this pathetic change!
Waiting for your response DroidGuy!
Will be grateful to u! — Mehul
Solution: Hi Mehul. If problems started happening after a Lollipop update, you can follow the solutions in our article: Why Android Lollipop Causes Problems 
For your battery woes, try to follow our suggestion in this post (originally written for S4 and S5 users but the general ideas should still apply to your Note 3): Best tips to extend battery life on your Samsung Galaxy S4 and S5.
Problem #3: Battery on Samsung Galaxy Note 3 drains faster when Wi-Fi and sync are on
Hi. I am regular reader of your post of Note 3. I have noticed from last couple of days that whenever I turned on Wi-Fi and made sync on…the battery starts draining super fast. However…when Wi-Fi is off and sync is off too…battery works perfectly fine.
Why so? I am running Android 4.4.2 and my phone is rooted.
Can you please be so kind and revert me back the solution..i do not want to format the phone as i am having heavy content.
Thanking you in advance.  — Ayaan
Solution: Hi Ayaan. There must be some apps configured to download updates, files, or run in the background when sync and Wi-Fi are on. Some of these include email apps, social networking apps, anti-virus apps, among others. Consider checking what apps are obviously causing the problem by going to Settings>General>Battery. If you can't figure out the cause, doing a factory reset may help. Just go to Settings>General>Backup and reset>Factory data reset.
Problem #4: Samsung Galaxy Note 3 losing battery power fast and all apps appears running in the background
Hi! I love my Samsung Note 3…recently the battery is draining ridiculously fast. I do not have autostart updates on, but when I use Security 360 it seems that all my apps are running in the background. Apps that I have installed and that are Samsung.  And yes, I also press down the key and close/clear apps regularly…and it doesn't show all the apps running. What do you think? Thanks!! — Unknown
Solution: Try running the phone in safe mode and observe for several hours. If apps (third party) are causing this trouble, the issue should not be present when the phone is in diagnostic mode (safe mode).
If you recently downloaded an update or an app, try to uninstall it and see how it goes.
Problem #5: Samsung Galaxy Note 3 drops battery power from 100% to 1%
Hi Harold! I'd like to ask for some possible solutions to my Note 3.
Here are the problems:
My Note 3 randomly shuts down whenever I remove it from the charger and even if it's charged, when I turn it on, the battery automatically drained from 100% into 1%
When I send messages to my friends, it shuts down. And even if I'm capturing a video, it also shuts down.
When someone calls me, I can't hear the person's voice on my earpiece and I need to turn on the loudspeaker.
It doesn't update.
The front cam's a little bit blurred than the other Note 3 I've searched on Google.
I hope you could help me with these problems. Cause it will be an incredible disappointment for me cause my dad just bought this on january. Thank you and God bless. — Ivy
Solution: Hi Ivy.
How long have you had your Note 3? As mentioned above, battery capacity deteriorates over time. If you are a heavy user, it's probably wise to consider battery replacement at this stage. Doing so would also be a good way to isolate if the battery is indeed losing capacity at this point.
A device that shut downs on its own may have a battery problem or is overheating. Try using another battery. This issue may be associated with the first one.
The only way to check the status of the earpiece is to have someone physically check the hardware. Try doing a factory reset to see if there's a firmware side to the problem and proceed to phone repair if the problem continues.
What happens when it doesn't update? Does it give you an error message? Please clear the phone's cache partition first then do a factory reset if nothing happens.
There's a chance that your phone's camera (hardware) may be to blame for this problem. If it's not due to hardware, try to delete your camera app's cache and data and see how the pictures fare.
Problem #6: Multiple problems including battery drain issue after updating Samsung Galaxy Note 3 to Lollipop
Greetings – Thanks for your useful postings on Drippler.  I find myself actually reading them!
Just OTA upgraded my Note 3  to 5.0 on VZW.
Excessive battery drain is a major new issue:  Loosing 1% every 2 minutes.
And that's with Wi-Fi, Location, BT OFF. Screen brightness 50%. The stock battery utility shows nothing unusual.
Can you suggest a reliable battery diagnostic? 
Also a reliable task killer that automatically disables apps on bootup.  
Guessing some background task or app has not been optimized.
Many thanks. — Jodd
Solution: Hi Jodd. Installing third party battery usage tool is redundant as your Note 3 has its own diagnostic tool under Settings>General>Battery. If battery usage was not a problem before you updated to Lollipop, you may want to tweak the settings instead to minimize battery drain. Deleting the cache partition and performing a factory reset are standard solutions for multiple issues after a major update.
We don't know of task killers that disables apps during bootup. Android is optimized to kill a task by itself if more memory is needed, or if the task has done doing what it's supposed to do. Apps running in the background may run for a reason and killing them while their function may cause side effects. Besides, if you kill apps in the background they may well enable themselves back if the operating system needs them at a later time.
Android is designed to allow apps running in the background without taxing the battery that much. Installing task killers is not recommended as they normally don't do much and may even add to the problem you have.
Simply re-visit your settings, lower down battery consumption by turning off non-critical functions, dim the screen, delete the cache partition, and perform a factory reset should work.
Problem #7: How to fix battery drain issue after Samsung Galaxy Note 3 was updated to Lollipop
Hello. 
I know you have been getting bombarded after the latest update and I apologize in advance for adding to it. I have a Galaxy Note 3 and recently did the update on my phone as well. I can live with the terrible colors etc.  My problem is the drastic change in the battery life. My battery would last the day prior to the update. Now, I can just watch it drain. I have just about everything I can think of turned off (location services, bluetooth, wi-fi etc.) and I am having to put it on the charger approx. 6 hours into my work day. I do know that undoing an update is out of the question, so my question is is there something that is running all of the time that may have been included in this update that is killing the battery life? Thank you for any information that you may be able to provide. — Kail
Solution: Hi Kail. Android Lollipop, with its wider array of stunning visuals, is expectedly more demanding to the processor, which often results to faster battery drain. If you suddenly finds the battery losing power quicker after the update, please follow the solutions provided to others above.
---
Engage with us
If you are one of the users who encounters a problem with your device, let us know. We offer solutions for Android-related problems for free so if you have an issue with your Android device, simply fill in the short questionnaire in this link and we will try to publish our answers in the next posts. We cannot guarantee a quick response so if your issue is time sensitive, please find another way to resolve your problem. 
When describing your issue, please be as detailed as possible so we can easily pinpoint a relevant solution. If you can, kindly include the exact error messages you are getting to give us an idea where to start.
TheDroidGuy has social network presence as well so you may want to interact with our community in our Facebook and Google+ pages.