Google has introduced its popular At A Glance widget to the Pixel Watch, providing users with convenient and quick access to important information. The feature, originally exclusive to Pixel phones, has expanded its reach to Android devices and may potentially become available on other Wear OS watches in the future.
At A Glance: A Versatile Complication on Your Wrist
At A Glance started as a simple widget on Android smartphones but has since grown to offer various information types exclusive to Pixel devices. 9to5Google first spotted the feature on a Pixel Watch, with Rita El-Khoury confirming its availability.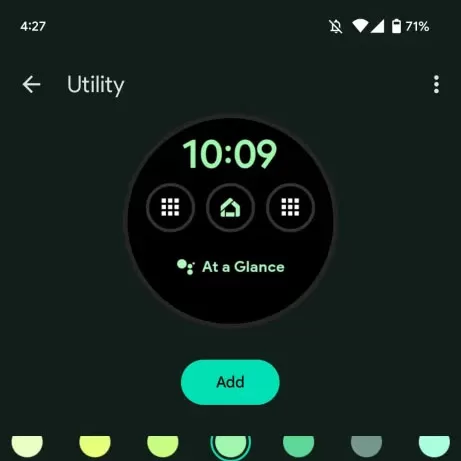 To add the complication, users need to opt for Modular II or Modular III layouts of the Utility watch face, where it will occupy the rectangular slot.
The watch-based complication displays the date and weather by default. However, it currently shows only temperature in Fahrenheit, even if Celsius is set as the user's preferred measurement unit.
As per Google's support page, At A Glance on Wear OS devices offers additional information such as "time to leave" info, calendar events and agendas, and commute times.
Although there has been no official announcement regarding the availability of At A Glance on other Wear OS watches like the Galaxy Watch 5 series, it's plausible we might see a basic version land on third-party wristwatches soon.
Recent Updates: An Array of Additional Features
Prior to this development, Google rolled out a separate feature drop for the first-generation Pixel Watch. The update included nighttime SpO2 tracking that monitors blood oxygen levels during sleep, recognition of heart-rate fluctuations, auto-pause functionality for exercises, expanded language support through Google Assistant for Wear OS (Italian, Portuguese, Swedish, Polish, and Spanish), and new app Tiles.
At A Glance's arrival on the Pixel Watch appears to be part of a server-side update. It wasn't included in the June 2023 Pixel Feature Drop, nor mentioned explicitly in any official communication from Google.
Integration with Google Assistant for Enhanced Functionality
Users who wish to access At A Glance on their Pixel Watch must allow Google Assistant to access their calendar app, as noted by 9to5Google. This allows the feature to display scheduled meetings and events in addition to the default date and weather information.
As we anticipate the unveiling of the Pixel Watch 2, likely this fall, it'll be interesting to witness further functional enhancements for At A Glance and other complications on smartwatches powered by Wear OS.