In a recent update to their support documents, Apple has outlined various external display combinations that can be connected to the new Mac Studio and Mac Pro models. With the M2 Ultra chip, both Macs support up to eight 4K displays at a refresh rate of 60Hz.
M2 Ultra Chip Enhances Multiple-Display Support
The new Mac Studio is equipped with an HDMI 2.1 port, while the Mac Pro boasts two such ports. These HDMI 2.1 ports enable support for an 8K display at 60Hz or a 4K display at a remarkably high refresh rate of 240Hz. Moreover, the versatile M2 Ultra chip is capable of supporting as many as six Pro Display XDRs.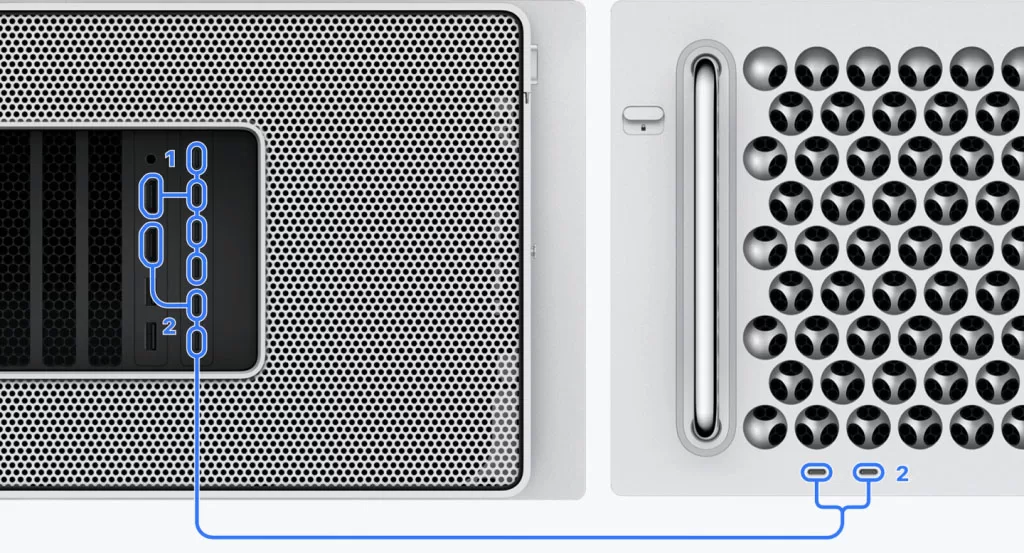 This enhanced multi-display support marks a significant improvement over previous models. The earlier Mac Studio iteration was limited to supporting up to five external displays when configured with the M1 Ultra chip. Since the release of the first M1 chip-equipped Macs in 2020, native support for external displays has improved substantially.
Pre-orders Begin for New Mac Studio and Mac Pro Models
Apple launched the much-awaited new Mac Studio and Mac Pro variants today after opening pre-orders last week. Additionally, the company has released support documents detailing how to install PCIe cards in the latter model, along with listing compatible PCIe card types.
However, unlike Intel-based predecessors, the new Apple silicon-based Mac Pro does not feature support for graphics cards due to its unified architecture.
Improved Multi-Display Capabilities Attract Users
Considering that Apple's M1-powered devices released in 2020 were only able to connect to a single external display, allowing up to eight connected displays shows how far Apple silicon has come. Consequently, the new Mac Studio and Mac Pro models featuring the M2 Ultra chip have garnered significant interest from potential customers.
With this improvement in external display support, Apple demonstrates its commitment to catering to the needs of creative professionals and power users who rely on multi-monitor setups for their workflows.