Do you experience Football Manager 2023 not launching on your PC? Several factors can cause this issue such as compatibility issues, corrupted files, or outdated graphics drivers. To fix this issue with Football Manager 2023, you will need to perform several troubleshooting steps.
Football Manager 2023 is a football management simulation game that is available for the PC on Steam and Xbox PC Game Pass. The game was developed by Sports Interactive and published by Sega. As Football Manager, you assume leadership at your club and explore the game's unprecedented depth and complexity. The game will test your managerial abilities against the most realistic AI managers in the series. Your opponents' decision-making has been improved, and new out-of-control tactical instructions make defensive and counter-attacking football more plausible. As you play further in each game, you'll notice more match engine advancements, such as adjustments to how wing-backs and double pivots work, as well as a variety of new animations.
Fixing Football Manager 2023 Not Launching Issues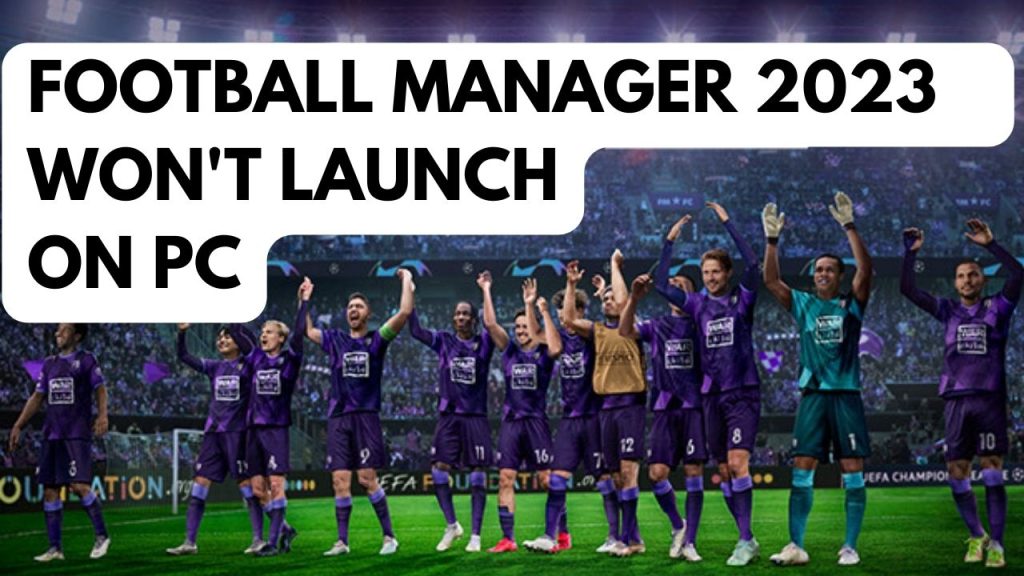 When playing Football Manager 2023 on a PC, one of the problems you could run into is that the game won't start or launch. Nothing will happen if you click the game shortcut on your desktop, in the Stream client, or through the Xbox PC Game pass. This can be frustrating if you want to play the game.
Here's how to fix the Football Manager 2023 launching issues.
Fix #1 Check the PC System Requirements
The first thing you must do is confirm that Football Manager 2023 is able to run on your PC. The minimum and recommended system requirements needed to run the game are stated by the game's developer. For a good gaming experience, we recommend that your PC meets at least the system requirements.
Minimum Requirements windows
OS: Window 7
CPU: Intel Core 2 or AMD Athlon 64 X2
Memory: 4 GB RAM
Graphics: Intel GMA X4500, NVIDIA GeForce 9600M GT, AMD/ATI Mobility Radeon HD 3650
DirectX: Version 11
Storage: 7 GB available space
Minimum system requirements macOS
OS: 11
CPU: Apple M1 or Intel Core M
Memory: 4 GB RAM
Graphics: Apple M1, Intel HD Graphics 5000, NVIDIA NVIDIA GeForce GT 750M – 256MB VRAM – Metal
Storage: 7 GB available space
Fix #2 Update Outdated Graphics Driver
Outdated graphics driver are one of the factors preventing you from launching Football Manager 2023. To improve your gaming experience, you must ensure that you have the latest drivers installed on your graphics card. These drivers will often include performance and bug fixes.
Time Needed : 3 minutes
Simply type Device Manager in the search bar on your desktop and then click the icon that appears in the results.


This will open the device manager.


Click the Display adapters icon.


The list of display adapters will be expanded.


Right-click the dedicated graphics card you are using to play and then select Update driver.


This will allow you to update your driver.


Choose Search automatically for drivers.


This will search online for any new driver and install it on your computer.

If your GPU installed is an NVIDIA dedicated graphics card, you can also download game ready driver for your GPU on GeForce Experience and if you are using AMD GPU, you can also download it on the Radeon software. You can also manually download the driver on your graphics card manufacturer.
Fix #3 Run as Administrator
Football Manager 2023 will have launching issues if access to certain Windows components is restricted. You need to make sure that Football Manager game can access these components by running it as an administrator.
Running as an administrator
Step 1: Right-click on the game exe file from the installation folder.
Step 2: Select Properties.
Step 3: Click on the Compatibility tab.
Step 4: On the Compatibility tab, make sure to place a checkmark on the Run this program as an administrator.
Step 5: Click on Apply then Ok.
Fix #4 Update Windows
Make sure that your Windows is up to date. The latest versions usually feature a number of performance related issues fix, bug fix, and increased security measures that will enhance your gameplay of Football Manager.
Updating Windows
Step 1: Right click the Start button.
Step 2: Select Settings. This will open Windows settings.
Step 3: Select Windows Update found on the bottom left menu of the new windows that appears which will take you to the Windows Update section.
Step 4: Select Check for updates. This will update Windows.
Fix #5 Temporarily Disable Anti-Virus Software and Windows Firewall
Sometimes Football Manager launching issues is caused by an aggressive firewall or antivirus program. Try turning off your antivirus software and firewall to see if that solves the issue. Then, see if you can launch the game. If you can launch the game, then you need to add it to your antivirus program's exemption list and let it pass through your Windows firewall.
Turning off Windows security
Step 1: Press Windows Start menu key.
Step 2: Click Windows Settings.
Step 3: Click update & security.
Step 4: Click Windows Security.
Step 5: Click Virus and Threat protection.
Step 6: Click Manage settings.
Step 7: Turn off real-time protection. This will now turn off real time protection.
Adding the game to the antivirus exclusion list
Step 1: Press the Start Menu button.
Step 2: Click Settings.
Step 3: Click Update & Security.
Step 4: Click Window Security.
Step 5: Click Virus & threat protection.
Step 6: Click setting.
Step 7: Click Add or remove exclusions.
Step 8: Click Add an exclusion.
Step 9: Click Folder.
Step 10: Locate and select the game folder.
Adding as an Exception through Windows Firewall
Step 1: Type Windows Defender Firewall in the search bar on your desktop and then click the icon that appears in the results.
Step 2: Choose Allow an app or feature through Defender Firewall.
Step 3: Scroll down until you find the game, then check all boxes.
Step 4: Click the OK button.
Fix #6 Close Background Process Using Task Manager
Another Football Manager program might running in the background of your PC while you open the game can be the cause of the launching issue. Close the other app as the other process might have crashed.
Step 1: Press CTRL + Shift + Esc Keys to open task manager.
Step 2: On the task manager, Click on More details found at the bottom left part.
Step 3: Click on the Processes tab.
Step 4: Right click on the app running and select End task on task manager. This will end task the app.
Fix #7 Repair Game Files
Football Manager will not start or launch if there are corrupted or missing game files. In order to resolve this you will need to Repair the game files using the Steam client or the Xbox Game Pass PC, whichever game launcher is the game installed. Any missing or corrupted file will be replaced with new ones downloaded from the servers.
repair game files using steam client
Step 1: Open Steam client.
Step 2: In your Steam launcher, click Library.
Step 3: Find the game then right-click the game in your Library and select Properties.
Step 4: Choose the Local Files tab.
Step 5: On the local files tab, click Verify integrity of game files. This will let you verify integrity the game.
Repair Game Files Using Xbox Game Pass PC
Step 1: Open the Xbox App for Windows.
Step 2: Select My Library and choose Football Manager.
Step 3: Click the three dot and select manage.
Step 4: Select Files and Select Verify and Repair.
Step 5: Select Yes.
Fix #8 Reinstall Football Manager Game
If at this point none of the troubleshooting guide mention earlier work then you need to reinstall it. To resolve the error you will need to uninstall then reinstall the game. Reinstalling will give you a fresh installation and resolve any issues and crashes you may be experiencing with games.
Reinstalling Football Manager
Step 1: Open the launcher.
Step 2: Go to the libraries tab.
Step 3: Right-click on games you want to uninstall then click on manages then uninstall.
Step 4: Select uninstall.
Step 5: Right-click on the games you want to install then click on install.
Step 6: Click next to proceed with the installation.
If you have follow the troubleshooting guide then the launching issues will be resolve.