Many Samsung Galaxy S7 (#GalaxyS7) owners have been complaining about virus infection pop ups. We took time to research on this problem as we already have readers who contacted us about related issues.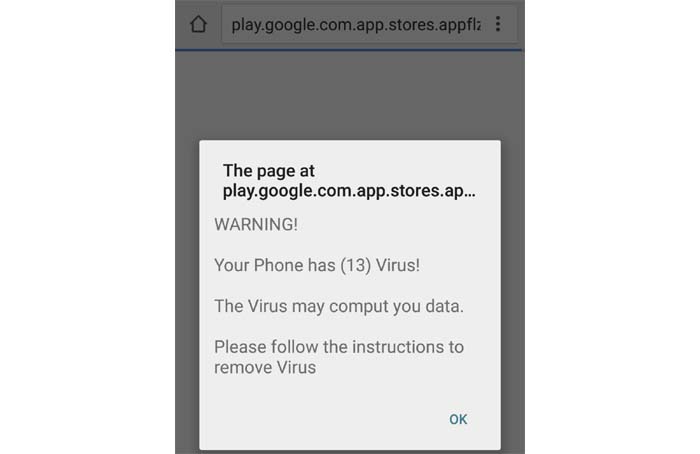 Most of the time, these pop ups aren't legit but they want you to believe your phone is infected with a virus and they'll suggest that there's an app you need to download that will help you get rid of the virus and regain your phone's optimum performance. They're targeting users that are not sufficiently knowledgeable about these sort of things.
More often, developers who spread real viruses and malwares gather sensitive information from the devices that are infected. This includes names, passwords, email addresses, phone numbers, credit card numbers, etc., which they can use for whatever purpose they have in mind.
Continue reading below to learn how to address these virus infection warnings and how to prevent your phone from getting infected. For those who have other issues with their phones, you can visit our troubleshooting page or contact us by completing our Android issues questionnaire.
Step 1: When the warning(s) pops up, don't do anything
You may have already tried tapping on the page that suggests you download an app that will take care of the virus. Well, that was a blunder, don't fall for it the second time. In fact, I suggest you don't do whatever the page is telling you.
The virus infection pop up is a fake and touching it will redirect you to another page that may automatically download an APK file that would automatically install an app that contains the virus on your phone. This is exactly what creators of the virus want you to do. Once the app is installed, we don't know for sure what would happen next.
Step 2: If you haven't tapped it yet, then just close the web page
That's right! The page that's telling you about the virus is not an app but a web page. This is why 80% of the time these warnings show while you are browsing some websites (especially censored sites). One pop up will lead to another which creates a couple more pop ups and so on.
Closing the browser (Internet app) will automatically close all these pop ups but they may return the next time  you open it. In this case, you need to clear your browser's cookies and cache or you can immediately clear the cache and data to reset your web browser (for this purpose, I will use Internet).
From the Home screen, tap the Apps icon.
Find and tap on Settings.
Touch Applications and then Application manager.
Swipe to ALL tab.
Find and touch the Internet app.
Touch the Force Close button first.
Then, tap Storage.
Tap Clear cache and then Clear data, Delete.
Step 3: Uninstall the app that was automatically installed
As I told earlier, apps containing malware can be automatically installed on your phone and in this case, you need to uninstall it immediately before it can create more issues.
You need to go to the Application Manager and view ALL apps list and find ones that are suspicious. It's your phone and you may be able to remember the apps you installed, so if there's one app that you don't know about, disable or uninstall it immediately.
Step 4: If the warnings remain, do the master reset
The thing about malware is that it's very difficult to trace. You may be able to get rid of the page that keeps popping up but if the app was already installed and infected others, you can no longer be sure of the safety of your data and information. At this point, you have no other options but to perform the master reset.
This procedure will delete everything in your phone including your downloaded apps, files and data. Needless to say, the viruses and the malwares will also be installed and deleted. Besides, you can't take any chances especially if you have some sensitive information saved in your phone. So, backup your files and data and follow these steps:
Turn off your Samsung Galaxy S7.
Press and then hold the Home and Volume UP keys, then press and hold the Power key.
NOTE: It doesn't matter how long you press and hold the Home and Volume Up keys, it won't affect the phone but by the time you press and hold the Power key, that's when the phone starts to respond.
When the Samsung Galaxy S7 shows on the screen, release the Power key but continue holding the Home and Volume Up keys.
When the Android logo shows, you may release both keys and leave the phone be for about 30 to 60 seconds.
NOTE: The "Installing system update" message may show on the screen for several seconds before displaying the Android system recovery menu. This is just the first phase of the entire process.
Using the Volume Down key, navigate through the options and highlight 'wipe data / factory reset.'
Once highlighted, you may press the Power key to select it.
Now highlight the option 'Yes — delete all user data' using the Volume Down key and press the Power button to select it.
Wait until your phone is finished doing the Master Reset. Once completed, highlight 'Reboot system now' and press the Power key.
The phone will now reboot longer than usual.
How to prevent virus/malware infection
Now that you've already reset your Galaxy S7, it's time to strengthen security in your device. There are a few things you can do on your own:
Install an antivirus app or any app that will help prevent malwares. It's not necessary but advised.
Don't log on to censored or blocked websites. This includes adult sites, torrent sites or any blogs that offer pirated software and/or movies.
Make sure 'Unknown sources' is disabled so APKs won't be sideloaded without your knowledge. Go to Settings > Lock screen and security > disable Unknown sources.
Install apps from the Play Store and those that are developed by big companies or reputable developers only.
Other issues reported by Galaxy S7 owners
Now it's time to cite some issues we received from our readers who encountered this very issue.
Q: "My Samsung Galaxy S7 is telling me there are viruses in my phone. So I downloaded antivirus apps and one malware detector but they can't find anything that's suspicious. I am worried because the error keeps saying that a number of viruses will damage my phone and I don't want that to happen. Can you guys help me with it? Thanks in advance." — Jessa
A: Hi Jessa! Just because the anti-malware you downloaded said nothing is suspicious in your phone doesn't mean it's true. Don't take any chances. That said, try to follow the 4th step in my troubleshooting guide above.
Q: "Hi guys, for some reason my phone is saying about my browser that's heavily damaged due to 6 viruses? It went on to saying that the Generic Android 6.0 is 28.1% damaged due to those viruses, which may also damage my SIM card and corrupt my pictures and data. I never want these things to happen to my phone but I don't know what to do to prevent it. By the way, this problem occurs when I open Chrome. Can you guys help me out here, please?" — Stephen
A: It's just an ad that will make you install an app that it suggests will get rid of the virus and correct all the problems with your phone. However, the fact is it will install the malware if you tap on the ad. So, don't do that. Also, don't worry because there's no virus in your phone provided you haven't tapped the ad or if Unknown sources is disabled.
Also, to prevent this page from popping up again, open Chrome and tap on the Settings icon at the upper right, then touch History and then Clear Browsing Data. You can choose which data to leave and delete. That should do it.
Connect with us
We are always open to your problems, questions and suggestions, so feel free to contact us by filling up this form. This is a free service we offer and we won't charge you a penny for it. But please note that we receive hundreds of emails every day and it's impossible for us to respond to every single one of them. But rest assured we read every message we receive. For those whom we've helped, please spread the word by sharing our posts to your friends or by simply liking our Facebook and Google+ page or follow us on Twitter.