The most usual symptom of the black screen of death (BSoD) in the Samsung Galaxy S7 Edge is when the screen turns black and unresponsive but there's a blue LED light that keep flashing as if you have unread messages or notifications. The fact that the screen is black is evident that the phone's display isn't working the way it should although other functions may still be working fine and you probably have unread messages and notifications if there's a blue light that keeps blinking.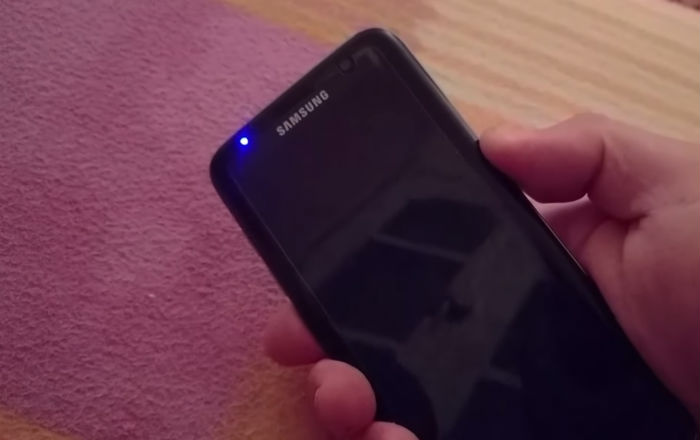 In this post, we will tackle this problem again but this time we have to consider the fact that the problem started after the Nougat update. The system may have just crashed due to the recent update or there could be a serious issue with the firmware. We need to determine what the problem is so that we would know what to do about it. If you own this phone and are currently bugged by the same issue, then read on as this post may be able to help you.
But before anything else, if you have another issue with your phone, drop by our S7 Edge troubleshooting page as we have already addressed hundreds of issues reported by the owners. Odds are that there are already existing solutions on our website or at least, there are similar problems we already fixed. So, try to find ones that are similar or related to your problem. If you need further assistance, however, feel free to contact us by filling up our Android issues questionnaire.
How to troubleshoot Samsung Galaxy S7 Edge with Black Screen Of Death (BSOD)
Problem: I tried all instructions indicated on the article on how to reboot a Samsung S7 (mine is S7 Edge so I guess it goes for all Samsung models). Unfortunately, the blue LED light is just on and phone is still unresponsive. I don't know what to do I need to have this phone working.
Solution: This problem is called the Black Screen Of Death (BSOD) and this is nothing new to Samsung devices. In fact, this issue was already seen from previous Samsung models and we received hundreds of complaints about it. The reason that this is happening is maybe because the system of the phone may be crashing and if that happens there is a chance that the device will freeze or become unresponsive. But as you stated that the LED is lighting up, then most likely this just a software-related problem and it can be fixed through simple procedures. So, to fix this issue we recommend that you to follow these steps:
Step 1: Forced Reboot the device
Since, the device is unresponsive all we need to do is try to restart the phone to see if the phone will respond. This method is the same with the battery-pull procedure in which, it refreshes the memory and close all unused apps that might conflict the firmware and triggered the issue. To do so, follow these steps:
Press and hold the Volume Down and Power keys together for 7 to 10 seconds.

The device will then reboot.
Now, if the device boots up proceed to the next method for further troubleshooting.
Step 2: Boot your phone in Safe mode
In this procedure, we will verify if one of the third-party apps you installed is the culprit and  makes the device to become unresponsive. Through this environment only the pre-installed will run in the system and the third-party apps will be disabled temporarily. If the device will boot up without a problem, then a culprit may be causing it. Observe the device for a couple of days while in this mode to see if the issue will occur again. This is how to boot your phone in Safe mode:
Press and hold the Power key.

If Samsung Galaxy logo appears, release the Power key and simply hold the Volume Down key.

Continue holding the Volume Down key until the device finishes rebooting.

If you can see "Safe Mode" in the bottom left corner of the screen then, you may release the Volume Down key.
But if the issue is still happening even if the device is in safe mode, then you don't have a choice but to perform a reset on your phone.
Step 3: Backup your files and data and reset your phone
Through master reset we have to bring back your phone to its factory default wherein, all settings, files, data, photos and applications you downloaded from Play Store will be erased. So, if you don't have a backup in everything you saved on your phone we recommend that you should create one before you proceed to the steps. Just follow these:
Turn off the phone.

Press and then hold the Home and Volume UP keys, then press and hold the Power key.

When the Samsung Galaxy S7 Edge shows on the screen, release the Power key but continue holding the Home and Volume Up keys.

When the Android logo shows, you may release both keys and leave the phone be for about 30 to 60 seconds.

Using the Volume Down key, navigate through the options and highlight 'wipe cache partition.'

Once highlighted, you may press the Power key to select it.

Now highlight the option 'Yes' using the Volume Down key and press the Power button to select it.

Wait until your phone is finished wiping the cache partition. Once completed, highlight 'Reboot system now' and press the Power key.

The phone will now reboot longer than usual.
In case you don't know what your Google ID and password is, before the reset, make sure you disable the Factory Reset Protection so that you won't be locked out of your device after the reset. This is how you do it on your Galaxy S7 Edge:
From any Home screen, tap the Apps icon.

Tap Settings.

Tap Cloud and accounts.

Tap Accounts.

Tap Google.

Tap your Google ID email address. If you have multiple accounts setup, you will need to repeat these steps for each account.

Tap Menu.

Tap Remove account.

Tap REMOVE ACCOUNT.
Or you can just reset your phone from the Settings menu to be safe:
From any Home screen, tap the Apps icon.

Tap Settings.

Tap Cloud and accounts.

Tap Backup and reset.

If desired, tap Back up my data to move the slider to ON or OFF.

If desired, tap Restore to move the slider to ON or OFF.

Tap the back key twice to return to the Settings menu, then tap General Management.

Tap Reset.

Tap Factory data reset.

Tap Reset device.

If you have screen lock turned on, enter your PIN or password.

Tap Continue.

Tap Delete all.
I hope these procedures might help and resolved the problem. Because if not, then bring immediately your device to the store where you purchased it so that it will be checked by the tech.
Connect with us
We are always open to your problems, questions and suggestions, so feel free to contact us by filling up this form. This is a free service we offer and we won't charge you a penny for it. But please note that we receive hundreds of emails every day and it's impossible for us to respond to every single one of them. But rest assured we read every message we receive. For those whom we've helped, please spread the word by sharing our posts to your friends or by simply liking our Facebook and Google+ page or follow us on Twitter.