Understand why a premium phone like a #Samsung Galaxy S7 (#GalaxyS7) suffers from a so-called "black screen of death" issue and learn what you have to do if such problem happens to you.
Learn how to troubleshoot your phone that despite having black screen, it still vibrates as if it's notifying the owner messages came in.
Know what to do if your phone has a black screen but the notification still works when messages come in. The problem reportedly occurred after the Nougat update.
Learn how to troubleshoot your phone that no longer responds after the update.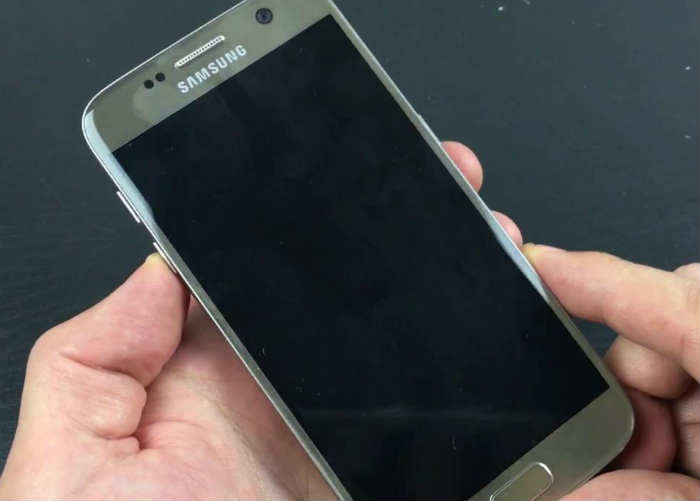 Black screen issues have been plaguing many Galaxy owners then and now. Two of the most common problems are unresponsive display and the "black screen of death." While these problems primarily affect the display as well as the touch screen function, they are more likely to be firmware-related than screen issues.
I have cited a few issues below so continue reading to know more about them, understand why they occur and learn how to troubleshoot your device is one of them happens to you in the future. I will walk you through in ruling out the possibilities so that at the end of every troubleshooting, we have a shot at fixing the problem. Check out the links below and click on one that may be similar to your problem so that you can directly jump to that section.
However, if you have other issues, make sure you drop by our Galaxy S7 troubleshooting page as we've already addressed a lot of problems since we started supporting this device. Just try to find issues that are similar with yours and use the solutions and troubleshooting methods we suggested. If they don't work for you and if you need more help, contact us by completing our Android issues questionnaire.
How to troubleshoot Samsung Galaxy S7 black screen of death
It's called "black screen of death" because it renders the phone useless once it occurs. The screen will, apparently, be black and the phone itself won't respond no matter how many times you touch the screen or press the Power key.
It might be just caused by a system crash due to the crashing of apps and other services or it may be a sign that the phone is suffering from a complex firmware issue. Troubleshooting is key to knowing the cause and learning the solution and with that said, here's what you have to do:
Step 1: Allow the phone to charge, use the original charger
It's important you have the original charger with you. Plug the charger to the wall outlet and then connect your phone to see if it responds when electricity starts flowing through its circuits. The phone should charge, otherwise, we may be looking at a possible hardware issue, although there's also a possibility it's just a charger or USB cable problem.
USEFUL POSTS
Assuming the phone charges when plugged in, leave it be for 10 minutes to allow it to somehow push enough energy into its battery to power up its components. After that, attempt to turn the phone on.
Step 2: Perform the Forced Restart procedure
It's possible that the system crashed after an update or due to other reasons. So before we continue on our troubleshooting and assuming the phone actually charged when you plugged it, then press and hold the Volume Down button and the Power key for 10 to 15 seconds. If the problem was caused by minor firmware issues, the phone should reboot normally. But if the phone still refuses to turn on, move on to the next step.
RELATED POSTS
Step 3: Try booting your device in Safe Mode
It's possible some of your downloaded apps are causing the problem and in which case, it's better that you try to boot your device in safe mode to temporarily disable all third-party apps. If the phone boots up successfully in this mode, then at this point the problem is already solved since the device booted up but it doesn't mean your work stops here. You still need to find the apps that are causing the problem and uninstall them. Anyways, here's how you boot your phone in safe mode:
Turn your Galaxy S7 Edge off.

Press and hold the Power button.

Once the 'Samsung Galaxy S7 Edge' logo appears, release the Power key and immediately press and hold the Volume Down button.

Continue holding the button until the phone finishes rebooting.

Once you see the text "Safe mode" at the bottom left corner of the screen, release the Volume Down button.
And this is how you uninstall suspected apps…
Go to Settings

Tap Applications

Tap Application manager

Make sure you are in 'Downloaded tab', it will display all your installed app.

NOTE:

(It's up to you what app you want to remove, if you can eventually install it back if it's a wrong one)

Tap the selected app to remove

Tap clear cache

Tap clear data

Tap Uninstall
Step 4: Attempt to boot up your phone in Recovery Mode
If your phone failed to boot up in safe mode, then in this step, you have to try to boot it up into the Recovery Mode. If successful, you can rest assured that your phone's hardware components are fine, otherwise, you need to have the device checked by a technician. Here's how to reach the recovery mode…
Press and then hold the Home and Volume UP keys, then press and hold the Power key.

When the Samsung Galaxy S7 shows on the screen, release the Power key but continue holding the Home and Volume Up keys.

When the Android logo shows, you may release both keys and leave the phone be for about 30 to 60 seconds.
At the end of the day, if you're still bugged by this problem or another after going through all the steps, then seek assistance from a technician.
Samsung Galaxy S7 screen is black and still vibrates for notifications
Problem: My phone's (Samsung Galaxy S7) screen is black. Nothing shows up except a flash of something across the top once in awhile. This was happened after an update. I am sending it in under warranty to be fixed, but I can't even see to shut the phone off. It is still vibrating for notifications. How can I turn it off? I can't see to back up anything either.
Troubleshooting: This issue is usually called the 'black screen of death', from the word 'death', your device display is black and won't respond. It mostly occurs when a device is experiencing software issues that it won't boot up normally.
The first thing that you should do is to force reboot your device. To determine if your device will perform the simulated battery disconnect procedure and boot up normally. All you have to do is press and hold the Volume Down and Power keys together for 15 seconds. If it failed, then try booting it up in recovery mode.
In case, your device was able to boot up in recovery mode and did display some options, we recommend to do the master reset procedure right away. It will clear all files and data in your device and bring it back to defaults, this usually resolves the issue.
If all procedures didn't resolve or the screen still stays black, it could be a hardware-related issue and in this case, you can return the device back to manufacturer. If it keeps on vibrating for notifications, let it be, you can't do anything about it since your screen is black. The battery will drain anytime soon and it will stop.
Samsung Galaxy S7 Edge screen is black but notification is working
Problem: Before I received a notification that a new update is available, my phone works perfectly fine. But when I left my phone at home to finish the download, when i got home my phone's screen is totally black. I will know that it is on because the notification sound is ringing and even I press the lock key it won't open. And i remember that I downloaded an update, it possibly is the cause. My only concern is, can it still be fixed? Or can I go back to the last version I'm using? my phone is just fine with that, no issues whatsoever. Thanks!
Solution: It is possible that your device is having a system issue, mostly software. You mentioned that your device is still on and notification sound is working. We recommend you do some basic troubleshooting procedures to narrow down the issue. You can refer above for the steps since your issue is much similar.
You can start by performing a force reboot procedure by press and holding Power key and Volume down key for about 10 seconds. You might feel that your device is vibrating, then let it be, it must be rebooting. If it didn't help, follow the next procedure.
If all else fails, you can bring your device to your local service center for check-up, it might be a hardware-issue, since your device can still receive messages and notification is working.
Samsung Galaxy S7 Edge screen won't respond after the update
Problem:  Hi, When my Galaxy S7 Edge receives a call it rings but does not appear to wake up. This starts to happen after the latest update. If I touch the screen I can unlock it but there are no buttons to answer the call. I have also tried answering with the home button and it does not answer even though it is enabled. I have noticed the problem only occurs when I am connected to my home network via Wi-Fi. If I switch the Wifi off on the phone it accepts calls OK and the green & red buttons appear. It also accepts calls OK when connected to Wifi when in safe mode. So I assume this means that it is an app that is causing the problem. How do I detect what app it is without doing a factory reset and losing all my data and apps. My work around at the moment is to keep WiFi off and use my data connection instead but this is not ideal. Thanks Mick
Solution: Based on your statement, the problem is not happening while in Safe mode, then obviously the issue might be triggered by third-party apps installed in the system. However, aside from third-party apps there are other factors that could have triggered the issue as well–it could be a serious software issue. But first, to narrow down the issue you can perform basic troubleshooting procedures to determine what really caused it.
Step 1: Perform Force Reboot on your phone
There are instances wherein due to a system glitch, the phone's screen is not responding or totally black. So, doing forced reboot could sometimes help the device back to its normal state. Here's an easy way to do it:
Press and hold the Volume Down and Power keys together for 7 to 10 seconds and wait for device to restart.

Your device will boot up normally after the process
Step 2: Boot in Safe mode
If the forced reboot didn't help, then booting in Safe mode might help you find the culprit. This is a diagnostic mode that's mostly used to determine if the issue is caused by a third-party app. Since your device was able to run in this mode, the next thing that you can do now is to determine which app caused the issue. Try to remember if what app you installed before the issue happened or you can start to searching for apps that is used for receiving or calling.
Step 3: Clear the Cache Partition of your device
System cache is a temporary system file that the firmware is using every time you boot the device, launch apps and use its features. However, if these files are corrupted or damaged, they could trigger an issue and system will start to crash. So, clearing the system cache could be very useful especially if your phone has this kind of issue.
Turn off the phone.

Press and then hold the Home and Volume UP keys, then press and hold the Power key.

When the Samsung Galaxy S7 Edge shows on the screen, release the Power key but continue holding the Home and Volume Up keys.

When the Android logo shows, you may release both keys and leave the phone be for about 30 to 60 seconds.

Using the Volume Down key, navigate through the options and highlight 'wipe cache partition.'

Once highlighted, you may press the Power key to select it.

Now highlight the option 'Yes' using the Volume Down key and press the Power button to select it.

Wait until your phone is finished wiping the cache partition. Once completed, highlight 'Reboot system now' and press the Power key.

The phone will now reboot longer than usual.
Step 4: Bring the device to the specialist
If all recommended procedures didn't resolve the issue, then you might have to bring your device to your local Service center and have the tech take a look at it.
CONNECT WITH US
We are always open to your problems, questions and suggestions, so feel free to contact us by filling up this form. This is a free service we offer and we won't charge you a penny for it. But please note that we receive hundreds of emails every day and it's impossible for us to respond to every single one of them. But rest assured we read every message we receive. For those whom we've helped, please spread the word by sharing our posts to your friends or by simply liking our Facebook and Google+ page or follow us on Twitter.