This post will walk you through activating an advanced Android feature on the newest Google Pixel smartphone to allow data transfer and app installation over a USB connection. Here's a quick guide to enable USB debugging on Google Pixel 7.
Estimate Cost : 0
Time Needed : 4 minutes
USB Debugging is an advanced Android system feature that allows Android Studio and other Software Development Kit (SDK) tools to detect and recognize your device whenever it's connected via USB cable.

This feature is hidden among other advanced system features in the Developer Options menu or Android Developer Mode. In order to access these hidden features, you will need to unlock the Developer options on your phone beforehand.

If you're new to Android devices and wondering how to access and activate USB debugging on your recently procured Google Pixel 7 smartphone, feel free to refer to these outlined instructions.

To get started, launch the Settings app menu by tapping on the Settings (gear) icon on the Apps tray/viewer.




Opening the Apps tray on the Pixel 7 is carried out by swiping up from the bottom of the Home screen.

While in the Settings menu, scroll to find and then tap on System.




System-related features and services will load up on the next display.

Scroll all the way down to the bottom section and then tap Developer options.




If you don't see Developer options in the System menu, then it means that Developer mode is still not enabled on your device. 

Should this be the case, you can refer to the outlined steps beneath this page to enable the Pixel 7 Developer Options Menu or Developer Mode. Otherwise, skip to the next step.

To continue, scroll down towards the Debugging section.




There, you will see relevant features and options including USB debugging, Revoke USB debugging authorizations, wireless debugging and more.

To enable the Pixel 7's USB Debugging mode, just tap to turn on the switch next to USB Debugging.




A pop-up warning will show up next. It's basically telling you that USB debugging is primarily intended for development purposes only and therefore should not be kept enabled on  your device.

Review the pop-up message and then tap OK to confirm action.




USB Debugging mode is now enabled and all set for use when copying data between your Google Pixel device and your computer.
Aside from copying files, you can also use USB debugging to install apps on your phone without getting notifications as well as read log data.
Enabling Google Pixel 7 Developer Mode
By default, the Developer mode or Developer options menu is disabled in Android devices. Thus, you won't see it listed among other system features and settings options.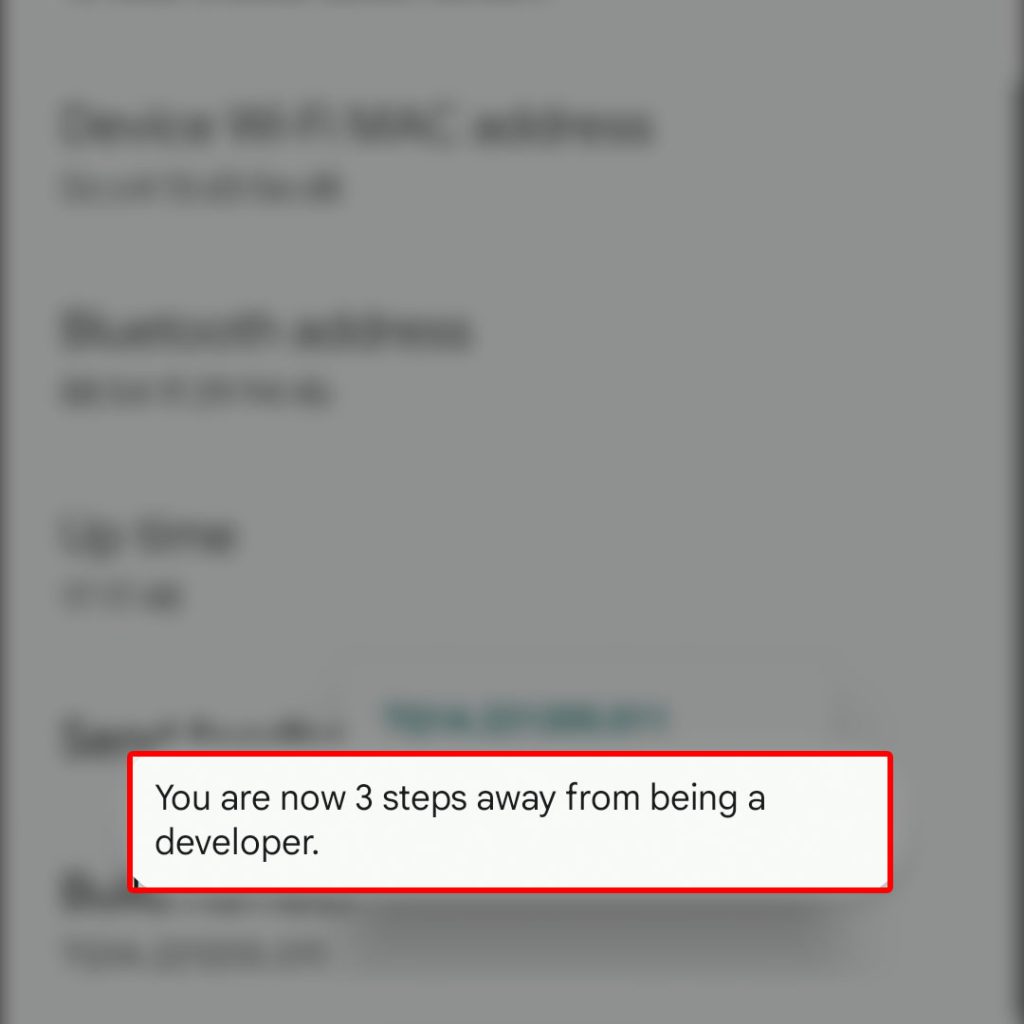 To enable Developer Mode on the Pixel 7, just head over to Settings-> About phone menu.
To continue, scroll down to the bottom section and then successively tap on Build number several times.
If prompted, confirm your device PIN, pattern or password to proceed.
After confirming, you should see a pop-up label saying "You are now a developer" or something similar.
That's an indication that developer mode is already enabled on your phone. By then, you should be all set to access the Developer options menu and use any of the advanced hidden features in it.
And that's how to enable the USB debugging feature on the Google Pixel 7 smartphone.