Google invented the Chromecast to make streaming content to your TV a whole lot more efficient and user-friendly than before. Hook up a Chromecast to your TV's HDMI port, connect it to your wireless network, and then from any device, you should be able to "cast" whatever content you're viewing — i.e. on your smartphone, tablet, or PC — to your TV's big screen. These work extremely well with old TVs that have HDMI ports, but don't have any Smart TV functions. Want to watch Netflix on your old TV? Pull it up on your phone, and then just "cast" it to the screen.

* If you buy through links on our site, we may earn an affiliate commission. For more details, please visit our Privacy policy page.
It's an efficient and user-friendly technology; however, one of the downsides to it is that it doesn't support 4K resolution. That's fine for now, but as 4K content becomes more readily available, you're going to want to be able to take advantage of that. That's why Google offers a couple different Chromecast models, to support different resolutions.
Not sure what the difference between Chromecast and Chromecast Ultra, the two major models? Then follow along below, where we'll help you identify all of the major differences between the two products.
Let's Dive Right into the Difference Between Chromecast and Chromecast Ultra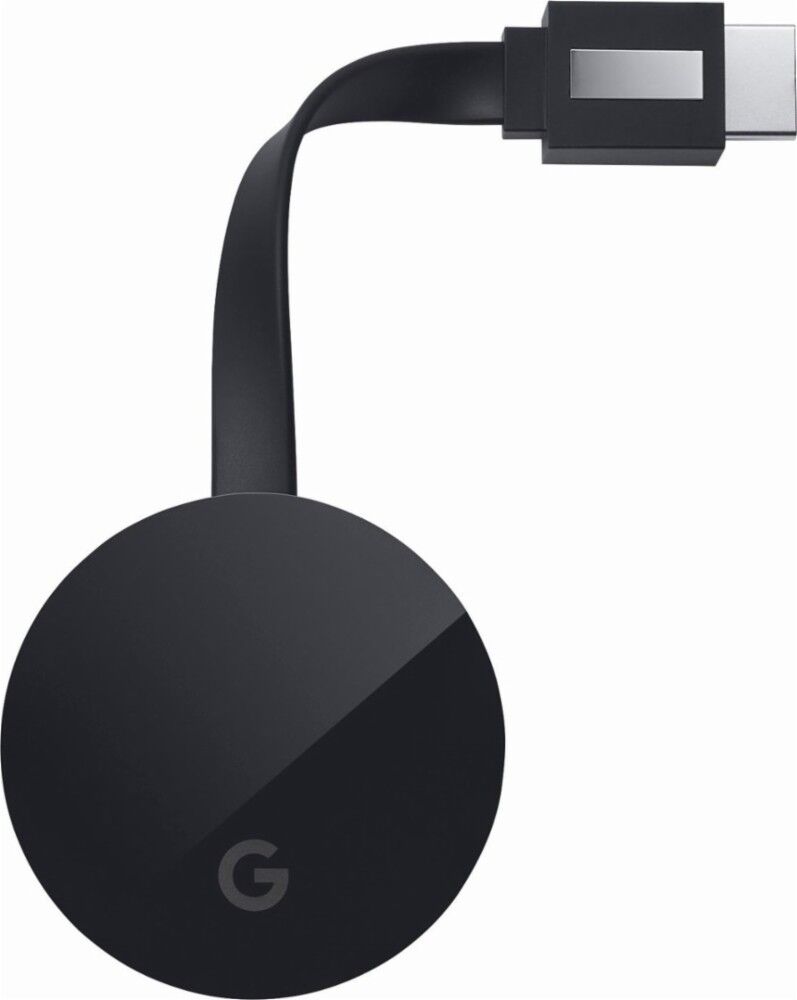 The original Chromecast is the base model that Google offers. As we mentioned above, plug your Chromecast into the back of your TV, and link it up to your wireless network. From there, you should be able to cast almost anything from your phone to your TV. You could even cast things from your tablet or computer, if you so chose. Chromecast supports over two thousands different applications, including all of the popular ones like Netflix, HBO Now, YouTube, YouTube TV, and Hulu. You can watch your favorite TV shows, movies, or simply load up an app like Pandora or Spotify, and have your Chromecast run through a playlist like that.
The really neat thing about Chromecast is how you can upgrade your TV on the cheap. Don't like that your TV doesn't have any "smart" capabilities? Well, you don't need to go out and buy a brand new Smart TV to fix that problem — a simple, cheap Chromecast will get you up and running with smart functions in no time!
That's generally how the Chromecast works, but the original has one major drawback: it can only support 1080p playback. That means that you're not going to be able to take advantage of 2K or even 4K content. That makes the Chromecast cheap, but also limits you to content quality that isn't cutting edge.
2K and 4K streaming takes a whole lot more processing power than 1080p playback. That's why you see things like the PlayStation 4 Pro and the Xbox One X come in at almost double the cost of the traditional console models. Google introduced the Chromecast Ultra as a way for users to stream 2K and 4K content, but similar to those console models, the price comes in at almost double the cost.
Suffice to say, price is a pretty big difference between the two products; however, one product gives you more value than the other, and that is the Chromecast Ultra, making your TV capable of playing that 4K content.
It is worth noting that the Chromecast Ultra could end up being more expensive. If you have an old TV, you're likely not going to be able to see that 4K resolution anyway, simply because your TV likely doesn't support it. To take full advantage of the Chromecast Ultra, you'll need a 4K-ready TV.
And when it comes down to it, at that point, most 4K-ready TV comes out of the box with some pretty powerful smart functions and robust app stores, making the Ultra essentially a middle man that you don't need. Many apps are even starting to be able to detect your Smart TV on your network, allowing you to "cast" to it even without a Chromecast.
Verdict on the Difference Between Chromecast and Chromecast Ultra
As you can see, the differences between the Chromecast and the Chromecast Ultra are actually pretty minimal. The difference comes down to maximum resolution supported; however, the Utlra can actually end up costing you a whole lot more if you don't already have a 4K ready TV.
Do you have a Chromecast or Chromecast Ultra? What's your favorite thing about it? Let us know in the comments section below!

* If you buy through links on our site, we may earn an affiliate commission. For more details, please visit our Privacy policy page.