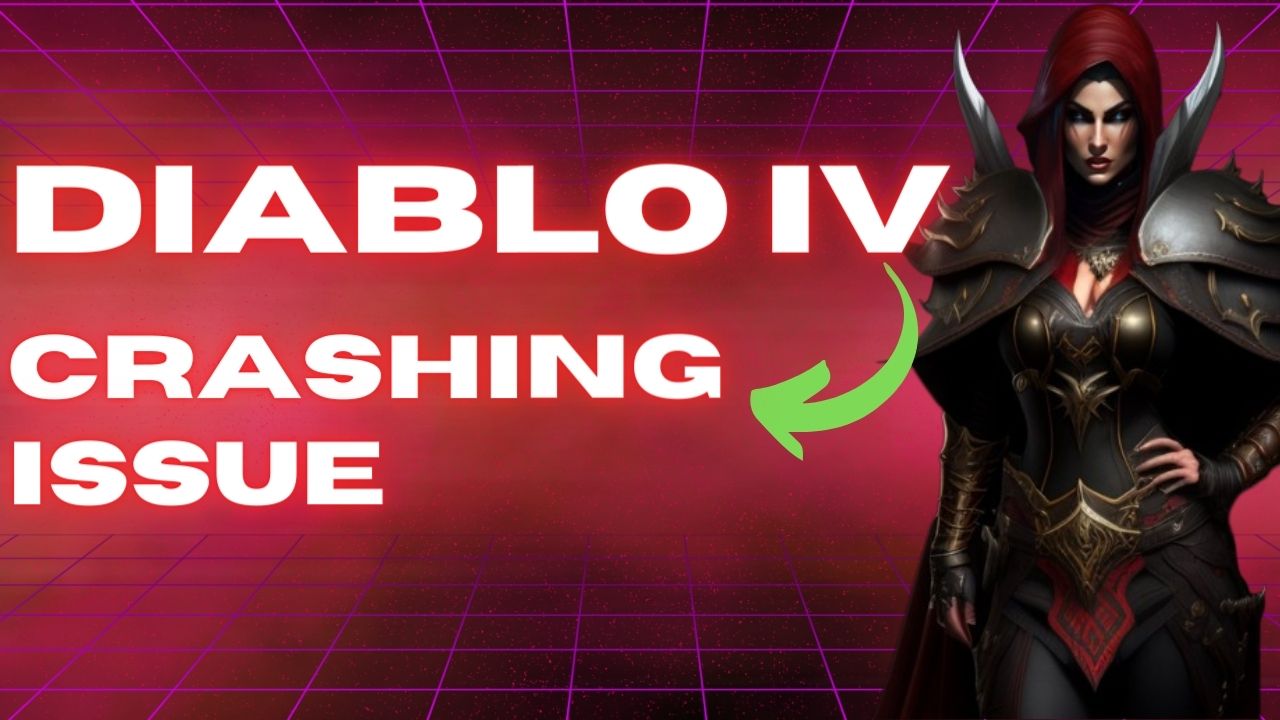 There can be various reasons why Diablo 4 crashes on the Battle.net app, including software problems, corrupted game files, compatibility issues, and outdated graphics drivers. Addressing these common causes may require multiple troubleshooting steps to fix the crashes. To resolve the issue of Diablo 4 crashing, users may need to follow several troubleshooting procedures.
Diablo IV Open Beta offers players the ultimate action RPG experience, featuring a vast array of abilities to master, nightmarish dungeons to conquer, and legendary loot to collect as they face endless evil to slaughter. Players can embark on the campaign solo or team up with friends in beautifully dark settings, or explore a shared world where they can meet in towns to trade, battle world bosses, or test their skills against other players in PVP zones.
The return of Lilith to Sanctuary after eons in exile has unleashed an age of darkness and misery, with chaos threatening to consume the land as evil and impiety spread. Depraved demons and corrupted wildlife roam freely, and terrified townsfolk struggle to survive each day.
To combat these unspeakable horrors, players can create and customize their character, choose from five different classes, experiment with powerful equipment, and carefully select their talents and abilities to become steadfast in the face of darkness.
As players explore Sanctuary, they can join forces with other adventurers to retake besieged towns, delve into corrupted dungeons, and uncover lost secrets. Clearing out Strongholds is a heroic feat that can transform hostile regions into safe havens for the citizens of Sanctuary.
Battles take a dramatic turn when players enter PvP zones, where they can mark themselves as "hostile" and engage in high-risk, high-reward combat for valuable loot. However, players should be warned that this also makes them vulnerable to attacks from other players.
Fixing Diablo 4 Crashing Problem
When playing Diablo IV open beta on your PC, you may encounter frequent crashes, especially during high screen activity moments like loading screens, setup, or gameplay. This issue is quite common among players, and several factors could be responsible for it.
Here's how to Fix Diablo IV crashing problem.
Fix #1 Check Diablo IV System Requirements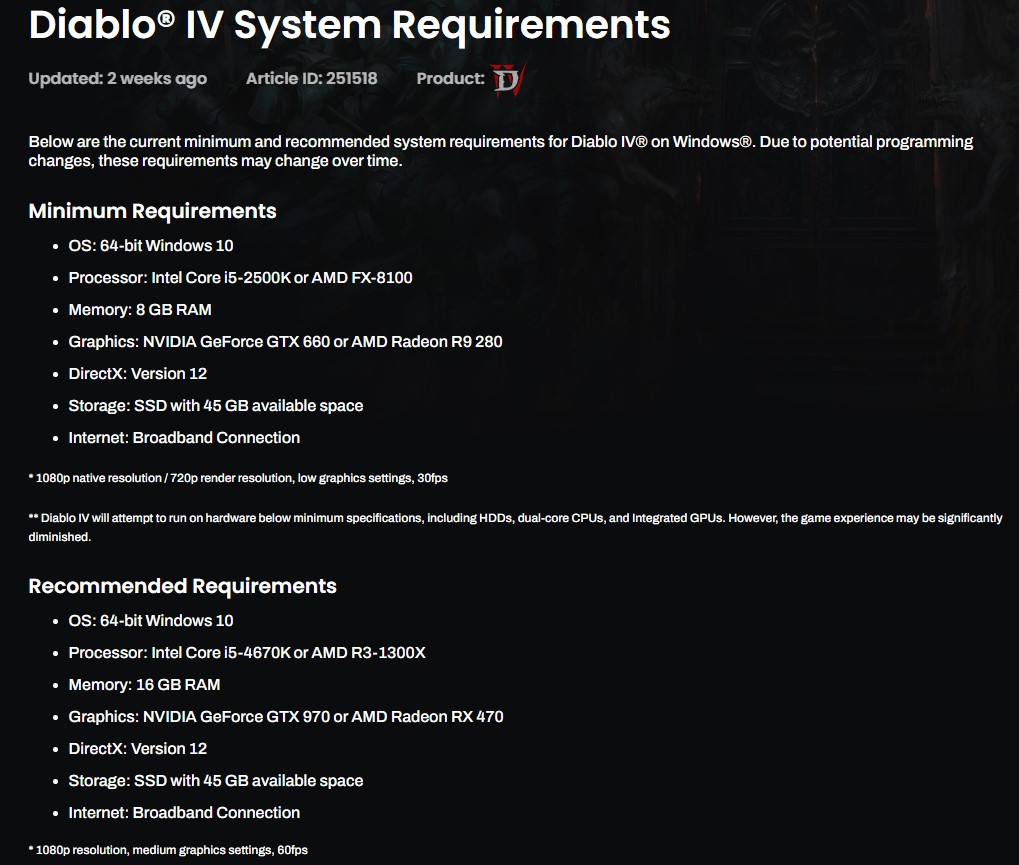 It is essential to check if your computer meets the game's system requirements. The minimum and recommended system requirement for the game can be found on the Battle.net website. Your PC should meet the game's minimum requirements to ensure smooth gameplay. If you want to avoid any potential problems while playing the game, it's recommended to make sure your computer meets the minimum requirements.
Minimum Requirements
OS: 64-bit Windows 10
Processor: Intel Core i5-2500K or AMD FX-8100
Memory: 8 GB RAM
Graphics: NVIDIA GeForce GTX 660 or AMD Radeon R9 280
DirectX: Version 12
Storage: SSD with 45 GB available space
Internet: Broadband Connection
Recommended Requirements
OS: 64-bit Windows 10
Processor: Intel Core i5-4670K or AMD R3-1300X
Memory: 16 GB RAM
Graphics: NVIDIA GeForce GTX 970 or AMD Radeon RX 470
DirectX: Version 12
Storage: SSD with 45 GB available space
Internet: Broadband Connection
Fix #2 Update Graphics Card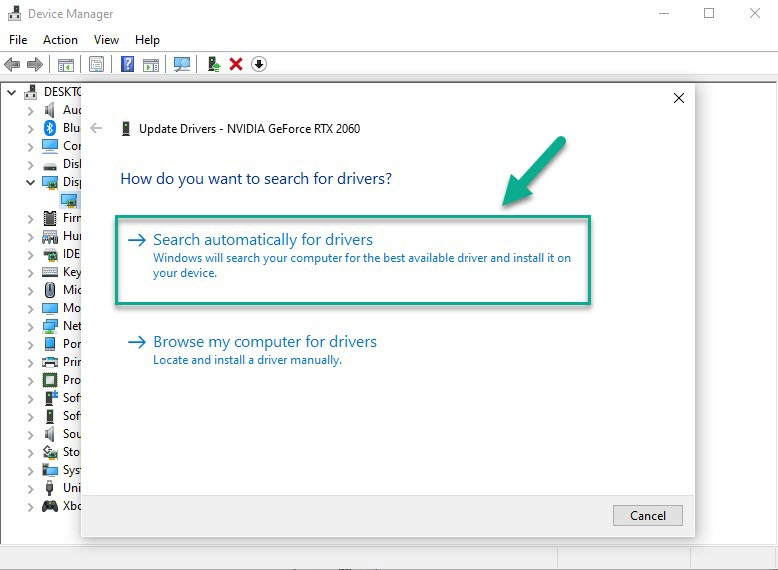 To prevent Diablo IV from crashing, it is crucial to ensure that your graphics drivers are up to date. Outdated graphics drivers can cause issues with the game's performance and stability. Updating your graphics card's drivers can improve the performance of Diablo IV on your PC by delivering bug fixes and various performance enhancements.
Updating Graphics Card Driver
Step 1: Simply type Device Manager in the search bar on your desktop and then click the Device Manager icon that appears in the results. This will open the device manager.
Step 2: Click the Display adapters icon. The list of display adapters will be expanded.
Step 3: Right-click the dedicated graphics card you are using to play the game and then select Update driver. This will allow you to update your driver.
Step 4: Choose Search automatically for drivers. This will search online for any new drivers and install it on your computer.
Try to check if crashing issue still persist if it still crash or the problem persists, try the next troubleshooting step.
Fix #3 Close Background Programs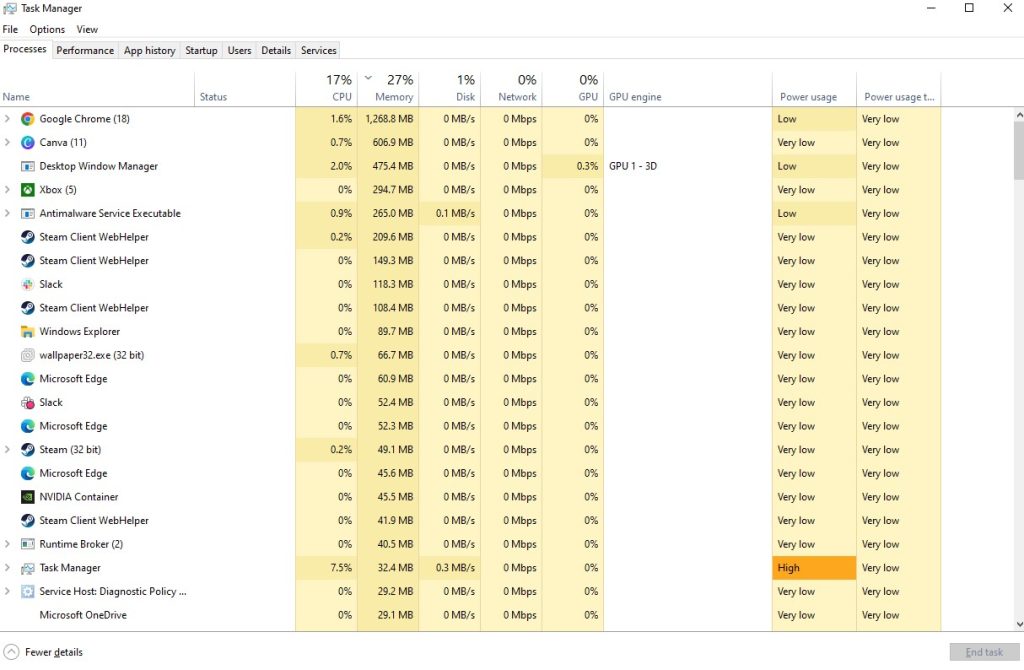 If you experience potential issues with game crashes or freezing issues while you play Diablo IV, it's possible that unused background running programs on your PC could be the cause. To ensure that the game has access to your PC's system resources, such as RAM and CPU, it's recommended to close any background processes and applications that are not being used while you are playing the game.
Closing background programs
Step 1: Right click on the Windows Start button.
Step 2: Click open Task Manager.
Step 3: On the pop up window, Click processes tab.
Step 4: Right-click on the running program then select end task.
Fix #4 Repair Game Files
Corrupted or missing game files are a common cause of constant crashes in Diablo IV. If you are experiencing frequent crashes, it could be due to corrupted game files. To resolve this issue, you can try verifying the game files through the Battle.net app. This process will check the game's files for any errors or missing components and replace them if necessary, potentially fixing the crashes.
If it still crashes or has freezing issues then you can fix Diablo 4 crashing by doing uninstallation process then installing it again.