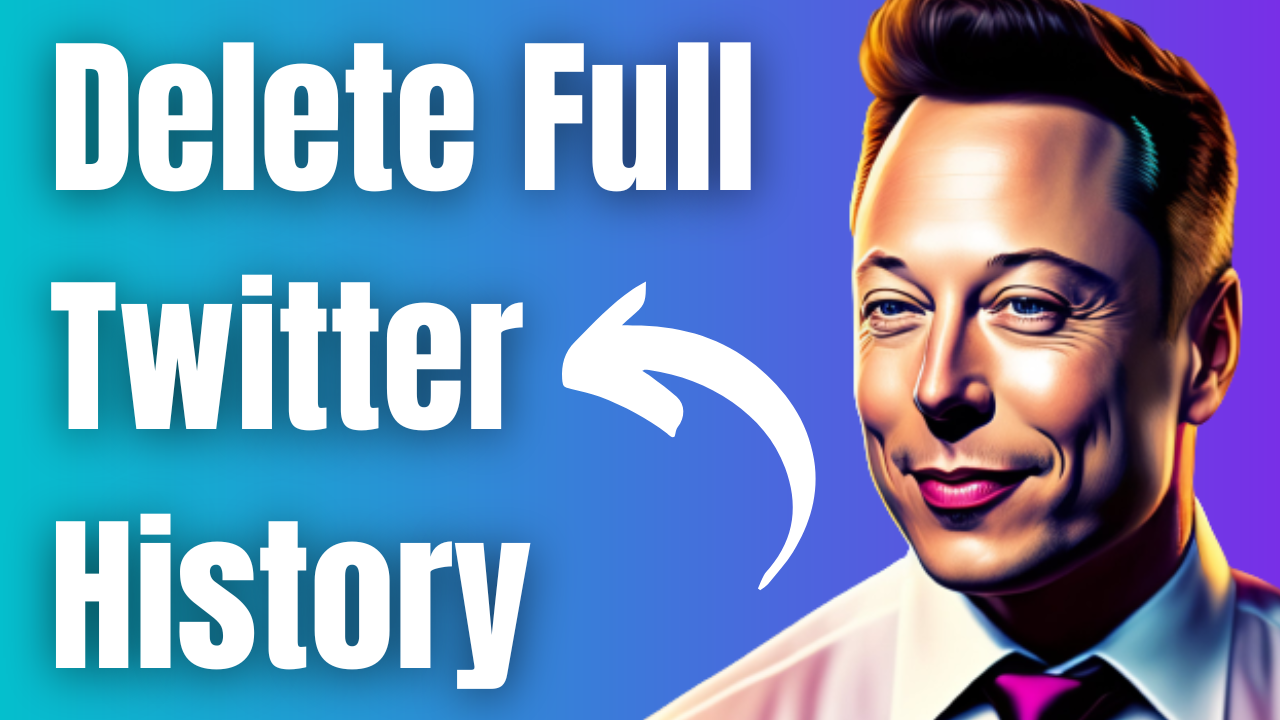 Do you want to know how to delete tweets? A single tweet from years ago can have a detrimental impact on your online reputation. In this article, we'll discuss the importance of managing your Twitter presence, the challenges of deleting old tweets.
Twitter is one of the popular social media platforms that allows users to share short, real-time messages, or "tweets," with their followers. With over 350 million active users, Twitter has become an essential tool for businesses, individuals, and organizations to connect with their audience and stay updated on news and trends. By using hashtags, retweets, and mentions, users can increase their reach and engagement, making Twitter an ideal platform for networking and building a brand.
Can you delete your entire Twitter history?
Twitter can be a brutal minefield that can harm your career and emotional well-being. However, Twitter is a valuable tool for professionals and businesses. Protecting your Twitter timeline is crucial since old or controversial tweets can have severe consequences.
If you're on Twitter, take precautions by deleting tweets manually or using the Twitter app's archive feature. Clearing your Twitter search history on a computer or mobile device is also recommended.
If you want to clear your Twitter timeline, the automatic deletion of your Twitter history can be useful. The Twitter mobile app offers an option to clear your Twitter search history. In this article, we'll discuss how to protect your Twitter presence by nuking your timeline and preventing future tweets from causing trouble.
Delete tweets manually
Unfortunately, Twitter doesn't provide an option to clear all previous tweets at once, so you'll have to delete each tweet manually.
Log in to your Twitter account on either your computer or mobile device.
Find the tweet you want to delete by scrolling through your profile or using the search function.
Click or tap on the three dots icon located at the top right of the tweet.
Select "Delete Tweet" from the drop-down menu.
Confirm that you want to delete the tweet by clicking or tapping on "Delete."
Clear Twitter search history on mobile
If you frequently use the Twitter app, you may have noticed that the search bar suggests previous searches or keywords based on your activity. While this feature can be helpful, it can also be a potential privacy concern, especially if you're sharing your device with others. Luckily, Twitter offers an easy way to clear your search suggestions on mobile.
Clear Twitter search results on Android and iOS
Open the Twitter app on your iOS or Android and log in to your account.
Tap on the magnifying glass icon in the toolbar at the bottom of the screen to bring up the search page.
Tap on the search bar at the top of the screen.
Select the gray "X" next to "Recent searches," then tap "Clear.
Delete Twitter recent searches on desktop
If you want to clear your Twitter searches, you need to follow a two-step process. Firstly, on the mobile app then on your desktop. To completely empty your search history, you'll need to delete the searches on the web browser version of Twitter.
Clear Twitter searches on desktop
Open Twitter on a web browser and log in to your account.
Click on the search bar in the top right corner.
From the "Recent" drop-down menu, select "Clear all."
Clear your Twitter cache
When it comes to decluttering your Twitter app and freeing up space on your phone, it's important not to overlook clearing the cache. Cached data helps speed up future app loading, but it can take up valuable storage space and slow down your device over time. If you're doing a deep clean of your Twitter account, it's worth taking a few minutes to clear your Twitter cache. This won't delete any content from your account, but it can help speed up your device. Here are the steps to clear your Twitter cache.
Clear cache on Android
Open the Twitter app and log in to your account.
Tap and hold the Twitter app icon on your device's home screen.
Select "App info" from the pop-up menu.
Tap "Storage & cache" from the "App info" screen.
Click on "Clear cache."
Clear cache on iOS
Open the Twitter app and log in to your account.
Tap on your profile photo in the upper left-hand corner of the screen.
From the menu, tap on "Settings and support."
From the drop-down list of options, select "Settings and privacy."
Use the search bar at the top of the page to search for "data usage" and select the option from the results.
Scroll down to the "Storage" heading and click on "Media storage."
Tap the red "Clear media storage" option.
Using third party apps to mass delete Tweets
If you're looking to delete a large number of old tweets, using a third-party app can be a great option. These apps allow you to mass delete tweets with just a few clicks, saving you the time and effort of deleting them one by one.
One of the biggest advantages of using a third-party app is its efficiency, as you can delete thousands of tweets in just a matter of minutes.
However, it's important to note that these apps often require access to your Twitter account, which can pose a security risk. Additionally, some of these apps may come with a price tag, so be sure to research and compare different options before committing to one.
Overall, using a third-party app can be a great way to quickly and easily delete your old tweets, but it's important to carefully weigh the advantages and disadvantages before deciding to use one.
Delete your Twitter account
Deleting your Twitter account is the ultimate solution if you want to completely erase your presence on the platform. It means removing all of your tweets, followers, and personal information from Twitter's servers. This option can be advantageous if you want to protect your privacy, start fresh, or simply need a break from social media.
However, keep in mind that deleting your account is irreversible and you won't be able to recover your data once it's gone. Before you delete your account, consider downloading your Twitter archive to keep a record of your tweets and interactions. Additionally, if you want to delete your account but keep your tweets, you can manually delete them first and then proceed with deleting your account.
Frequently Asked Questions
How do I delete my entire Twitter history?

To delete your entire Twitter history, you can either manually delete each post or use a third-party app or free web tool to mass delete tweets. Keep in mind that deleting tweets individually can be time-consuming, especially if you have a lot of posts. Alternatively, using a third-party app or web tool can help you remove your entire tweet history quickly and efficiently. However, be aware that these tools may have limitations, and they may not always work as expected.

What happens when I delete a tweet?

When you delete a tweet, it is removed from your Twitter profile, and it will no longer appear in your tweet archive or Twitter history. However, it is important to note that tweets can still be accessed through search engines, third-party websites, or archived copies. Additionally, deleting a tweet does not delete it from other users' feeds or conversations where it was already mentioned or replied to.

How can I access my Twitter archive?

To access your Twitter archive, you can go to your account settings and click on "Your Twitter data." From there, you can request a download of your tweet archive, which will include all of your posts and activity on the platform. Keep in mind that the archive may take a while to download, depending on the size of your tweet history.

Can I delete my deleted tweets?

Once you delete a tweet, it is permanently removed from your account and cannot be recovered or deleted again. However, if the tweet was already captured or archived by other sources, it may still be accessible outside of Twitter.

How do I delete my Twitter account?

To delete your Twitter account, go to your account settings, click on "Deactivate your account," and follow the prompts to confirm the action. Keep in mind that deleting your Twitter account will also delete your entire tweet history, followers, and all associated data permanently. This action cannot be undone, so be sure you want to delete your account before proceeding.