Elon Musk, the owner of Twitter, recently announced that the social media platform will implement daily limits to the number of tweets users can read. Verified user accounts have a daily cap set at 10,000 posts per day, for unverified accounts it's 1,000 posts, and new unverified accounts have a limit of 500 posts per day.
In response to this surprising change, users expressed frustration as they received messages like "Rate limit exceeded" and "Something went wrong. Try reloading". The rate limits apply when scrolling through tweets and replies. Though users can tweet within this restriction, excessive scrolling may prevent other users from viewing their posts.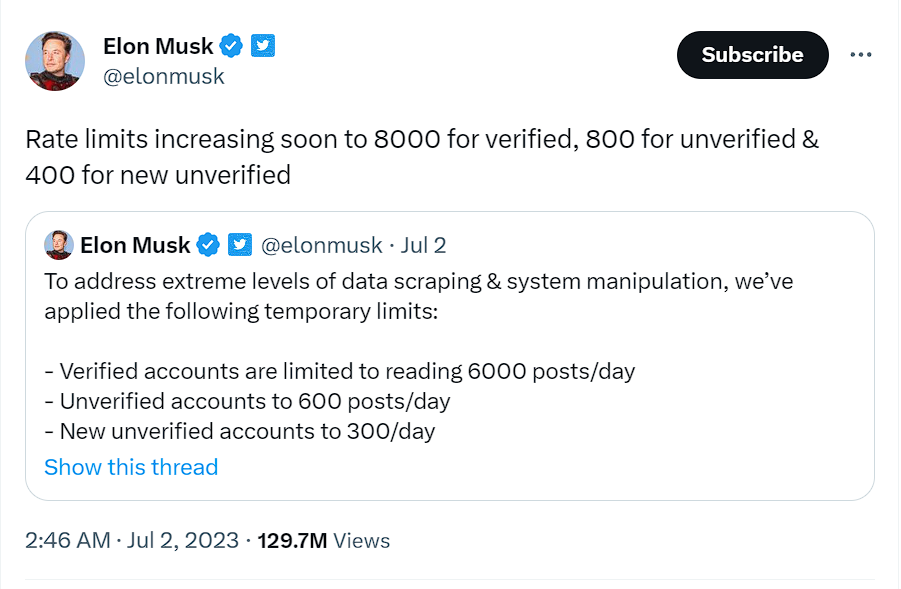 Elon Musk's Strategy against Data Scraping
This move by Twitter is a strategy to handle extreme levels of data scraping and system manipulation. According to Musk's tweets, artificial intelligence firms are extracting vast amounts of data from Twitter to train chatbots for free. It seems that the wide-scale data gathering has provoked enough concern for this radical change in Twitter rules.
However, some observers question if data scraping was the true cause for Twitter's rate restrictions or whether it was more tied to an effort to boost declining advertising revenue and scale up subscription revenue.
Rollout of Changes and User Implications
These restrictions were imposed after Musk announced temporary limits, initially set at 6,000 posts for verified accounts, 600 for unverified ones, and 300 for new unverified accounts. The limits have since been raised but there's no indication when or if they may be lifted.
The decision has also sparked confusion over the distinction between "unverified account" and "new unverified account", with details still unclear as of now.
Regardless of account status, these changes significantly impact user experience on the platform as with these limits in place, extensive browsing will be curbed extensively. Users will need to moderate their use lest they quickly exhaust their daily quota.
Aftermath of Musk's Takeover
There are opinions linking these limitations with the recent takeovers by Musk in fall last year wherein he purchased Twitter for $44 billion. Since acquiring the platform, decisions such as substantial workforce cuts have been implemented which have indirectly impacted advert revenues. At the same time attempts at bolstering subscription revenues through services like Twitter Blue ($8/month) haven't managed to bridge this gap yet.
Indeed users subscribing to Twitter Blue have a significantly higher post view allowance – they can view up to 10 times more tweets per day compared to most other types of account holders.
Overall, it's clear that under Musk's guidance, Twitter is undergoing significant changes in its approach towards user experience and business model execution.