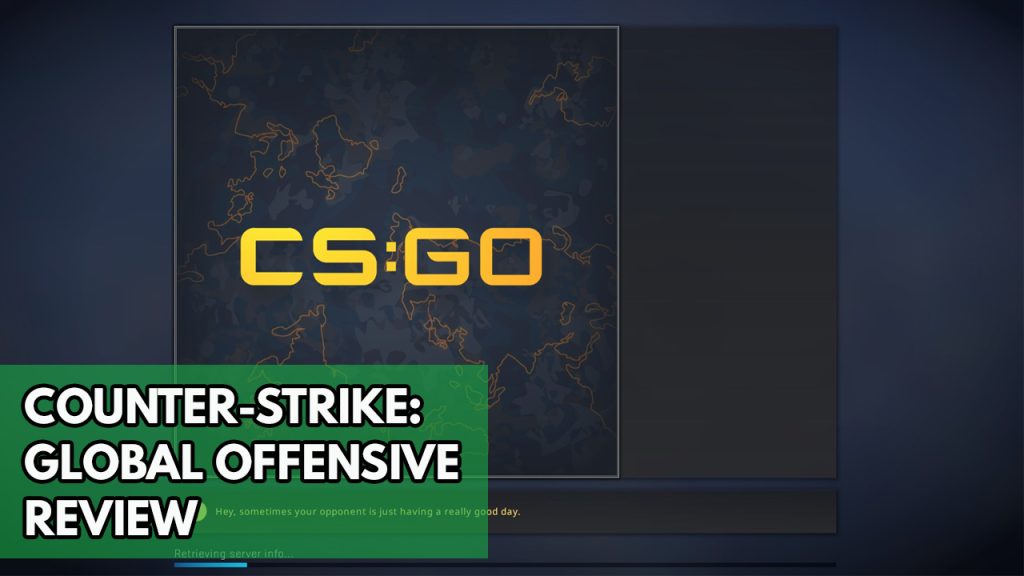 Counter-Strike: Global Offensive is one of the best FPS games with war games element that was developed by Valve and Hidden Path Entertainment and was released a decade ago, for those who have never played counter strike, it is currently available on Steam Store. This great game is the fourth installment in the Counter-Strike franchise. Terrorists and Counter-Terrorists are pitted against one another in various objective-based gameplay modes in a multiplayer game. Terrorists plant a bomb on the bomb site while Counter-Terrorists try to stop them, or try to rescue hostages taken by Terrorists, which will depend on the game style or game modes. There are nine recognized game modes, each with its own particular set of characteristics. Matchmaking is also available in the game, allowing players to play on dedicated Valve servers as well as competitive community-hosted servers by other players with unique maps and game modes. ""Danger Zone," a Battle-Royale game mode, was added in December 2018 to compete with other shooters game that has the Battle Royale genre.
Team based action gameplay Counter-Strike: Global Offensive
This is our CS GO review, a modern shooters game that builds on the classic CS content. It is a fun game that has a lot of online multiplayer games and the game delivers updated versions of old maps, characters, weapons, and game types that were available in classic CS content.
On release, critics praised Counter Strike Global Offensive for its gameplay and faithfulness to the Counter-Strike franchise, while it was panned for several early features and inconsistencies between the console and PC versions. Since its release, it has attracted an estimated 11 million monthly players and is one of Valve's most popular titles on Steam. Valve made the game free-to-play in December 2018, emphasizing on cosmetic goods as a source of revenue.
Counter Strike Global Offensive has a fun gameplay and is a good game, like previous Counter-Strike titles, it is a cooperative multiplayer first-person shooter with objective in defeating enemy team. In game modes, two opposing teams, the Terrorists and the Counter-Terrorists, compete to complete goals such securing a site to plant or defuse a device and freeing or capturing hostages. Players are given in-game currency to spend on other weapons such as submachine guns or smoke grenades in upcoming rounds based on individual and team performance at the end of each brief round. Winning rounds pays out more money than losing rounds, and accomplishing map-based objectives, such as killing enemy, earns you more money.
The Counter Strike Global Offensive professional scene comprises of leagues and tournaments held by third-party organizations, as well as Valve-sponsored competitions known as Major Championships. The prize pools for Majors have risen to US$1,000,000 since MLG Columbus 2016; originally announced at US$250,000, the prize pools for Majors have risen to US$1,000,000.
Gameplay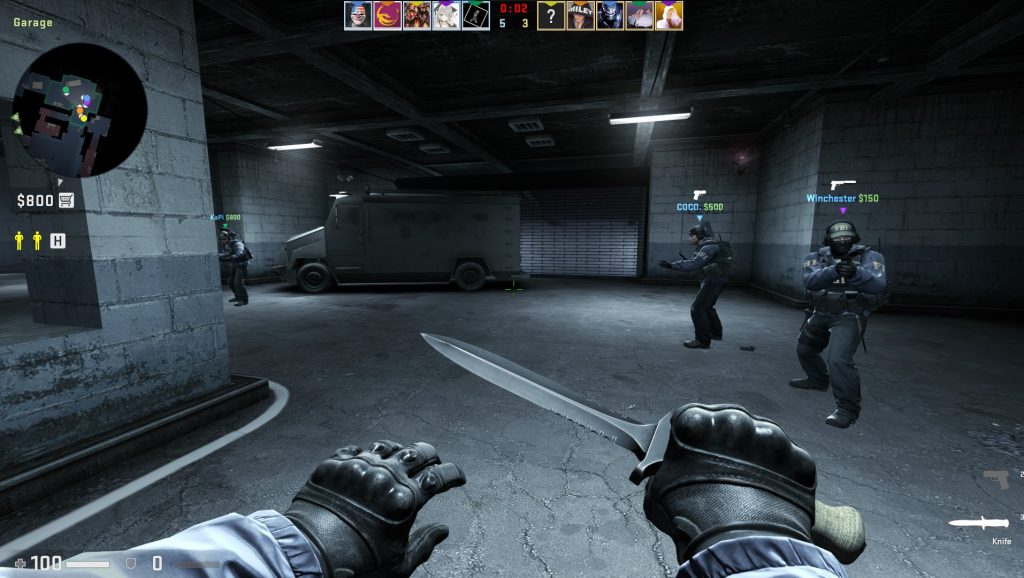 The original gameplay formula of the Counter-Strike series is modified slightly in Counter-Strike: Global Offensive. The weapon damage models were rebalanced in comparison to Counter-Strike: Source. Some walls, materials, and objects have increased bullet penetration. Other changes include revised Radio Commands for bots and players.
The economy has changed in Counter Strike Global Offensive. It is no longer necessary to purchase ammunition. The HUD, crosshair, and buy menu VGUI have all been changed in addition to the visual upgrades. A competitive matchmaking system that is based on ELO ranks and skill groupings is included in the game. Only PC and Mac versions of the game support dedicated servers. The game supports multiplayer play on both Microsoft Windows and Mac OS X. The map loading page now includes tips and hints, and match end now include fun facts that describe fascinating occurrences that occurred during the round.
Game Modes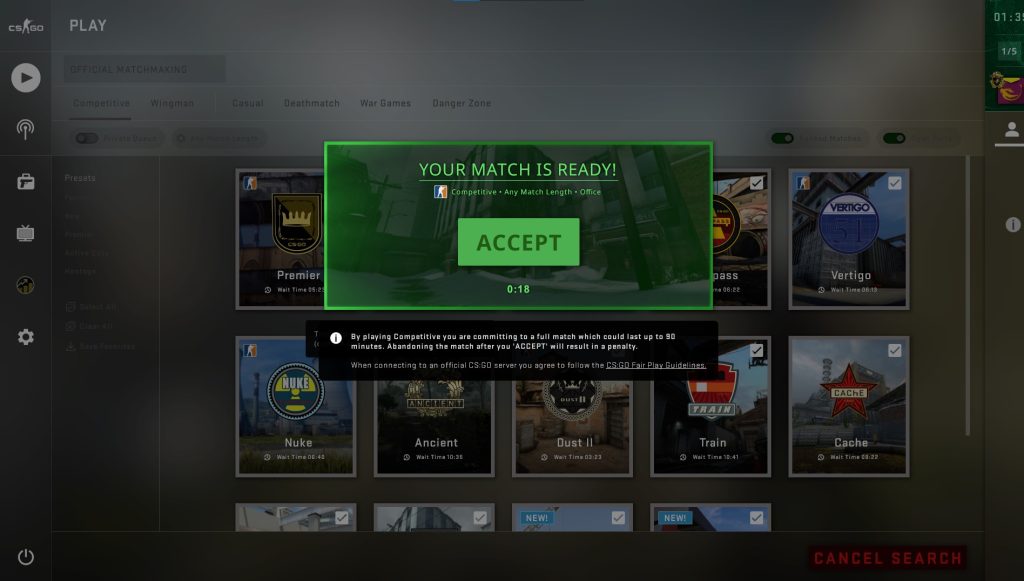 Competitive, Casual, Deathmatch, Arm Race, Demolition, Wingman, Flying Scoutsman, Retakes, and Danger Zone are the nine official game mode in Counter Strike Global Offensive.
Casual mode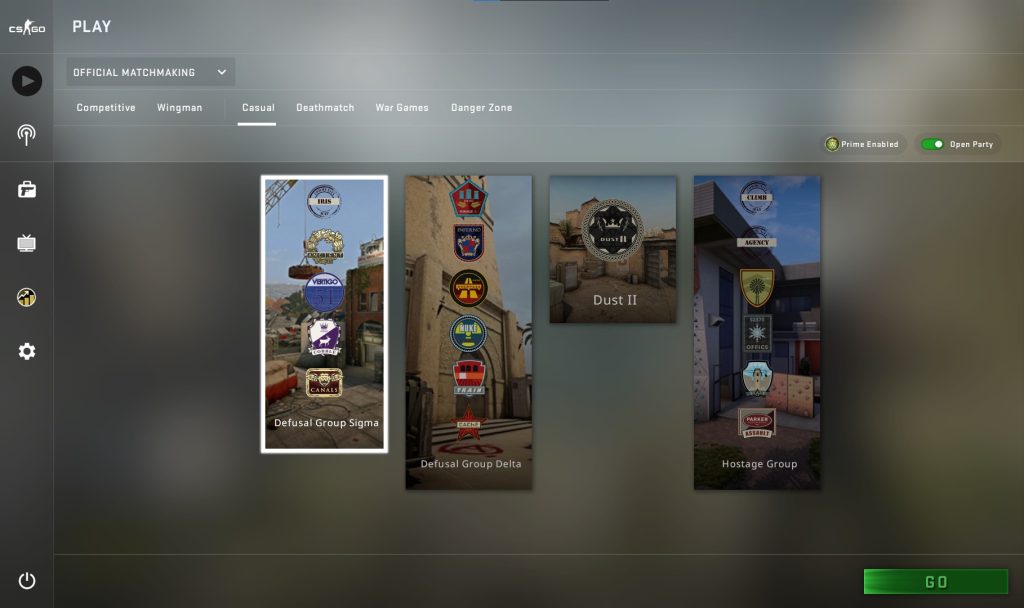 Casual is a game type in which the default Counter Strike Global Offensive player limit is set at twenty. On bomb defusal or hostage rescue maps, casual normally has ten players on each squad. Unlike Competitive, Casual allows players to queue for different skill groups and has a maximum round match of 15 rather than 30. The match will be decided by the first side to win eight round in a row, with no tie possible. Although there is no halftime in casual mode, players are permitted to switch sides at any moment throughout the game if space on the opposite team is available.
Competitive Mode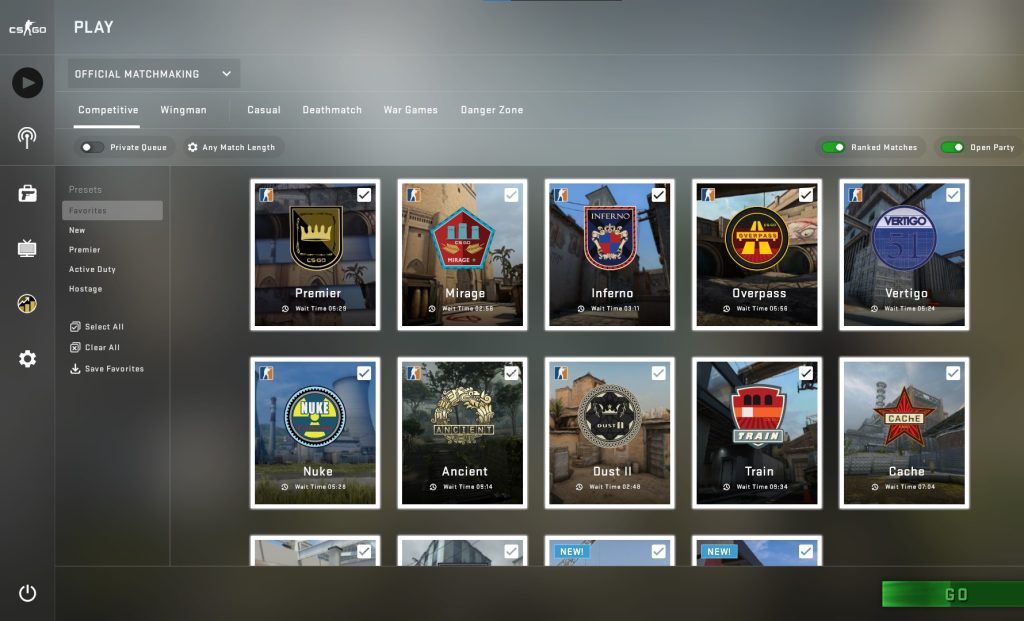 In competitive mode, two team of five players are always pitted against each other in a 30-match battle. The bomb timer is 40 seconds and the roundtime is 1 minute 55 seconds. Except at halftime, it is not allowed to transfer sides throughout the game. The game approaches intermission after 15 round, and the two teams will switch sides. The game is won by the first side to score 16 points. The match will result in a tie if both teams score 15 points by the end of the 30th round. When the match is over, if the player has a rank, it is revealed to all players. If one team surrenders, the game may end early.
Wargames mode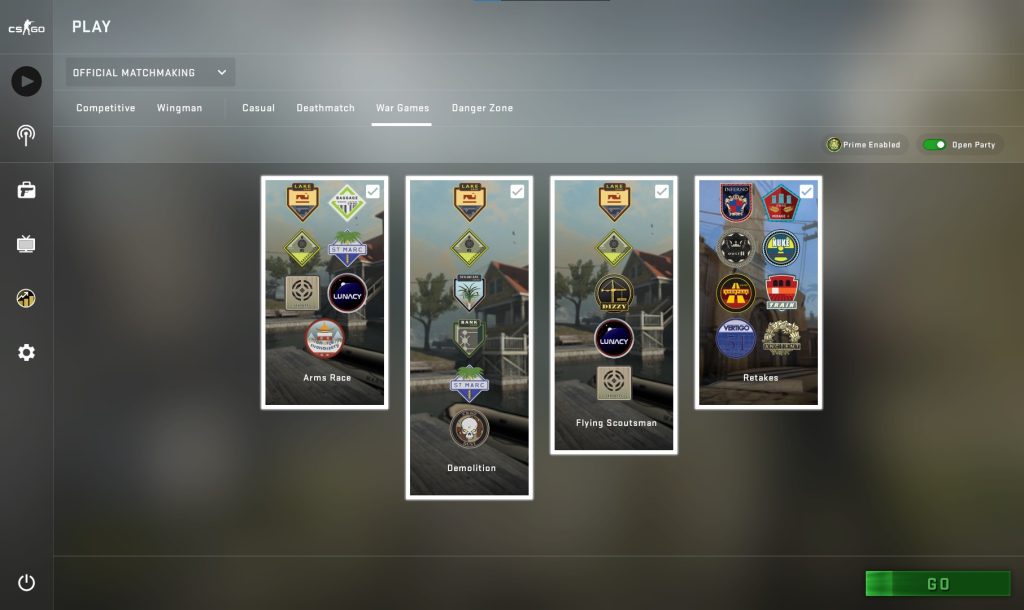 Is a set of game mode that include tweaks on standard gameplay. It was first published for Counter-Strike: Global Offensive in the May 23, 2017 update, alongside Wingman and Weapons Expert, as one of three Hydra Events.
Stab Stab Zap, Flying Scoutsman, Trigger Discipline, Boom! Headshot! Heavy Assault Suit, Hunters-Gatherers, and Hunters-Gatherer were some of the game mode used during Operation Hydras After the game, a vote for the next game mode would start.
Every week, three distinct maps for each game mode were rotated. The game mode Boom!, for example. Headshot! begins the week at Agency, then moves to Inferno the next day, then to Black Gold.
Current war game
Arms Race & Demolition
The popular Gun Game mod for Counter-Strike 1.6, Counter-Strike: Condition Zero, and Counter-Strike: Source inspired the war mode. The update created a scenario in which players began with the 9mm Sidearm and progressed through weaponry, with the ultimate goal of killing an adversary with the knife to win the game.
In general, the weapon selection for Gun Game began with a pistol and progressed through shotguns, submachine gun, assault rifles, sniper rifles, machine guns, HE Grenades, and eventually the knife.
Valve eventually acknowledged the mod's popularity and playability, and decided to incorporate the mechanics into the Arms and Demolition game mode in Global Offensive. The new game mode kept the fundamental gameplay of the mod but added adjustments to improve the mode's balance.
Flying Scoutsman
It's a wargame based on the casual mode. In this mode, players can only use the SSG 08 and the knife. Players can effortlessly fly and strafe in the air because to the lowered gravity and improved airborne acceleration. Midair accuracy penalties have been removed entirely, letting players to freely move and shoot each other with SSG 08 midair .
The basic goal of the mode is for one squad to kill all of the other team's players, but if the map contains a bombsite, which can be won by the Terrorists by planting and guarding the bomb, or by the Counter-Terrorists by defusing a planted bomb.
Wingman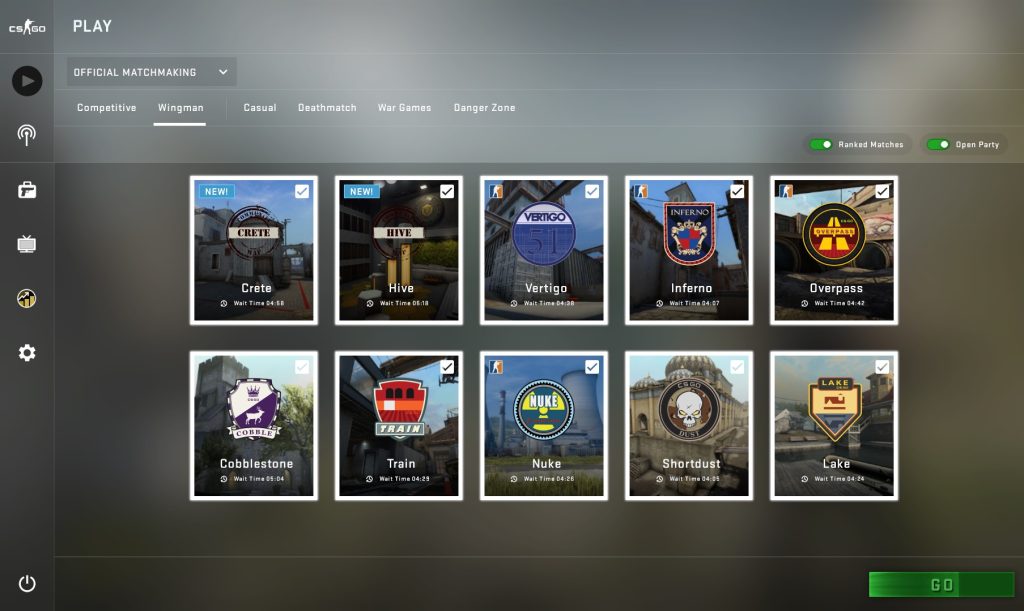 Wingman is a game mode that was added to Counter-Strike: Global Offensive as part of Operation Hydra on May 23, 2017. It is one of three Hydra Events, along with War Game and Weapons Expert. The game mode, as well as the new matching algorithm named "Trust Factor," became permanent after November 13, 2017.
The maps are smaller and more tight in this mode, and there are only two players on each group. Other rules are comparable to those in Competitive. Furthermore, the gamestyle employs the same penalties as the competitive mode.
Wingman is a competition mode that features 2 versus 2 competitive matches on maps with one bombsite, a best-of-16 format, and a unique Wingman skill group. The rules are similar to competitive, except that the mode is played on "compact" maps with only one bombsite. Wingman maps are smaller than original maps, with most of the map walled off by invisible barriers and the spawning placed much closer to the bombsite.
Deathmatch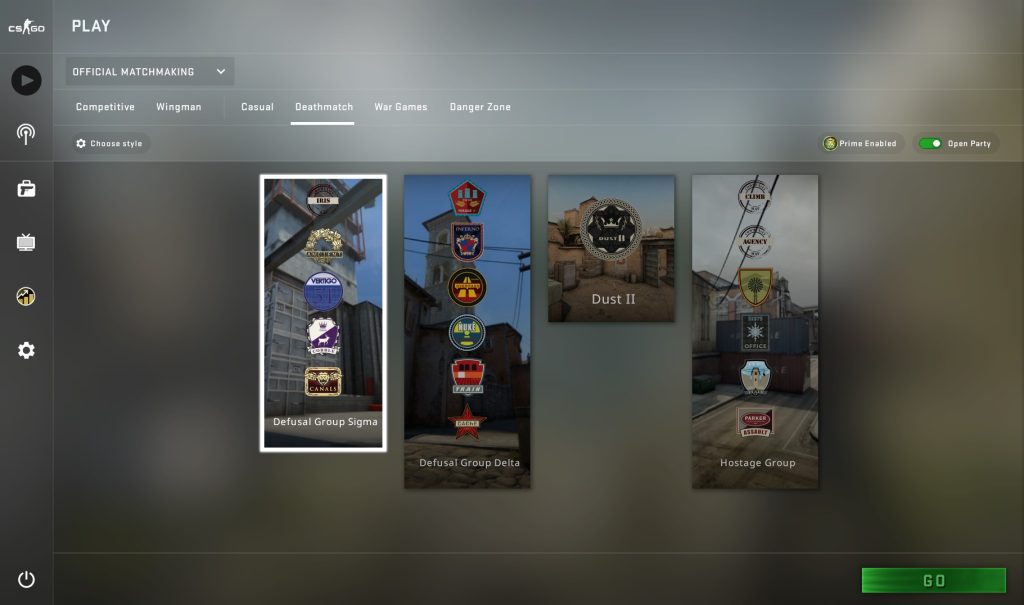 As part of the update, it was included into CS:GO. It's based on the same-named, incredibly popular mod.
Several deathmatch modifications were available prior to Global Offensive, allowing players the option of a free-for-all deathmatch, deathmatch elimination, or point-based deathmatch.
The deathmatch mode in Global Offensive is a team deathmatch that can be played on any map with no primary objectives such as planting and defusing bombs or rescuing hostages. Instead, players must eliminate opponents from the opposite squad. It's over after 10 minutes, and the player with the most points, along with 2nd and 3rd place, will be recognized as the winner.
Danger Zone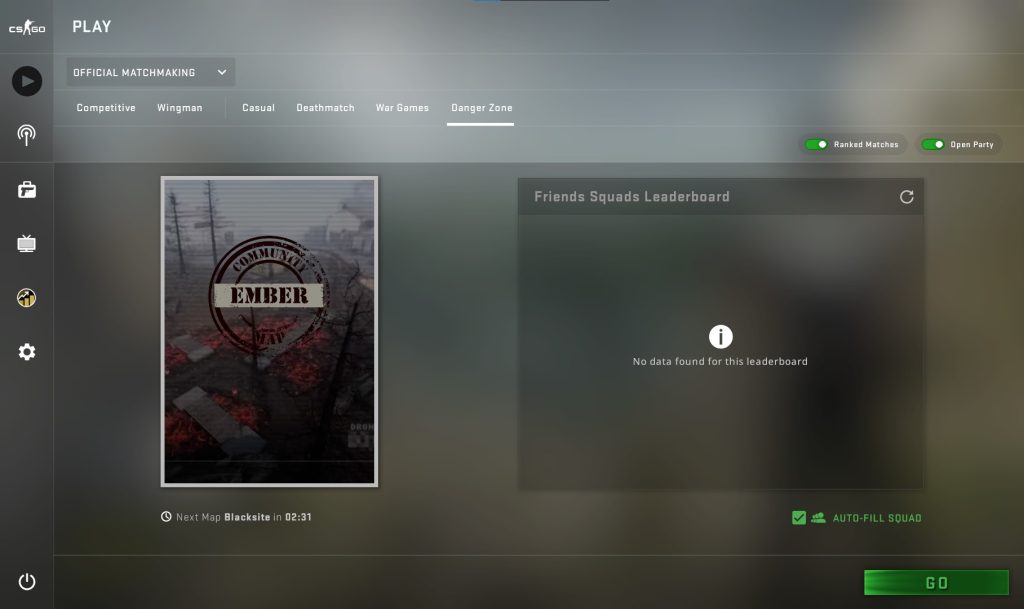 Danger Zone is a Battle Royale mode that was included in the December 6, 2018 update to Counter-Strike: Global Offensive. Danger Zone is a Battle Royale mode option in which 18 players join a single battle arena, loot for gear, and fight to the death.
Danger Zone is a Battle Royale mode in which players scavenge for equipment and fight each other in a diminishing battle area until only one person or group remains alive. In Solo or Duos mode, there are a maximum of 18 players each.
Danger Zone takes place on vast, open landscapes that are unique to the mode. Hexagons are used to partition the map. Players must choose an area of the map from which they will spawn at the start . Players will be rappelled into their designated spawn spot once it begins. Players begin with nothing but their fists as a weapon, one Medi-Shot, a Tablet to view the map and purchase stuff, and one piece of equipment of their choosing.
Players must gather supplies and fight to the death. The map's safe space shrinks with time, driving players closer together and increasing the likelihood of fighting.
Traditional respawning is not available in Danger Zone. When playing in Duos, players can only respawn if their teammate is still alive.
Danger Zone (similar to Competitive and Wingman) was split into two modes as of the June 3, 2021 update: Ranked, where players' skill groups can be seen and factor heavily into finding other players, and Unranked, where players' skill groups cannot be seen and there are no restrictions on skill groups for partying with players.
Non-Prime players and Prime players who toggle "Ranked Matches" to "Unranked Matches" in the "Play CS:GO" box can access Ranked Danger Zone, whereas Prime players can access Unranked Danger Zone.
Counter-Strike: Global Offensive Issues and Solutions
Issue #1 Keeps Crashing
You may experience a problem with crashing issue when playing CS GO. This has been reported to happen during the loading screen, initialization, or gaming when there is a lot of activity on the screen. This issue could be caused by a variety of factors, which is why you must pinpoint the exact source.
Updating graphics driver
Simply type Device Manager in the search bar on your desktop and then click the Device Manager icon that appears in the results. This will open the device manager.
Click the Display adapters icon. The list of display adapters will be expanded.
Right-click the dedicated graphics card you are using to play CS GO and then select Update driver. This will allow you to update your driver.
Choose Search automatically for drivers. This will search online for any new drivers and install it on your computer.
Verifying files
Open Steam client.
In your Steam launcher, click Library.
Find CS GO then right-click CS GO your Library and select Properties.
Choose the Local Files tab and click Verify integrity of game files. This will let you verify the CS GO files.
Run CSGO in Safe Mode or Autoconfig Mode
Open Steam.
Click on Library.
Find your CSGO in the list of games and right-click on it.
Select Properties.
Choose Set Launch Options…
Remove the existing launch option and type -safe (if you want to run it on Safe Mode) or -autoconfig (if you want to run it on autoconfig mode).
Select OK.
Close the Steam Window.
Launch CSGO and check for the problem.
Issue #2 Won't Launch
A lot of people play CS GO every day on Steam, and it's no surprise that it's been the most popular title on the site for years. While CS GO is generally stable, some players have reported issues such as failing to launch. If CS GO won't launch on Steam, try the methods in this troubleshooting guide.
Restart Steam and update CS GO.
Launch the Steam application.
Go to the Library.
Right click on CS GO icon.
Then select Properties from the drop down options.
Go to the Updates.
In this section, you have the option to either update the game automatically or manually moving forward.
Check System Requirements if your computer can run CS GO
Windows
Run as an Administrator
Right click the CS GO icon in your Steam Library.
Go to Properties > Local Files tab.
Click Browse Local Files.
Locate the executable file of CS GO.
Right click it and go to Properties.
Click the Compatibility tab.
Check the Run this program as an administrator box.
Frequently Asked Questions
Is CS GO free?

Yes it is now free to play.

Is CS GO safe?

Yes it is safe for all players who want to play it also has an anti cheat to avoid hackers who ruin gameplay.

Why is CS GO so popular?

It is popular since it included many features that other gamers like. The competitive mode, the required skill, and the overall game concept.

Where can I download CS GO?

You can download it on the steam client.

Is CS GO dead?

No, it is still popular.