Bluetooth headphones and speakers are a convenient way how you can dramatically improve the sound quality of your television or computer and enjoy a new sense of privacy. There are several possible scenarios that you have to be ready to deal with to successfully establish a wireless connection. Let's go through all of them, starting with how to connect Bluetooth headphones or wireless speakers to TV.
| Product | Brand | Name | Price |
| --- | --- | --- | --- |
| | Avantree | Avantree DG40S USB Bluetooth 4.0 Adapter Dongle | Check Price on Amazon |
| | SAMSUNG | Samsung UN55KU6600 Curved 55-Inch 4K Ultra HD Smart LED TV (2016 Model) | Check Price on Amazon |
| | miccus | Miccus Mini-jack TX4 - LOW LATENCY Bluetooth transmitter, ideal for adding wireless audio to TV, PC, iPod, Kindle, DVD; Pairs with Amazon Echo and Tap (Dual-Link) | Check Price on Amazon |
| | Feuire | Mpow Bluetooth Transmitter Receiver,Bluetooth Transmitter for TV, Bluetooth Receiver for Car Home Stereo System(A2DP/AVRCP), 2-in-1 Wireless Portable Bluetooth Kits for CD-Like Music | Check Price on Amazon |
| | Kinivo | Kinivo BTD-400 Bluetooth 4.0 Low Energy USB Adapter - For Windows 10/8.1/8 / Windows 7 / Vista, Raspberry Pi, Linux | Check Price on Amazon |
* If you buy through links on our site, we may earn an affiliate commission. For more details, please visit our Privacy policy page.
Connecting Bluetooth Headphones or Wireless Speakers to TV
Modern high-definition televisions offer fantastic picture quality, but they seldom deserve similar praise when it comes to their audio quality. While the small built-in speakers do a sufficient job of watching the news or your favorite soap operas, they cannot provide the full theater experience that we deem so essential for the maximum enjoyment of feature movies.
The good news is that Bluetooth headphones are wireless speakers are an extremely flexible solution that doesn't require you to ruin the look of your living room with ugly wires. What's more, they have become so ubiquitous over the last few years that you are guaranteed to find a suitable solution.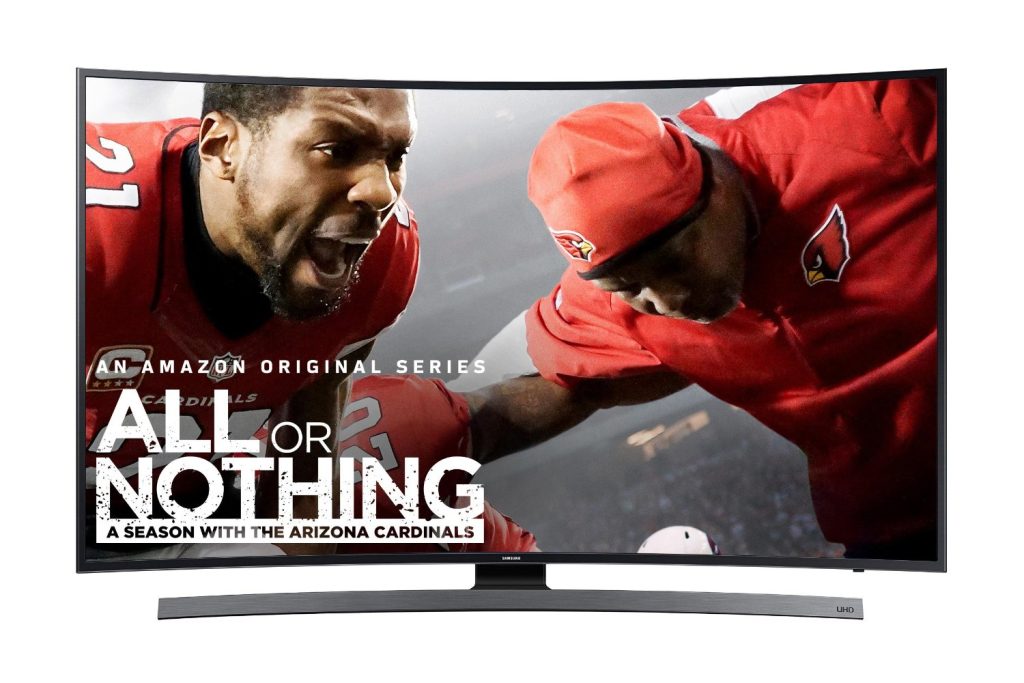 Bluetooth-Ready TV
The first thing you need to do is check whether your TV supports Bluetooth connectivity. Many modern televisions, such as the gorgeous Samsung UN55KU6600 4K Ultra HD Smart LED TV, support Bluetooth devices right out of the box, negating the need to purchase a separate Bluetooth transmitter.
Because all televisions are different, you will need to consult your owner's manual to figure out how to connect your particular TV to your Bluetooth headphones or wireless speakers. Generally speaking, the procedure involves putting both the TV and the Bluetooth device into the pairing mode and completing the pairing process via the TV's on-screen menu.

Non-Bluetooth TV
Things get a bit more involved if your TV doesn't support Bluetooth. If that's indeed the case, you will need to investigate what audio outputs are available on the TV and purchase the right Bluetooth adapter.
When you look at the back of your TV, you are likely to find left and right composite audio jacks, a standard 3.5mm headphone jack, and also an optical TOSLINK jack. The first two transmit audio in an analog format, while the last one is used for digital transmissions.
The availability of audio connectors determines what kind of Bluetooth transmitter you should get. If you want to use more than just one pair of Bluetooth headphones, you need to look for a multiple-output compatible transmitter. An excellent example of such a unit is the Avantree Priva or Miccus Mini Jack TX4. Of course, if you only need a single pair of headphones attached to your television, then a cheaper transmitter, such as the Mpow Streambot will do just fine.
From there, it's business as usual: plug the transmitter into the appropriate audio connector, place it into the pairing mode, hold the pairing button on your headphones, and complete the pairing process. Your television will most likely automatically recognize that there is a device plugged into one of its audio outputs, so you won't have to make any additional adjustments. If that's not the case, consult your owner's manual and look for a way how to change the audio output.
Connecting Bluetooth Headphones or Wireless Speakers to Computer
The Bluetooth technology made its way into computers a long time ago. It will be almost impossible for you to find a laptop that doesn't come with Bluetooth support, and the situation is starting to look the same even as far as desktop computers are concerned.
To connect your wireless speakers or Bluetooth headphones to your computer, you will likely only need to make the computer discoverable, which shouldn't take more than just a couple of seconds.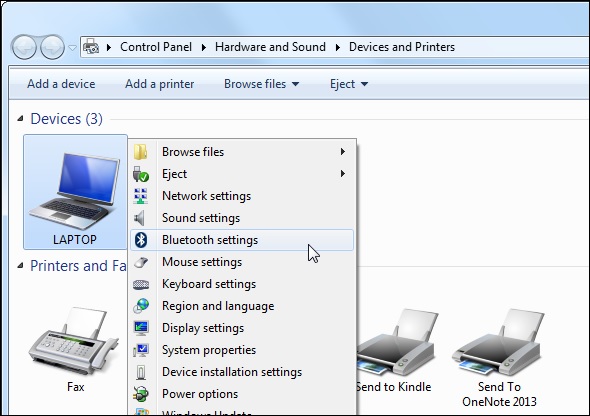 Bluetooth-Enabled Computer
Assuming that your computer comes with Bluetooth support, and it most likely does, you need to open the appropriate settings menu on your system Control Panel , go to Bluetooth Devices for Windows and Apple menu > System Preferences > Bluetooth for Mac, and allow Bluetooth devices to find your computer.
Once set, put your headphones or wireless speakers into the pairing mode and search for them through a Bluetooth Wizard on your computer. When your adapter has found your device, click "Connect" and enjoy the wireless listening experience.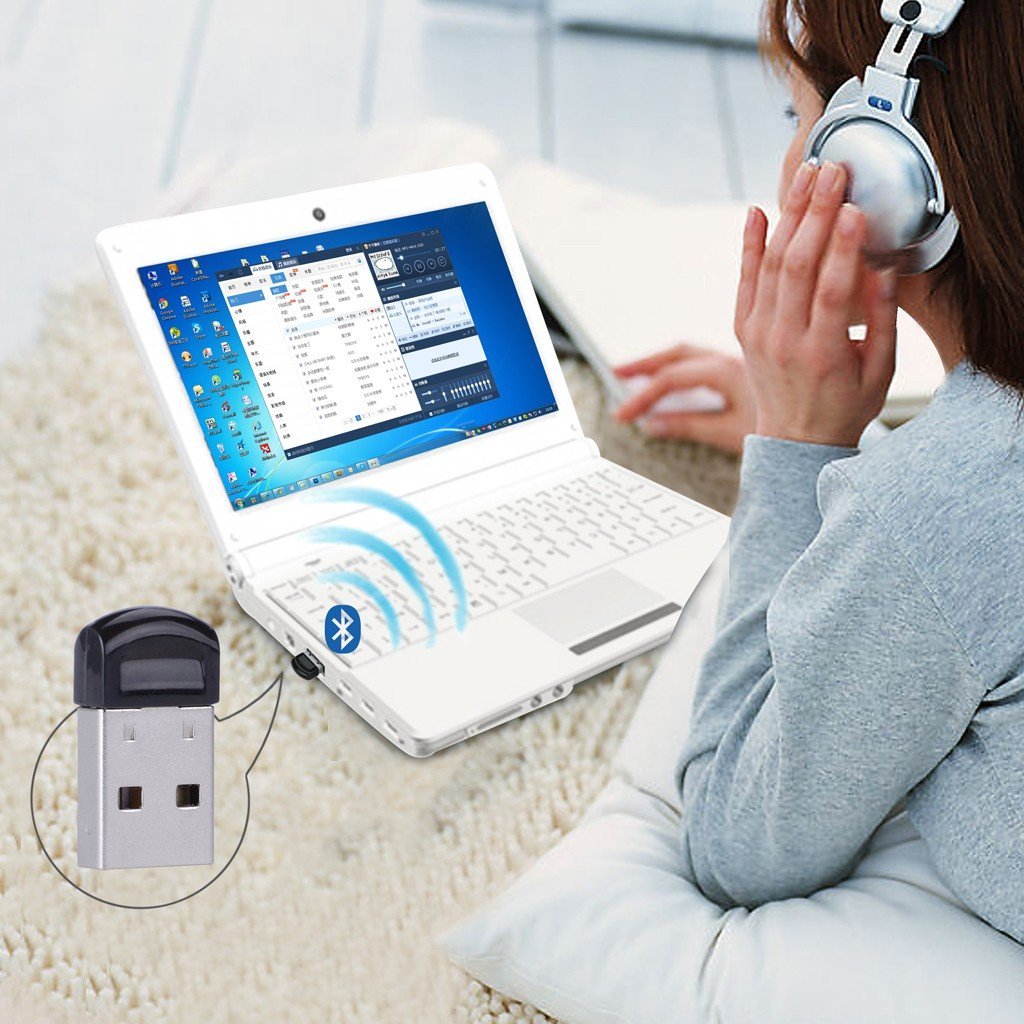 Computer without Bluetooth
In case your computer doesn't support Bluetooth, there's no need to despair. Just buy an external Bluetooth adapter that plugs into the USB port on your computer to get the same functionality. Compared to Bluetooth transmitters for TVs, pluggable USB Bluetooth adapters are rarely larger than the smallest flash drives available.
Good examples of affordable Bluetooth adapters that you can plug into a USB port and forget about are the Avantree Bluetooth 4.0 USB Dongle, Kinivo BTD-400 Bluetooth 4.0 USB Adapter, and ASUS USB Bluetooth Adapter 4.0 Dongle. There's no need to pay more, as you always get the same functionality and comparable transmission range.
After you connect your new Bluetooth adapter, your computer should automatically recognize it and install all the necessary drivers. Then you can connect your Bluetooth headphones or wireless speaker in the same way as you would if your computer supported Bluetooth right from the get-go.
| Product | Brand | Name | Price |
| --- | --- | --- | --- |
| | Avantree | Avantree DG40S USB Bluetooth 4.0 Adapter Dongle | Check Price on Amazon |
| | SAMSUNG | Samsung UN55KU6600 Curved 55-Inch 4K Ultra HD Smart LED TV (2016 Model) | Check Price on Amazon |
| | miccus | Miccus Mini-jack TX4 - LOW LATENCY Bluetooth transmitter, ideal for adding wireless audio to TV, PC, iPod, Kindle, DVD; Pairs with Amazon Echo and Tap (Dual-Link) | Check Price on Amazon |
| | Feuire | Mpow Bluetooth Transmitter Receiver,Bluetooth Transmitter for TV, Bluetooth Receiver for Car Home Stereo System(A2DP/AVRCP), 2-in-1 Wireless Portable Bluetooth Kits for CD-Like Music | Check Price on Amazon |
| | Kinivo | Kinivo BTD-400 Bluetooth 4.0 Low Energy USB Adapter - For Windows 10/8.1/8 / Windows 7 / Vista, Raspberry Pi, Linux | Check Price on Amazon |
* If you buy through links on our site, we may earn an affiliate commission. For more details, please visit our Privacy policy page.