Are you getting Warzone Dev Error 6034 every time you join your friends online? If you do, you're not alone. In fact, a lot of players have already contacted us about this error. The good news is that dev error 6034 can be fixed easily if you know how.
In this troubleshooting guide, we'll show you the simple ways to fix this problem.
What are the causes for Call of Duty Warzone Dev Error 6034?
There's no official word from Activision support what Warzone Dev Error 6034 error means or why it's occurring in some computers. Since the dev error 6034 started surfacing on both Modern Warfare and Warzone, we've tracked a number of common possible reasons for this problem though.
Below are the factors that can possibly contribute to this dev error:
COD Modern Warfare or Warzone random error.
In some cases, Dev error such as 6034 happens by chance. For others, error 6034 may be triggered by a random bug in COD Modern Warfare game.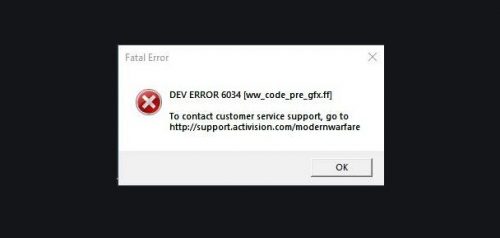 If you are experiencing Call of Duty dev error 6034 infrequently and without a clear pattern, it may be happening randomly. This means that there may be a unique bug in your computer that leads to the game client malfunction.
Dev error 6034 is not universal and the majority of Call Of Duty Modern Warfare players don't experience it.
An easy way to fix possible random bugs is to keep the system refreshed. So, be sure to reboot your PC if you encounter error codes.
Corrupted game files.
For others, dev error 6034 may show up if their COD Modern Warfare or Warzone game files are corrupted. This can happen due to a number of reasons, one of them being third party app interference.
In other situations, system updates may cause the game to crash or malfunction for no apparent reason.
If you notice that COD Modern Warfare started acting up after you've updated the game or your Windows OS, you may be dealing with corrupted game files.
An effective fix to deal with error codes for Modern Warfare or Warzone is to scan and repair the game files. We'll show you how this fix is performed below.
Outdated GPU drivers.
Running old or outdated graphics card drivers can lead to gaming troubles. In order to lessen the chances of encountering issues when playing, you want to make sure that your GPU drivers are always up-to-date.
By default, NVIDIA or AMD graphics cards have an accompanying program to keep driver updates happen in the background. However, you can always manually check for new drivers if needed, especially if you are experiencing dev error 6034. Updating can be an easy way to fix dev error 6034 on Warzone.
How to fix Call of Duty Warzone Dev Error 6034?
If you have no idea how to fix dev error 6034 on COD Modern Warfare or Warzone, the following solutions can potentially help.
Restart COD Warzone.
One of the simplest ways to fix dev error 6034 is to restart your Modern Warfare game. Just close the game normally, load it again, and see if restarting is a good fix.
Reboot your PC.
Sometimes, error codes are fixed by doing another simple troubleshooting step — restarting the PC. If refreshing the game did not fix dev error 6034, be sure to also reboot your computer.
Install updates.
Some Call of Duty problems go away after an update so you want to make it a point to keep the software environment of your PC fully updated. This means updating the game, other programs, drivers, and most especially your Windows OS.
Verify for updated GPU drivers.
We want to emphasize that keeping your GPU drivers updated is an important way to fix Call Of Duty Modern Warfare problems. Drivers are mini-OS that helps a hardware component like a GPU work with your computer's Windows Operating System.
If your GPU drivers are not up-to-date, some of your games may not work properly.
To check for:
Scan and repair game files.
At times, repairing the game files can be the only way to fix Call Of Duty Modern Warfare issues.
If you have no idea how this is done, follow these steps to run Scan and Repair:
Open the Battle.net or Blizzard client.
Select the game you're trying to repair.
In the middle of the screen, usually below Call Of Duty Modern Warfare, click on drop-down arrow near Options.
Click on Scan and Repair.
Click on Begin Scan.
Fix dev error by manually deleting files.
If the automated method of fixing possible corrupted Call Of Duty game files did not help, you can also try to manually delete files to force the system to update the game again.
Here's how to do that:
Go to the installation folder for Call of Duty: Modern Warfare or Warzone
In the install directory, delete the following files:

.patch.result
.product
vivoxsdk_x64.dll
Launcher.db
Modern Warfare Launcher.exe

Open the Battle.net launcher, then use the Scan and Repair tool.
Suggested readings:
Visit our TheDroidGuy Youtube Channel for more troubleshooting videos and tutorials.