Some players are reporting that their Call Of Duty Warzone game crashes and is apparently overloading the system due to high CPU usage. If your computers seems to constantly slowing down, freezing, or if the game is crashing with regularity, it's high time to check what's going on.
This troubleshooting guide will help you figure out what you need to do in this situation.
What is high CPU usage and why it's a problem?
The Central Processing Unit (CPU) is considered the brain of your computer and sometimes, the tasks that this brain handles are simply too much. In this situation, your computer may freeze, stutter, or simply crash without an error. If you any of these things happen when you're trying to play Call Of Duty Warzone, your PC may be suffering from high CPU usage. This means that the system is overwhelmed by the tasks it's trying to perform.
You can confirm if your PC has a high CPU usage problem using the Task Manager (press Control + Shift + ESC) by checking under the Processes tab.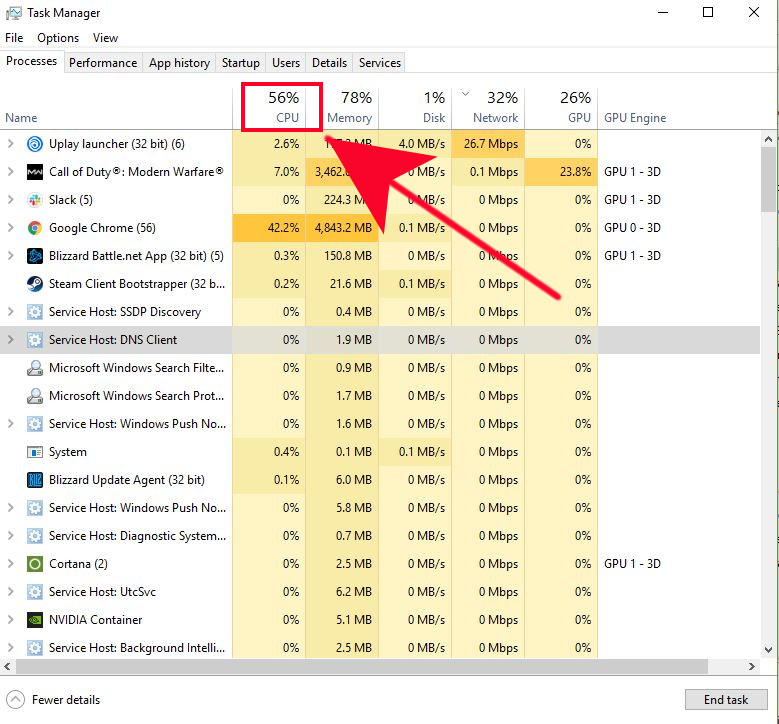 If the CPU percentage constantly hovers 80% or above and your computer keeps stuttering while in a game, you definitely have a high CPU usage. In the CPU column, you should have the information about which applications are causing the problem.
What causes high CPU usage when playing Call of Duty Warzone?
There can be a number of possible factors behind your high CPU problem. These can widely vary although the most common ones are hardware-related cases. Below are the known reasons for high CPU usage when playing Call Of Duty Warzone.
Outdated GPU drivers.
Drivers are mini-software of a particular hardware such as a graphics card. Sometimes, drivers may need coding changes in order to work properly or to fix known bugs. You want to make sure that you update your GPU drivers regularly to lessen the chances of your games from giving you problems.
Slow or defective CPU.
Computers running older generation of processors or CPUs may not be able to perform well with new games like the Call Of Duty Warzone. In some cases, tweaking the settings may fix CPU performance problems but if you're' already running the game in its lowest possible graphics configuration but it continues to stutter, freeze, or lag, you may have to upgrade the CPU.
Low memory.
Demanding applications or games require considerable amount of RAM or memory. If your PC does not meet the minimum required memory of 8 GB RAM, Warzone won't work properly.
Other unknown hardware problems.
There are many other reasons why your game can cause high CPU usage problems. For instance, a malfunctioning hard drive, a defective RAM, or an incompatible GPU card may lead to crashing issues as well.
How to fix high CPU usage when playing Warzone?
If you can't figure out the cause why your PC frequently crashes and CPU usage spikes when on Call Of Duty Warzone, you'll have to perform a number of troubleshooting steps. Learn what you can do below.
Update GPU card drivers.

Outdated or corrupted graphics card drivers can result in problems when gaming. Be sure to check for the latest drivers for your GPU and install the updates before running the game again.
To check for:
–AMD GPU drivers
–NVIDIA GPU drivers

Lower Warzone's Graphics settings.

The minimum CPU requirement for Warzone is either an Intel® Core™ i5-2500K or AMD Ryzen™ R5 1600X Processor. If your rig has any of these specified CPUs (or even slower), you may have a high CPU usage problem if you use higher graphics settings on Warzone.
Try playing the game in the lowest possible settings and see if that will fix the problem.

Set application Priority level to Normal.

Windows set games to launch at High priority by default but if you're running a slower machine, changing the priority may help.
Some players have reported that their gaming experience with Warzone has improved after changing the Priority level of the game in Task Manager. Here's how it's done:
-Open Task Manager by pressing Control + Shift + ESC.
-Click on the Details tab.
-Search and right-click on ModernWarfare.exe.
-Highlight Set Priority and Select Normal.
-Click on Change Priority to confirm it.
-Reboot the PC and check for the problem again.

Disable NVIDIA overlay feature.

If you have an NVIDIA graphics card, try turning off its in-game overlay to see if that will fix the problem. This feature has been traced to cause crashing problems with some games. 
-Open the Geforce Experience application.
-Click on Settings inside the interface.
-Click on the General tab.
-Turn off the In-Game Overlay toggle.
-Close both the window and the game.
-Close and launch the Warzone again to check if it continues to cause high CPU usage.

Boost Virtual Memory.

The minimum RAM Warzone requires is 8 GB. If your PC regularly runs out of memory when the game is running, you may fix the issue by converting certain sectors of the hard drive into a temporary memory or virtual memory. Here's how to do that:
-Press the Windows (Win) key on the keyboard.
-Type in "Control Panel"
-Open Control Panel application.
-Go to System.
-Click on Advanced system settings.
-Under Advanced tab, click Settings in the Performance section.
-Select Advanced tab.
-In Virtual memory section, click Change.
-Uncheck Automatically manage paging files size for all drives option.
-Select the drive where the game is installed and choose the Custom size.
-Put a value more than 2GB (2048MB) for both the Initial and Maximum size.
-Once done, click on Set and then click on OK.
-Finally, click on the OK button again.
-Reboot your computer and check for the problem afterwards.
What to do if Call Of Duty Warzone still crashes due to high CPU usage?
If none of the solutions in this guide has fixed the game so far, the cause of the problem is most probably something deeper, like a bad hardware, slow CPU, graphics card problem, or other unknown hardware malfunction.
In majority of cases, high CPU usage in gaming is due to a processor or CPU problem. Either the current CPU is unable to handle the load, or it may be defective. We suggest that you try replacing the processor with a faster one and see if that will fix the problem.
Suggested readings:
Get help from us.
Having Issues with your phone? Feel free to contact us using this form. We'll try to help. We also create videos for those wanting to follow visual instructions. Visit our TheDroidGuy Youtube Channel for troubleshooting.