In this troubleshooting guide, we will show you what to do if Brawlhalla keeps disconnecting from the server and disrupting your game. Network-related issues are often due to connectivity problems so they should be among the things you have to look into. Read on to learn more.
Server issues are common but most of the time you don't have to worry about them because they will be fixed after an hour or two. There are, however, issues that disrupt your play time as it disconnects the game from its servers.
Such a problem seems to be bugging some Brawlhalla gamers. Some of them reported that they get disconnected from the game without apparent reason, and while they can sometimes reconnect, it already defeats the purpose why you're gaming in the first place.
If you're one of the gamers that's having a problem like this, then here's what you should do:
Fix #1: Force quit Brawlhalla and reopen it
Perhaps the disconnection issue is just due to a minor issue with the app. Most of those problems can actually be fixed by restarting the game itself. It means force-stopping and reopening it. So that should be the first thing you have to do, and here's how it's done: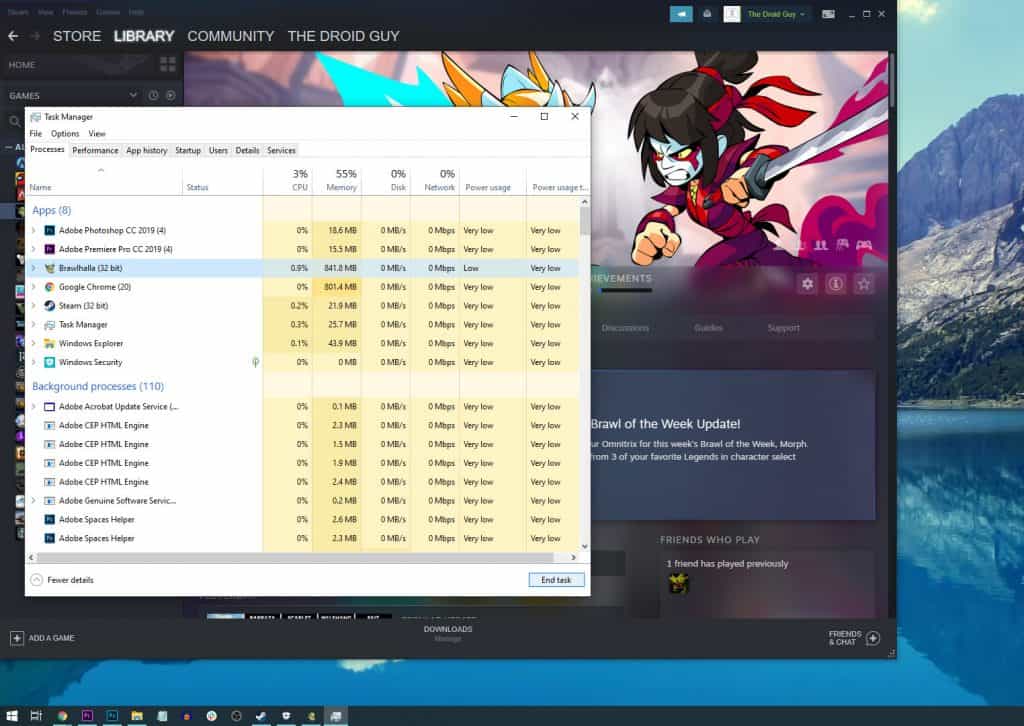 Right-click on the Taskbar and click Task Manager.
Look for Brawlhalla, click on it and then click the End task button at the lower-left corner of the screen.
Once the game is closed, launch it again from the Steam client.
Fix #2: Reboot your PC
If restarting the game doesn't fix the problem, the next procedure you should do is to restart your PC itself because the issue can be due to a minor technical issue. Most of the time, software-related problems can be fixed by this procedure even if they're network-related.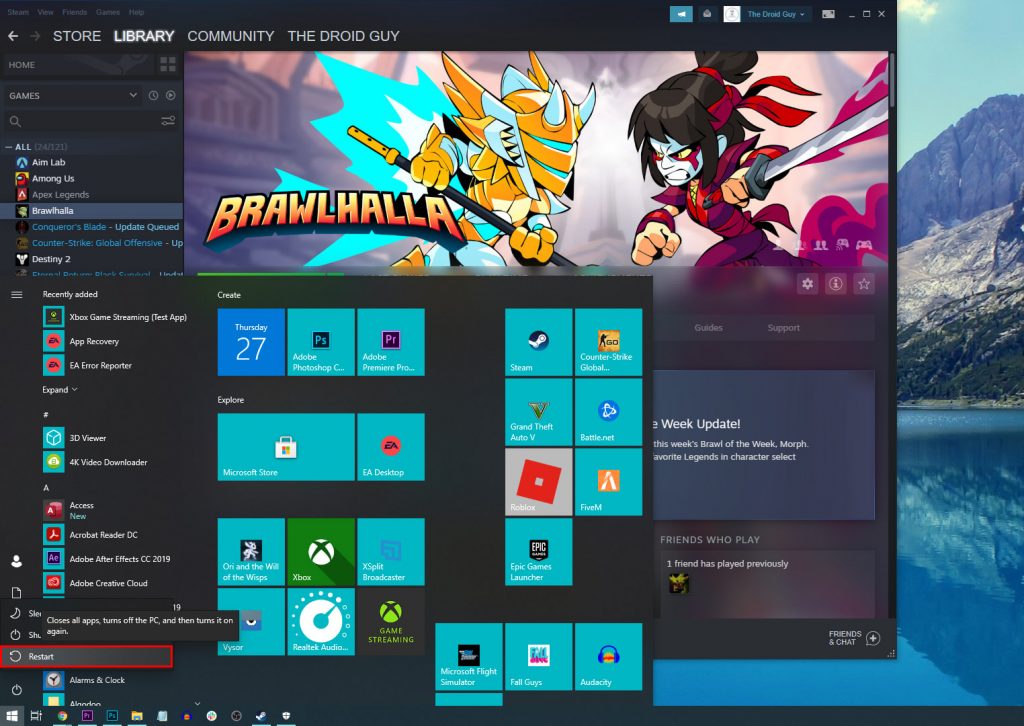 So click the Windows key, and click Power.
Click Restart and wait until the reboot is finished.
After that, launch Brawlhalla and see if the problem is fixed.
Fix #3: Do a speed test
The next thing you have to look into is your Internet connection, because if the speed for both the download and upload dropped, or if it's unstable, you will also experience a problem like this.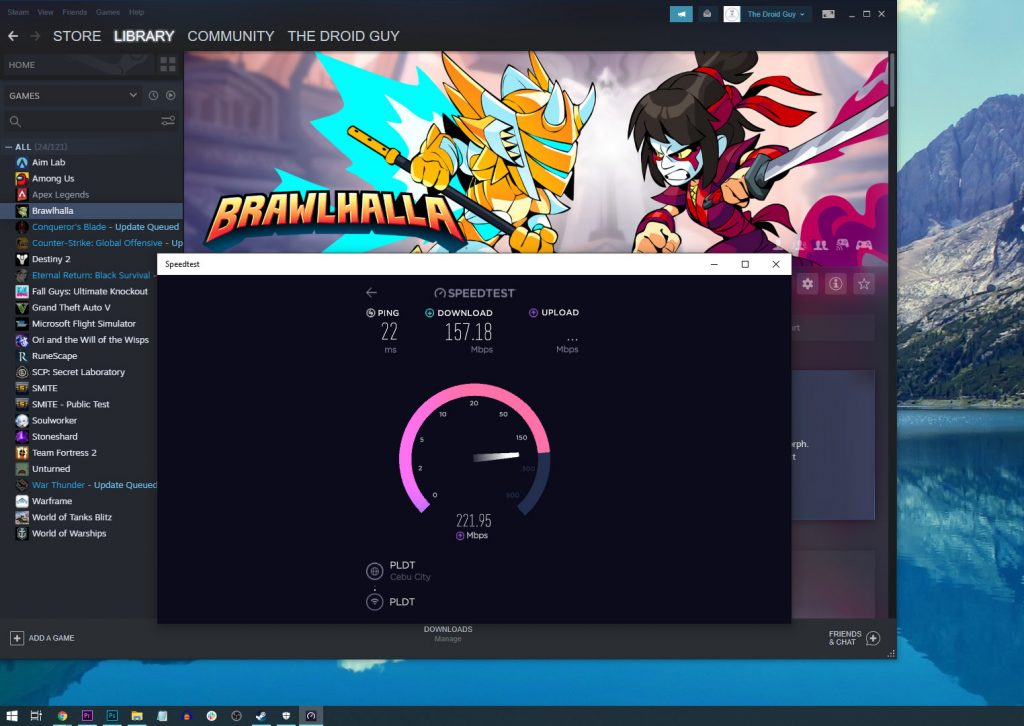 So try doing a speed test to see if it's a connection-related problem. You may log on to Fast.com to give you a quick overview of your connection, or you may visit SpeedTest.net to be more thorough.
If it's indeed a connection problem, then you should call your Internet Service Provider and have it fixed. However, if your connection is fine, then move on to the next solution.
Fix #4: Create a Firewall exception for Brawlhalla
When you first installed Brawlhalla, you may have been prompted to allow it to access the internet. However, if you can't remember doing that, then it's possible that your PC's firewall is barring it from connecting to its servers. Thus the next thing you have to do is create an exception for Brawlhalla. Here's how you do it: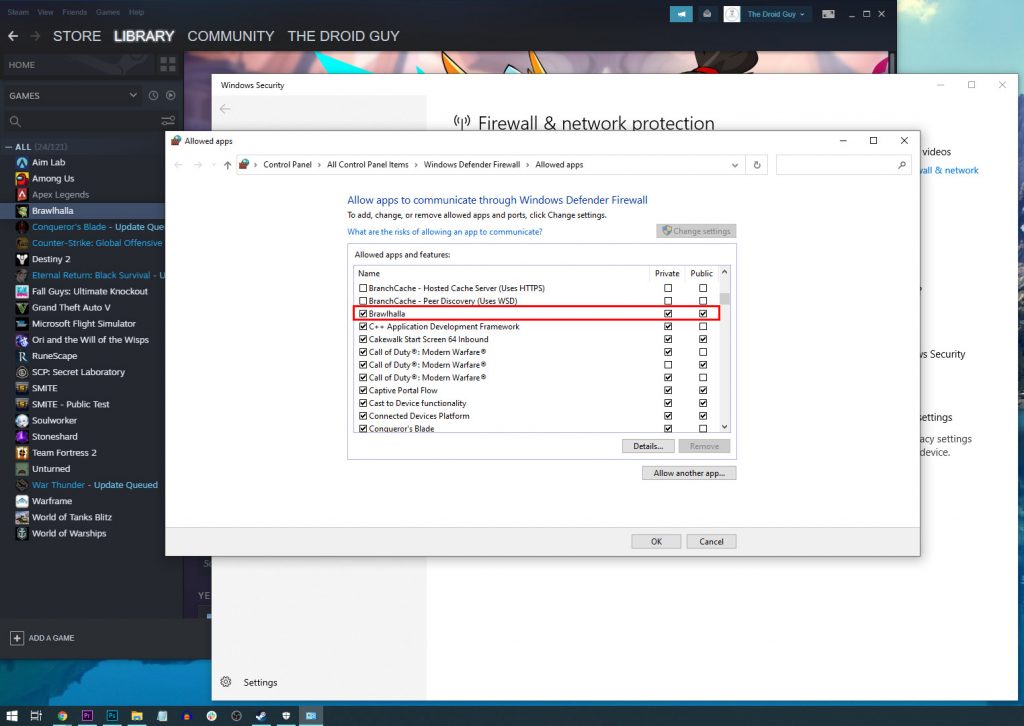 Click the Windows key and click the Settings icon.
In the text field, type 'firewall' and then select Firewall & network protection.
Click the link 'Allow an app through firewall'.
Click 'Change settings'.
Look for Brawlhalla and make sure the box to its left is checked, as well as the two boxes to the right.
Click OK.
Now launch Brawlhalla and see if it still disconnects from the server.
Fix #5: Make sure it's not a server issue
Server maintenance happens regularly and when they occur, some services or features in a game may not work. This can be just one of those cases and if it is, then there's not much you can do about it but wait it out. Server-related issues get fixed by themselves and you don't need to do anything.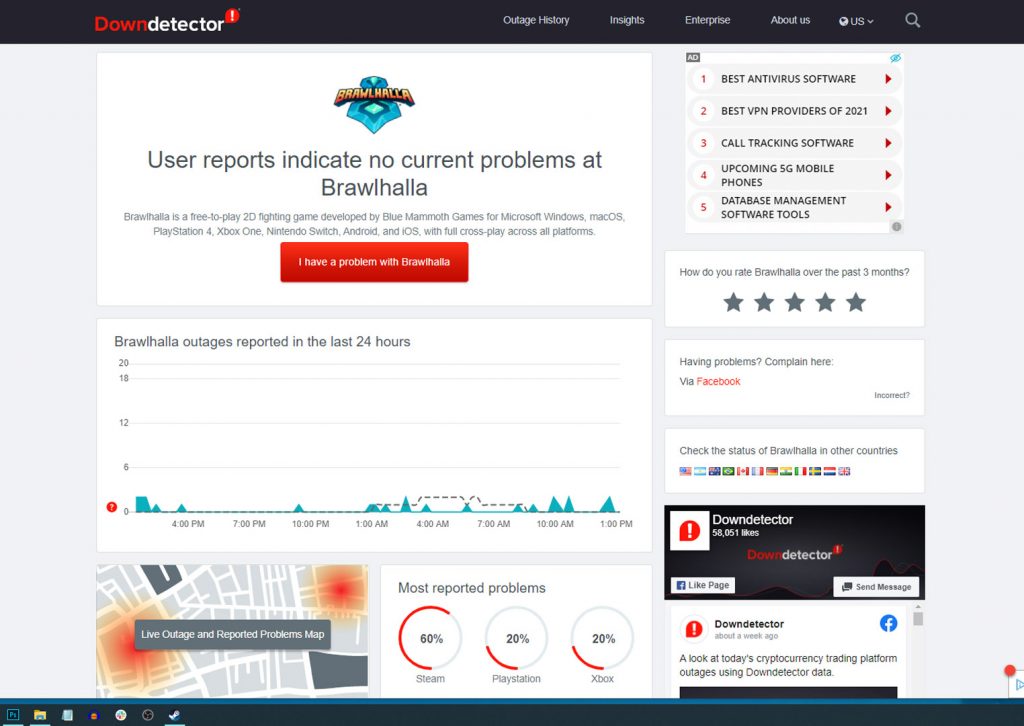 So try checking Brawlhalla's servers and see if they're down or if it's a widespread issue you're experiencing.
Log on to DownDetector.com and search for Brawlhalla.
If there are currently several reports, then it's probably a server problem.
However, if the most reported issues aren't the same as yours, or if the servers don't have issues, then try the next solution.
Fix #6: Verify Integrity of Brawlhalla's installation files
Another possible cause of server disconnection problems with games is when some of the game's installation files are missing, deleted or corrupted. That's why it's important that after doing the previous solutions and Brawlhalla continues to disconnect from its servers, you have to verify its installation files. Steam will do all the work for you and may fix this problem. Here's how it's done: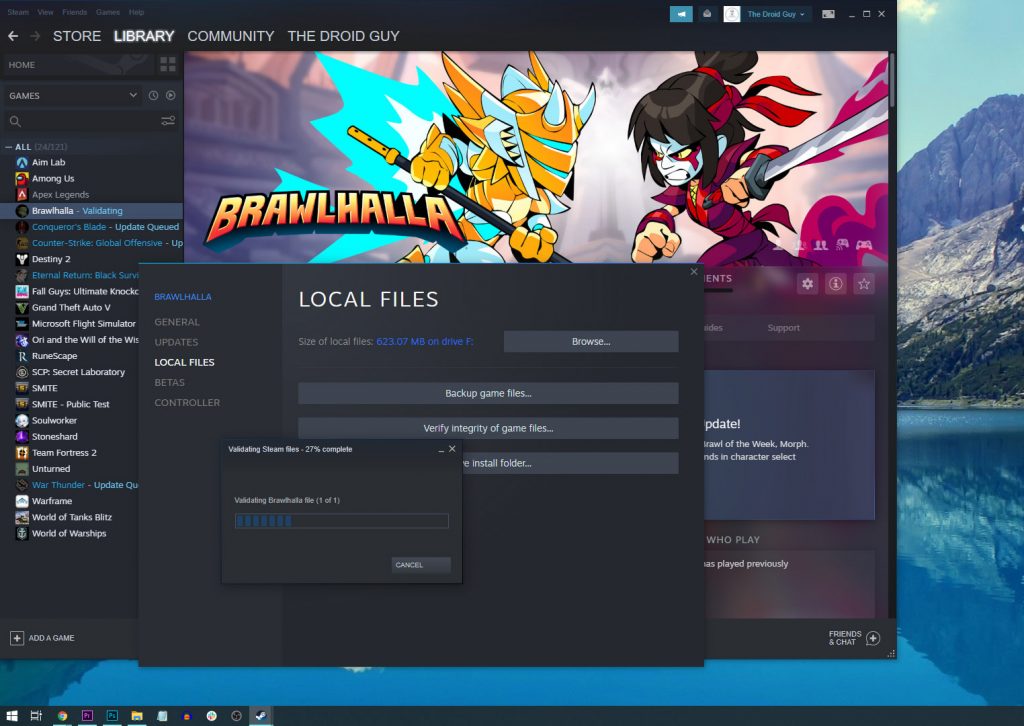 Launch the Steam client.
Navigate to the Library tab, right-click on Brawlhalla and click Properties.
Navigate to Local Files and then click Verify integrity of game files.
Wait until the verification is finished.
When finished, launch Brawlhalla and see if the problem is fixed.
Fix #7: Uninstall Brawlhalla and reinstall it
If all else fails, the only option left for you to do is to uninstall Brawlhalla and then reinstall it. Reinstalling the game actually fixes almost all issues that gamers can encounter. In the case of this game, you can do it any time because the game isn't really that big. So downloading it would only take a few minutes. Here's how you uninstall the game from your PC: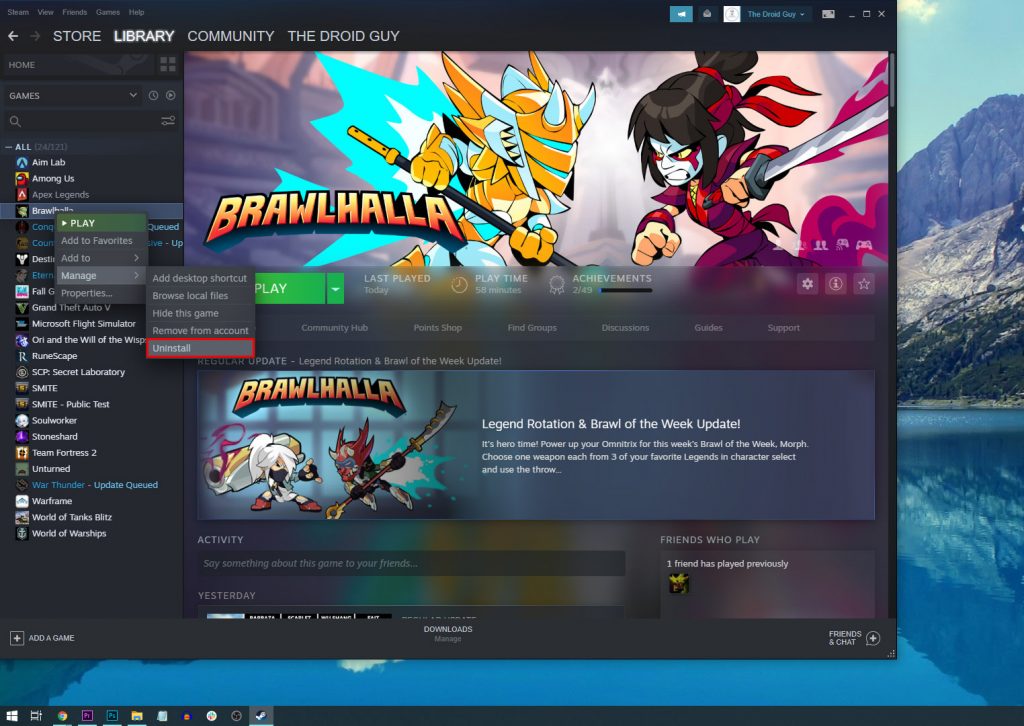 Launch the Steam client.
Navigate to the Library tab and right-click on Brawlhalla.
Hover over Manage, and click Uninstall.
Click Uninstall one more time to remove the game from your computer.
Once you've uninstalled the game, restart your PC and then reinstall it.
We hope that this guide can help you.
Please support us by subscribing to our YouTube channel. Thanks for reading!
ALSO READ: