Are you getting unknown callers or robocalls all the time? It's high time for you to learn how to block unknown numbers in your Samsung Galaxy device.
There's no need for you to install any third party app for this job as the default Phone app already has a powerful feature that can effectively put a stop to these types of calls.
Blocking unknown numbers in Samsung Galaxy
Estimate Cost : 0
Time Needed : 4 minutes
Setting up the call blocking feature in a Samsung Galaxy is easy. All you have to do is to open the Phone app, go to its settings menu, and move the switch to the right for the call blocking feature.

Follow the steps below.
Open the Phone app.

Find the Phone app in the Home screen or Apps Tray. 



Open More options.


Tap the 3 dots at the upper right. 



Select Settings.


Tap on Settings.



Tap Block numbers.


Select Block numbers option.



Enable call blocking.


Tap the switch to block unknown numbers or callers. 


Manually add a phone number to block
Enabling the Block Unknown Numbers option can prevent genuine callers who are not registered in your contacts from reaching you. If you don't want that, we suggest that you leave Block Unknown Numbers feature on your Samsung Galaxy off and add the number you don't want to get in your Blocked numbers list.
To do that, just go the settings of the Phone app just like the steps above, and when you reach the Block numbers menu, leave the Block unknown numbers option off, then tap the green + sign to add the number.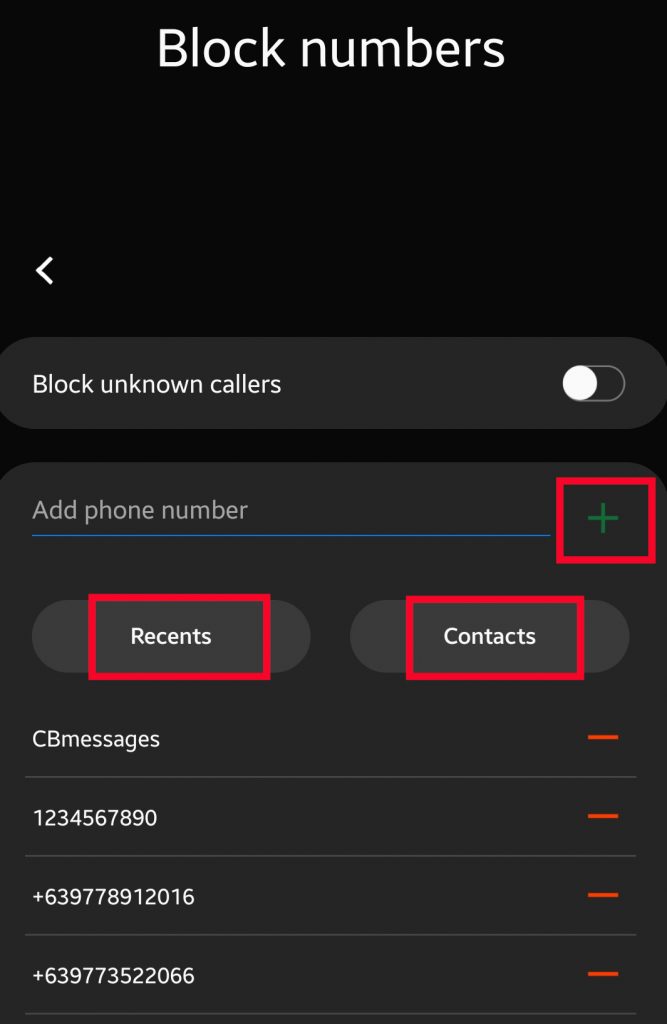 You can also choose to find the number you want to block in either the Recents list or Contacts.
Suggested readings:
Get help from us
Having Issues with your phone? Feel free to contact us using this form. We'll try to help. We also create videos for those wanting to follow visual instructions. Visit our TheDroidGuy Youtube Channel for troubleshooting.