If you just got finished installed Kodi on your Xbox One, One S, or One X, then you might want to consider also installing some Kodi addons to go with it. Addons enhance the Kodi experience, giving you access to a whole lot more content than Kodi on its own. Addons can allow you to watch live TV, give you access to more movies and TV shows, and even give you access to your favorite radio stations. If you follow our list below, we'll show you the best addons available for Kodi on the Xbox One. These are add-ons that you don't want to miss out on!
Best Kodi Addons For Xbox One
Exodus is one of the older addons available for Kodi. It's not that well supported anymore, but has an expansive library of movies and TV shows that you can stream on Kodi. Like we said, it's not that well supported, so there's not a whole lot of updates going into it, but there's still plenty of content and it works wonderfully well on the Xbox One right now. It was developed by Lambda, and will let you stream your favorite content — you can watch media from HBO, STAR, and even Netflix and Hulu.
Download it now: here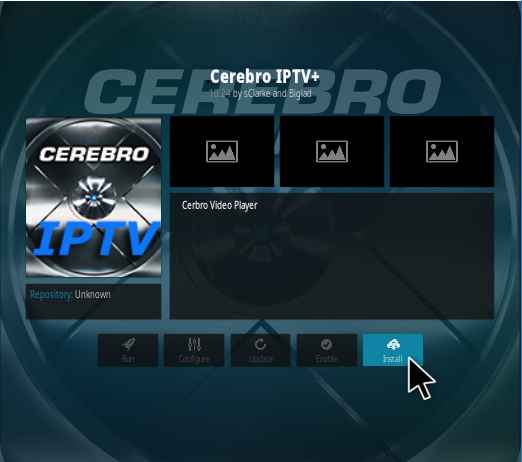 One of the other addons that you should check out is Cerebro. This addon will provide you with content within the USA as well as UK. You'll be able to watch your favorite shows and movies from here at home as well as over the pond. There are tons of different categories and genres available within the Cerebro addon (in addition to IPTV), so you'll have plenty of content to keep you occupied for potentially months. Cerebro is also supposedly able to stream live content, although that doesn't necessarily work too well, so you're better off watching the VOD content.
Download it now: here
Castaway is similar to what Cerebro already offers, but there's one major different: Castaway doesn't offer any content from the USA. Castaway is purely a medium for streaming your favorite UK-based content. Castaway does have a set of its own problems, primarily bugs and glitches that haven't been addressed; however, if you're after live TV on your Xbox One, Castaway is flawless for this purpose. Streaming live, UK-based TV with the Castaway add-on is definitely going to be your main feature here — you can try and get VODs to work, but don't be surprised when you come into contact with bugs and glitches.
Download it now: here
Covenant is another excellent addon, created by Lambda, the creators the Exodus addon. Most folks consider Covenant to be the successor to Exodus. It has a ton of content inside the addon — a lot of the same great content that can be found in Exodus, actually. You'll be able to watch your favorite HBO shows, such as Game of Thrones or Westworld, with the addon. You can even stream shows that can be found on Netflix, Hulu, STAR, and even AMC. One of its defining features is the user interface — it's a whole lot more intuitive to use as well as being overall just mouse user friendly than what Exodus offered.
Download it now: here
5. Genesis Reborn
Next, Genesis Reborn is a great addon to consider downloading and installing with Kodi for Xbox One. If you've used Kodi, you've probably heard of Genesis and the great legacy it left. However, Genesis is no longer accessible, except in some minor cases, but a successor has come — Genesis Reborn. It offers everything that Genesis offers, and does it a whole lot better. It has a ton of TV shows available within it, but what most people say are have been improved is the UI — its intuitive, beautiful, and so easy to use. If you're a TV show enthusiast, and want to check out all of the latest episodes of your favorite show — i.e. Game of Thrones, Westworld, or another, then Genesis Reborn is the addon for you.
Download it now: here
6. Gotham Addon
We really like the Gotham Addon for Kodi. If you're not looking for specific content out of an addon, the Gotham Addon will be one of the best options available for you. It's got a Batman-like design to it, giving you an overall darker and more modern appearing user interface. On top of that, you get access to tons of different content, between sports, music, traditional TV shows, and movies of different genres.
Download it now: here
Wish you could watch traditional TV shows on Kodi? Many of the addons out today don't allow you to do that; however, the Selfless addon is an excellent way to accomplish this. Selfless is able to deliver traditional TV channel content directly to your Xbox One through a technology called IPTV — Internet Protocol television. Selfless does have a number of pre-recorded movies and TV shows that you can watch as well.
Download it now: here
8. Supremacy Sports
If you're looking at Kodi addons at all, you've probably noticed that the ones you've downloaded are just awful in terms of the amount of sports content available. No matter what Kodi addon you've downloaded, you've probably noticed just how difficult it is to find current sports games. Luckily, the Supremacy Sports addon focuses on sports specifically, so you shouldn't have trouble finding your favorite sports content, no matter what that is. Whether you want to watch football, soccer, hockey, there's something for you within their library of content.
Download it now: here
And finally, we have a Kodi addon called High Noon Western Movies, or just High Noon. You can probably tell what High Noon is all about from just the name, focusing on putting you in touch with Western movies that you can watch on your Xbox One through the Kodi application. You'll be able to find all sorts of western movies with High Noon, from ones that are old and have lost their copyright status, all the way up to 2019 westerns that are just coming out of theaters.
Download High Noon to your Kodi package, and you'll be able to experience the Wild West, right on your Xbox One.
Download it now: here
Best Kodi Xbox One Verdict
As you can see, we've highlighted a lot of great Kodi addons for the Xbox One. However, there are so many other Kodi addons available — there are thousands out there, so it's difficult to highlight every good one out there. However, these are some of the most used and top-rated options available, and you'll surely amp up your experience by installing one of these. Which one is right for you though? We'd recommend giving them all a try, but if you're a TV show enthusiast, you'll probably like Genesis Reborn or Covenant the most. Castaway is great for catching live UK TV, and Cerebro is great for US and UK VODs.