Is your Battlefield 2042 game crashing on your PC when starting up, or in the middle of gameplay? In this guide, we'll show you the fixes that you can try to handle all sorts of crashing problems.
How to fix Battlefield 2042 crashing on PC?
Battlefield 2042 crashes for many different people for different reasons. If you are one of the unlucky ones who deals with persistent or random crashes on this game, here are the possible solutions that you need to do:
Fix #1: Check for corrupted game files.
For many players, the most effective way to eliminate the crashes on Battlefield 2042, at least for those who play it on Steam, is to verify game files via the Steam Library.
If your Steam version Battlefield 2042 game crashes, follow these steps:
On the Steam application, go to your Game Library and right click on the Battlefield 2042 game.
Then, click on Properties.
Go to the Local Files tab.
Select Verify integrity of game files.
If you're playing the game on the Origin or EA app, you can perform a similar solution by right-clicking the game tile and using the Repair option.
For those running the game on Epic Games, here's what you need to do:
Close Battlefield 2042 (if you're running it).
Open Epic Game launcher.
Select Library on the upper left.
Below the game tile, click on the three-dots.
Select Verify.
Wait for the process to finish.
Launch Battlefield 2042 and check for the problem.
Fix #2: Check for updates.
If repairing the game files did not fix the crashing issue, make sure to check if there's any pending update that you haven't installed. New games tend to be buggy and can suffer from launch issues such as random or constant crashes.
At times, the only thing that you can do is to keep the software updated.
Fix #3: Ensure that your PC meets the system requirements.
f your PC is old, make sure that you double check if it meets the minimum system requirements. The game needs a decent set of hardware components in order to run properly.
Be sure to check the official website of EA to know the minimum system requirements for Battlefield 2042.
If needed, try upgrading your CPU, GPU, and RAM in order to play the game on higher video settings.
Fix #4: Update the graphics card driver.
Aside from updating the game, you also want to ensure that your computer has all the updated drivers. A GPU driver is like a mini operating system of your graphics card. The graphics card particularly requires updates in order for Windows OS to play games smoothly.
Here's what you need to do:
Press the Windows key on the keyboard.
Type in "control panel" and select Control Panel.
Change the View by dropdown to Small icons and click on Device Manager.
Once the Device Manager is opened, click the dropdown for Network adapters.
Find your network adapter and right-click on it.
Select Update driver.
Select Search automatically for drivers.
Fix #5: Close other heavy applications.
If everything is up-to-date but the game crashing issue continues, it may be caused by interference from other applications. It's also possible that your PC may be struggling to run the game and is running out of resources. Try to see if Battlefield 2042 will work normally when there are no other apps running.
It's been observed that some security software as well as popular apps such as Discord, Spotify, MSI Afterburner, overclocking software, among others can cause random crashes with certain games.
If you're running any of these apps, consider closing them via the Task Manager and check for crashing issues again. To do that, simply open Task Manager by pressing CTRL+SHIFT+ESC and right click > select End Task to close the apps from there.
Fix #6: Do not overclock.
If you are overclocking your CPU or GPU and the Battlefield 2042 crashing up to this point, it's worth testing if the game will run properly when your hardware is on its normal clock speed.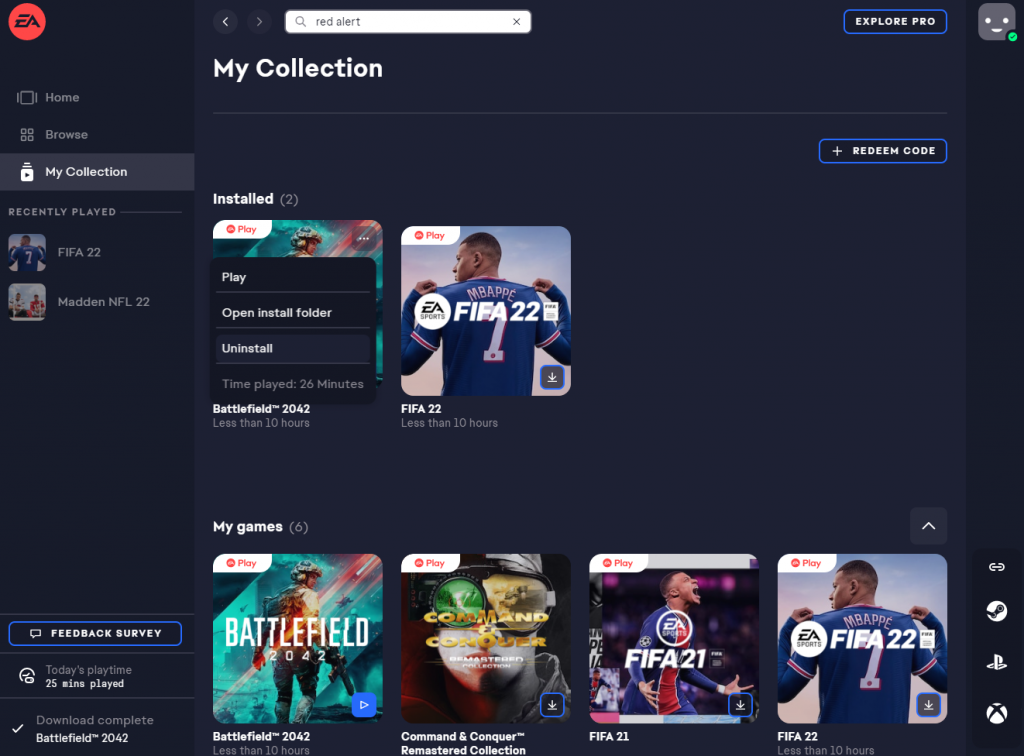 What to do if the game crashes continues?
If all the solutions in this guide has not helped in fixing the crashes, it may be due to a bug that's buried deeper with Windows or with the game software. Make sure that you update your Windows version and to delete and reinstall Battlefield 2042 afterwards.
OTHER INTERESTING ARTICLES:
Visit our TheDroidGuy Youtube Channel for more troubleshooting videos and tutorials.