If you want to "Netflix and chill," you need a few things, and a smartphone with a very high resolution is among them. Our list of top 5 Android phones with best resolution will help you pick the right one.
---
At A Glance:

5 Android Phones with Best Resolution to Watch Videos on Netflix and Chill
---
* If you buy through links on our site, we may earn an affiliate commission. For more details, please visit our Privacy policy page.
Android Phones with Best Resolution to Watch Videos on Netflix and Chill

1. BlackBerry Priv
Unfortunately for BlackBerry, the era of physical keyboards on mobile phones is forever gone and so is their signature design. But that didn't stop them from doing their best to merge the old with the new. The result is BlackBerry Priv, a modern-looking Android smartphone with a physical keyboard that can be revealed with a simple sliding motion.
And the keyboard is not a mere gimmick either. It really makes typing much faster, more accurate, and quite enjoyable, to be honest. Even more so because the smartphone is powered by a Snapdragon 808 chipset, Adreno 418 GPU, and has a total of 3 GB of RAM—all of which ensure a smooth experience.
The primary camera comes from Schneider-Kreuznach optics, has 18 MP resolution and can record 4K video footage at 30 frames per second. Where the smartphone doesn't excel is the overall value it offers. Apart from the keyboard and a few extra security features, which are great for corporate users but useless for the average consumer, the smartphone somehow feels like it should deliver more for its high price.
Pros
Great screen
Extra security features
Solid performance
Cons
Limited value
Missing fingerprint reader
Buy on Amazon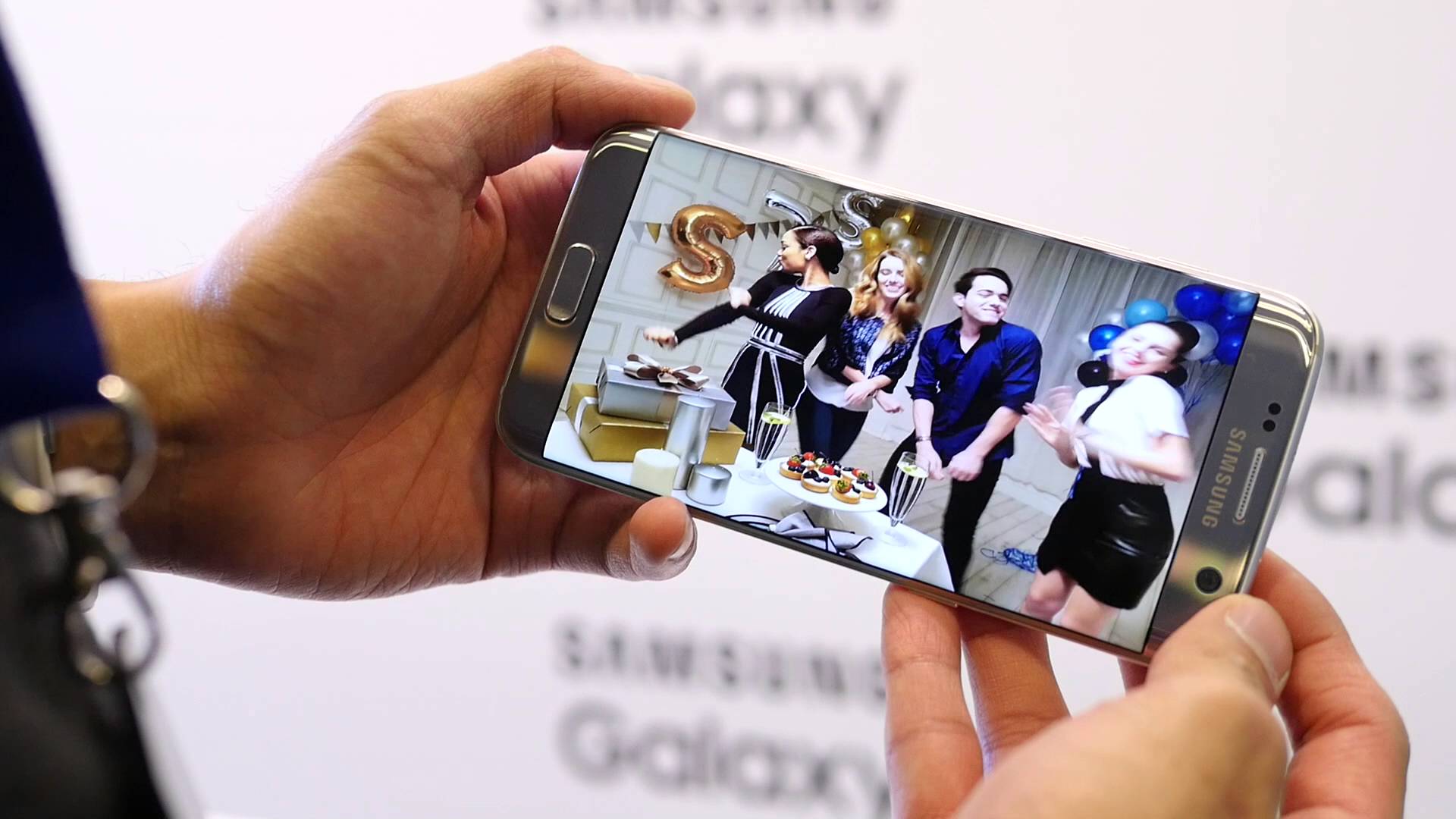 2. Samsung Galaxy S7 Edge
With its Quad HD resolution (2,560 x 1,440) Super AMOLED capacitive touchscreen with a 5.5" diameter, the Samsung Galaxy S7 Edge is a premium choice for everyone who's willing to pay extra to get the best the current smartphone generation from Samsung has to offer.
The smartphone is powered by the Qualcomm MSM8996 Snapdragon 820, which is considered to be the most cutting-edge mobile processor ever created. It supports X12 LTE connectivity, offering 3x faster peak upload speeds and 33% faster peak download speeds, and the Adreno 530 GPU that comes along with it offers 40% improvement in graphics performance. To top it all off, Samsung threw in 4GB of RAM, which is certainly more than enough for all multitasking needs.
As a direct competitor to Apple and their smartphones with remarkably clear camera sensors, Samsung had to come up with something truly great to sway undecided customers away from Apple's ecosystem. Their solution: 12 MP, f/1.7, 26mm camera with phase detection autofocus, OIS, and LED flash. The camera can record 2160p at 30fps or super-slow-motion 720p video at 240fps. The secondary 5 MP camera doesn't lag behind, and the selfies it captures are crisp, clear, and vivid.
Pros
Stunning screen
Excellent camera
Gorgeous design
High-end specifications
Cons
Buy on Amazon

3. Google Pixel
Google has made their own smartphone and they call it Pixel. It's the first Daydream-ready smartphone, allowing you to "explore new worlds, kick back in your personal VR cinema, and play games that put you at the center of action," according to Google. It also has the highest rated smartphone camera ever manufactured. When tested by DxO Labs, a software company that develops image processing software and maintains a website with technical measurements of lenses and cameras, the smartphone has received 89 out of 100 points. For comparison, the Apple iPhone 7 got "just" 86 points.
You can enjoy the crisp images captured by the camera on a 5.0" fullHD AMOLED display protected with 2.5D Corning Gorilla Glass 4 technology. The display offers a fantastic 100000:1 contrast ratio and is able to accurately reproduce 16.77 million colors.
Google promises that you can get 7 hours of battery life with just 15 minutes of charging, which is a fantastic news since you'll be using your new Pixel for a lot of things; it's the first smartphone with the Google Assistant feature. Google Assistant is an AI-powered digital personal assistant designed to help you with everyday tasks and questions, such as when does your favorite restaurant open, what movies are currently playing, or what's the fastest way how to get to your friend's house. Google Assistant learns about your habits, likes, dislikes, and preferences, and uses the collected wealth of information to interact with you in a natural way, providing you with accurate suggestions and insight.
Pros
Powerful
Well designed and built
Comfortable to hold
VR-ready
The best smartphone camera currently available
Cons
Buy on Amazon

4. Sony Xperia Z5 Premium
Sony has created the world's first 4K phone, and it looks just as gorgeous as you may imagine. The Xperia Z5 Premium is a 5.5" smartphone that has four times the resolution of a typical Full HD display. This results in 806 PPI, which is approximately 10x the pixels of a Full HD TV. Even if your content (movies and pictures) are not in 4K, the smartphone will automatically scale everything up, making it look even better than it would on a regular display.
Under the hood is the Qualcomm MSM8994 Snapdragon 810 with Adreno 430 GPU and 3 GB of RAM. The smartphone itself has been released more than a year ago, so it's no surprise that the chipset is not the cream of the crop. Still, the 810 can do anything you could ask it to do with plenty processing power to spare.
If you have a creative mind like we do, you can probably think of a couple of uses for a good camera when it comes to Netflix and chill. Sony has your back with a 23 MP primary camera with f/2.0, 24mm, phase detection autofocus, and LED flash. The camera even shoots 4K video at 30 frames per second.
Pros
Luxurious design
Great battery life
4K display
23 MP camera
Cons
Gets rather hot after a longer period of use
Buy on Amazon
5. BLU Pure XL
With its huge, 6" display, the BLU Pure XL dwarfs all other smartphones on this list. But with the size of the display also comes an amazing resolution of 1440 x 2560 pixels, resulting in 490 ppi pixel density.
A good performance is delivered by the Mediatek MT6795 Helio X10 chipset, which is known for its excellent GPS reception. Additionally, the smartphone has 3 GB of RAM, and a 24 MP camera with optical image stabilization.
If you can get past the somewhat underwhelming build quality and poor battery life, the BLU Pure XL can be seen as a great budget alternative to Google Pixel.
Pros
Affordable
Good performance
Stunning 1440p screen
Cons
Problematic build quality
Poor battery life
* If you buy through links on our site, we may earn an affiliate commission. For more details, please visit our Privacy policy page.