You know just how fun PUBG Mobile is over on your Android device — being able to survive and compete against other players in a post apocalyptic world is just a ton of fun. Every player starting with noting, and then having to work their way up the ladder as each player tries to become essentially "the king of the hill" brings some interesting competition, and there's really no other game style like it. That said, it can be difficult to play such an intense game on mobile, especially if you're experiencing flaky touch controls.
Luckily, there's still an easy way that you can play PUBG Mobile and sort out the flaky controls and small screen. With an Android emulator, you can easily load it up on your Windows PC and play the game as if you were playing it on an Android device. Not sure what emulator to use for PUBG Mobile? Follow along below, and we'll show you some of our top picks. Let's dive right in!
Coming up as our fifth choice, we're looking at a program called Andy. Download it for on your Windows desktop, load up the program, and it immediately turns your Windows PC into an Android device that can play any Android game or app. It essentially loads up the Android operating system in a window, and you can just use it as if you're playing on your Android phone. That said, you can easily download PUBG Mobile in it, and play it much more comfortably, and with full mouse and keyboard support!
What really like about Andy is that it's feature-rich, has some great developer support, and is completely free to use. Keep in mind that developer support is behind a paywall, so if you want to use that, you'll have to pay for a subscription — $12 a month or $99 for the year.
Download it now: Andyroid
Fourth up on our list is a program called Genymotion. It's one of the more sophisticated Android emulators for Windows PC. You could picture this as the Mercedes of Android emulators, offering you a ton of great features to really deep dive into the Android apps that you use on a daily basis, but on your computer. You can actually use Genymotion with a bunch of different developer software out there, such as Android Studio and Eclipse.
Of course, after you download and initialize Genymotion on your computer, you can install PUBG Mobile from the Google Play Store, and then play the game as you would on a mobile device. It's that easy!
Download it now: Genymotion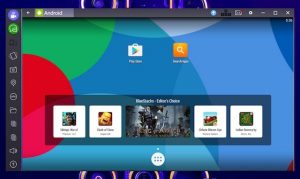 The third contender on our list, and one of the best ways to play PUBG Mobile on your Windows PC, is with Bluestacks. When you install it, you actually have the choice between two different kinds of emulators — App Player and a Gaming Emulator. App Player allows you to play any Android app you want, whereas the Gaming Emulator is geared towards gaming. The Gaming Emulator is most ideal for PUBG Mobile, as it takes advantage of the hardware better, and you get special in-game gifts that are exclusive to Bluestacks users. You can even sync your contacts with Google, Facebook, and other social services to find friends to play games with.
Download it now: Bluestacks
KoPlayer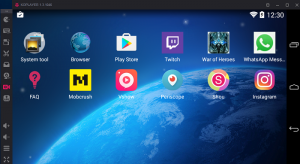 Coming up as the second contender on our list, we're taking a look at a neat app called KoPlayer — this is one of the few emulators out there that is entirely free. It's perfect for those that aren't sure whether they want to commit to paying for an emulator on a monthly basis, allowing them to take something like KoPlayer for a free run. Download it and install it on your Windows PC, and you'll be able to immediately download any game you want to play, including PUBG Mobile.
What we really like about KoPlayer is that is has support for keyboard mapping, which means a game like PUBG Mobile will almost flawlessly work with the keyboard you have connected to your Windows PC. Another neat thing is that there's a built-in recorder in KoPlayer, allowing you to film your gameplay and share it with friends or upload to YouTube!
Tencent Gaming Buddy
First up on our list, and a favorite of ours, is the Tencent Gaming Buddy emulator. This emulator works really well with PUBG Mobile because it was designed to work with PUBG Mobile. Tencent created this one out of complaints from gamers complaining about the flaky touchscreen controls on PUBG Mobile. That said, download Tencent Gaming Buddy on your PC, and you can switch over to full mouse and keyboard support with it. The sort-of "con" to Tencent is that it's quite demanding — it makes sure to take full advantage of your PC's system resources: however, that translates over to excellent quality and smoothness when playing PUBG. It's also a word of warning to those who have lower spec'd computers — turn the graphics down, and you'll be able to play as normal!
Download it now: Softonic
Verdict
As you can see, there are a lot of excellent emulators for PUBG available out there. If you're looking for only the best, Bluestacks and Tencent Gaming Buddy are really the way to go. There's some great hardware efficiency here with these, and they're both easy to use.
Do you have a favorite emulator for PUBG Mobile? Let us know what it is in the comments section below — we'd love to hear from you!