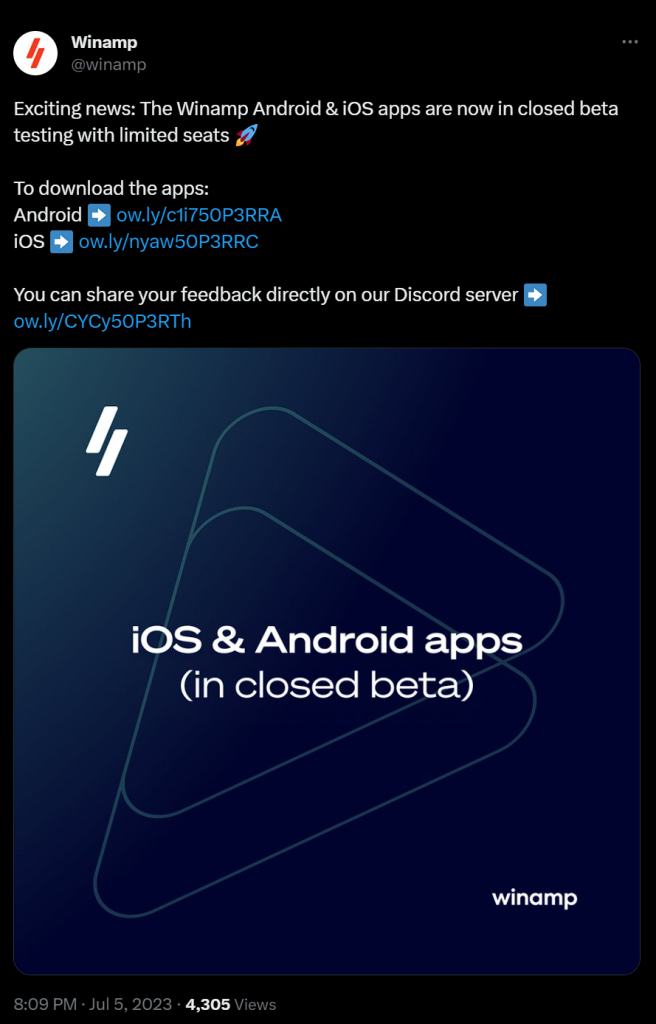 Winamp Resurrected on Android with a Modern Twist
Winamp, the once popular music player which revolutionized how we listened to music with MP3s, returns to the limelight with a new look and fresh functionality. The app that graced our desktops in the past fell out of popularity as software tastes evolved, but this April, the current owners divulged their plans for its relaunch. With the beta version now finally available for testing, Winamp is poised to mix our nostalgic affection for local tracks with modern streaming services.
Back After a Decade: New Incarnation of Winamp
This reincarnation of Winamp is not its first appearance on Android. In fact, the old application was silently removed from the Play Store about ten years ago when music and podcast streaming started to gain momentum. Services such as Spotify, YouTube Music and Apple Music emerged to cater for this shift, decreasing the demand for what Winamp had initially been designed to offer – organizing and playing local audio.
Nevertheless, in stark contrast to these trends, the developers behind Winamp have been quietly working on remodeling the software to suit present-day user needs. On July 5th, they declared its triumphant return to smartphones with a limited-seat closed beta release.
Fanzone: A Boon for Independent Artists
Perhaps the most salient new feature in the beloved media player's comeback is Fanzone, an offshoot streaming service envisaged as a conduit connecting indie artists directly with their fans. Not only does Fanzone provide a space for artists to engage with their audience and sell merchandise, but it also functions as a repository where they can host their entire library of songs.
Music lovers also stand to benefit from Fanzone's unique subscription model where fans can show their support by paying $1 per month per artist they choose to follow.
Blending Old and New: A Hybrid Listening Experience
Alongside supporting local music playback and streaming tunes from Fanzone artists, users are treated with another novel feature – creating curated playlists splicing their local tracks together with their subscribed artists' music. Artists enlisted on Fanzone also have an option similar to social media platforms where they can post content exclusively for their fans on their creator pages.
Llama Group under Radionomy currently helms Winamp's development after Nullsoft, its original creator was acquired by AOL around 2000s start. With an ambitious goal of catapulting Winamp's user base to 250 million, it remains speculative whether this classic program's revival will disrupt the established music industry on both desktop and mobile platforms.
It should be noted that a date has not yet been set for a full stable release following the ongoing closed beta test involving a limited number of users.
Final Thoughts
Despite swaying away from what made Winamp so prolific in its prime – playing local files – these ambitious moves points towards a compelling future. By making inroads into the underexplored territory of directly supporting indie artists via Fanzone and blending it perfectly with traditional local file playback capabilities , the new Winamp might be well-positioned to strike gold again.