This post will walk you through activating an Android display feature that makes your Pixel 7 display a little animated while charging or when idle. Here's a quick guide to activate and use a custom screensaver on Google Pixel 7.
Estimate Cost : 0
Time Needed : 4 minutes
Just like computers, recent smartphones are already capable of rendering display animations including a screensaver. When enabled, screensavers occupy the display with moving objects like images and patterns whenever the device has been idle for a certain period of time.

Depicted below is the actual process of using the inbuilt screensaver on the newest Google Pixel device. If you're new to this phone and need some input on how to access and utilize this display feature on your recently procured Pixel 7 smartphone, then feel free to refer to these subsequent instructions.

To get started, navigate to the Apps screen and then tap on the Settings icon that's represented by a gear-shaped figure. Doing so will launch the Settings app menu on  your phone.




Alternatively, you can swipe down from the top of the screen to launch the quick settings panel and then tap on the gear icon to open the Settings menu.

While in the Settings menu, scroll to find and then tap on Display.




Another window launches with display-related features and settings.

Navigate to the Appearance section and then tap Screen saver from the given options.




On the screen saver menu, you will see the main toggle to activate the feature and relevant options that you can use and manage to personalize your screen saver.

To enable the feature, simply tap to turn on the switch next to Use screen saver.




By then you can begin customizing the given options to create a more personalized screen saver on your device.

To set when you would like the screen saver to instigate, tap When to start.




Doing so opens a separate menu with three main options.

Tap to mark your preferred option as to when you would like your device to start showing the screen saver.




You can set it to start while your phone is charging, while docked, or while charging or docked.
Customizing Screensaver on Pixel 7
The Pixel 7 offers you three main screensaver selections including clock, colors, and photos. These options can be customized according to your preferences, except the colors screensaver.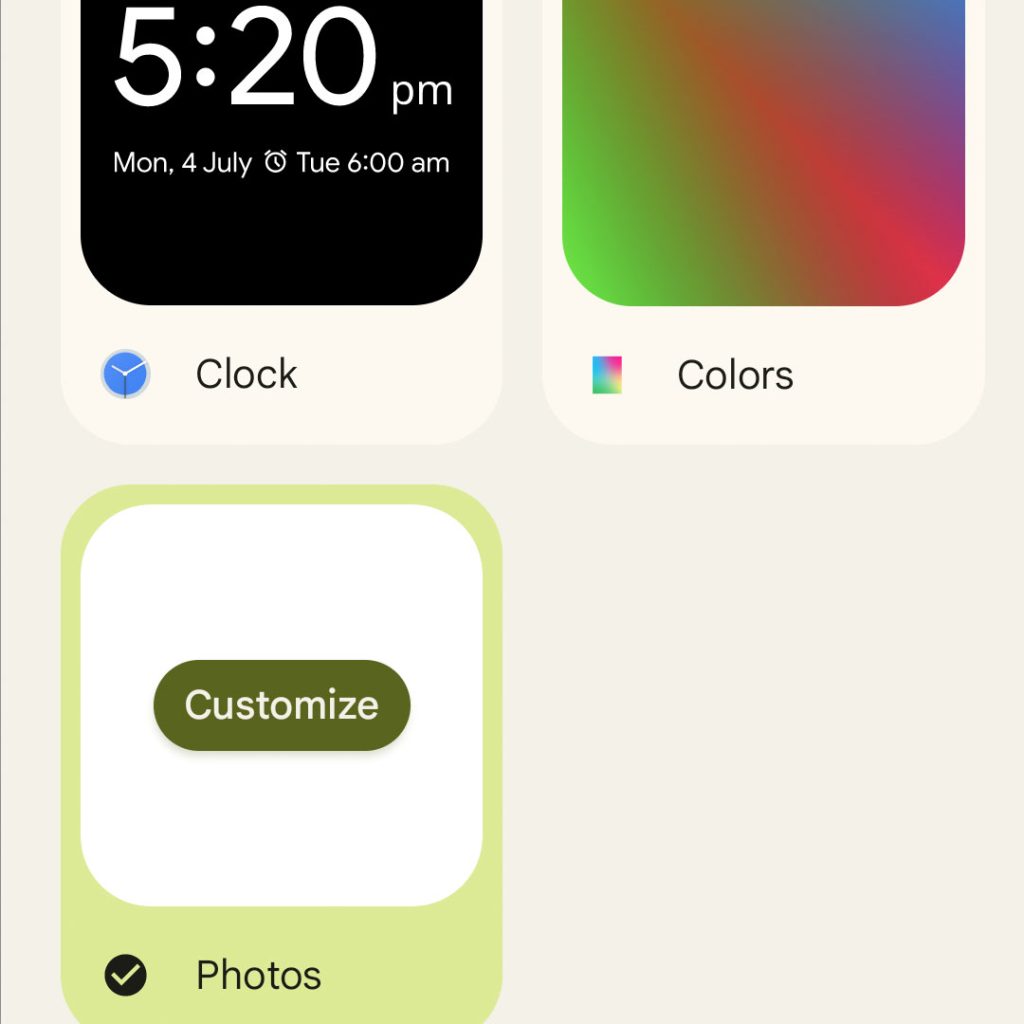 To customize your screensaver, navigate to the Choose a screen saver section and then choose the screensaver that you'd like to customize.
To customize the settings for Clock screensaver, tap Clock and then choose your preferred clock style. You can switch between Analog and Digital. There is also an option for you to set your device to make the display very dim for dark rooms. Simply tap to check the box next to Night mode if you want.
To customize settings for the Photos screensaver, tap to select Photos then tap on the Customize button. On the succeeding window, you will see general options including Only use Wi-Fi for data, Photos fill screen and Animated zoom effect. Tap to mark to check the box next to your preferred options and then select the Google account that you'd like to use.
After selecting the account, you will see available albums and photos saved in the internal storage of your device. You can set it to use Screenshots, All Photos or both (screenshots and all photos) as screensaver. Simply tap to mark your preferred option.
Once you're done customizing your screensaver, you can check the output preview by tapping on the Preview button beneath the Screen saver menu. 
The preview should serve as your quick reference to decide whether or not you need to change or add new changes to your new screensaver.
And that's all about using a custom screensaver on the latest Google Pixel 7 smartphone.