Doing our taxes is a painful job. While there are dedicated tax auditors out there to help us do our taxes, it is something that can be done quite conveniently without requiring someone else's supervision or help. But even then, it's easier said than done to file tax returns on your own. This is where a number of mobile apps come in handy. While there are a plethora of web services that offer such services, we cannot quite beat the convenience of mobile applications.
Prominent among these mobile apps are TurboTax and H&R Block. Although there are a myriad of services available on the Play Store, these two definitely top the list for being one of the best offerings around. Now both apps offer differing functionalities, so it's not exactly on the same level. However, for the way it helps honest tax payers, we strongly recommend users to try both of them.
While paying taxes is imperative, it's become somewhat hard to understand for a majority of the Americans. But with apps like these, the entire process is made easier and less cumbersome. When we've got access to modern technology and benefits, only a fool would not take advantage of them.
So now that we have narrowed down between the two apps, let's have a closer look at how they perform, and if it is suited for you.
TurboTax vs H&R Block Best Tax Return Android App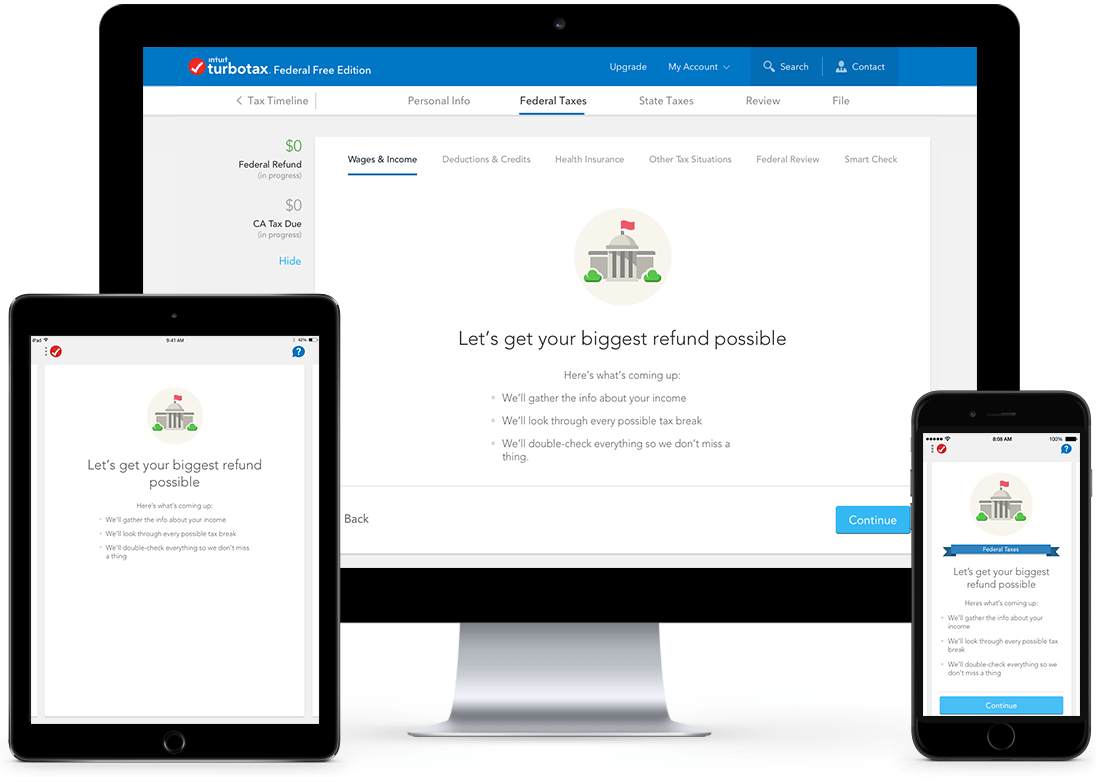 Features
One of the biggest tax filing apps available out there, TurboTax will definitely come up on top of your list every time. It has an easy to understand UI and all you have to do is snap a simple photo of your W2, and the app will start coaching you on some of the questions. Answers will be double checked, so you can be sure that your taxes are done right. The makers of the app also offer the ability to video chat with TurboTax experts live, with the experts helping you through every path of using the app. This service will not be free, however.
Once you take an image of your W2 and confirm all the data, the app will automatically fill all the details you have provided in the relevant forms, thus making it easier to file your taxes or get your refund. Further, the app will thoroughly look through 350+ tax deductions to make sure you get the most refund and deductions possible.
The app is secured with PIN, which effectively means that only those with the password can access this. This is an effective feature keeping user privacy in mind.
Thanks to e-file and direct deposit, users can be assured of getting quick refunds. It is important to note that TurboTax charges a small fee when the user receives their tax refund, with the ability to keep a part of your tax refund for TurboTax. So it's not completely free. But even then, for the kind of features it offers, we certainly think it's worth a try.
Since it's now time to do your taxes, we think apps like these will help you a great deal in easing the entire process. The best part here is that you start for free, and are not required to shell out money to start out the process. As we have mentioned above, you have to pay only after you have filed your taxes and get the refund, if any.
The app is free to download, and there are in-app purchases on board. There are no ads whatsoever, so you have no reason to worry. In terms of device compatibility, you will need smartphones running Android 4.4 or above to use the app. The developers also have a dedicated web version of the app, which is helpful if you're doing your taxes on your computer. It seamlessly syncs across platforms, so all you have to do is login with your credentials and you will find your details there.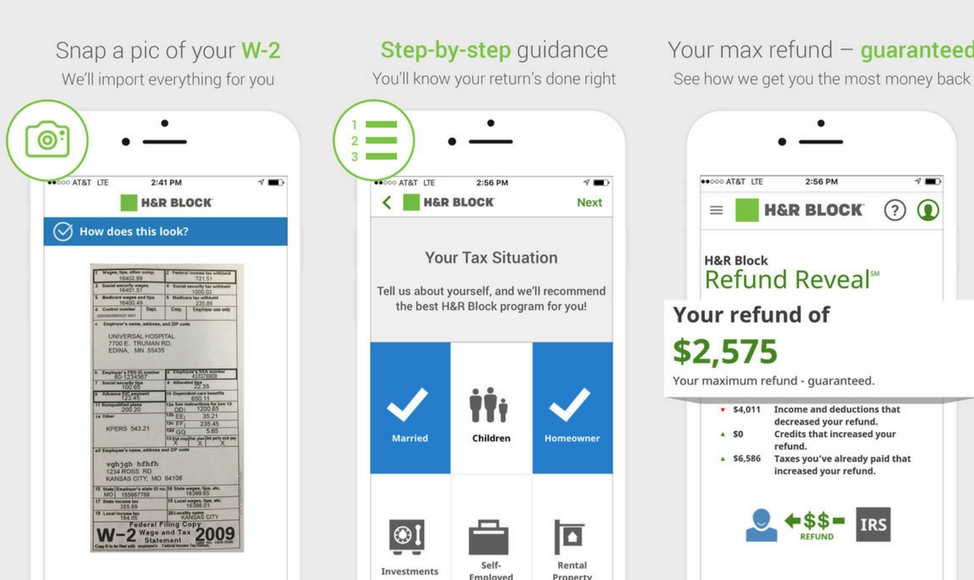 Features
This is yet another alternative to do your taxes if you're not satisfied with the conventional options. It's pretty much the same as the offering we've discussed above, barring a few changes here and there. The developers even guarantee maximum refunds for the customers, which is enough reason to try out the offering. There are a variety of features here to ease your entire process, so it's definitely worth a look for those who are new to doing taxes. It will cover the entire tax process, so you really have nothing to worry about.
One of the new features with this app is pertaining to Uber drivers. If you're a partner, you can login using your Uber credentials to have all the details pulled up instantly. Using this app, you can file 1040EZ, 1040A, and 1040 without skipping a beat.
If you are eligible for any tax refunds, the app has a provision to send it to you via Amazon Gift Cards if you're not looking for a straight out monetary refund. This is helpful if you shop a lot on Amazon, although most users will probably prefer to get the money in their hands. Since doing taxes can be incredibly worrisome for a few, the folks at H&R Block also have a selfie frame built within the app, with the corresponding hashtag #TaxesWon, which will let you brag about doing your taxes on social media platforms.
Using Tax Pro Review on the app, you can discreetly work with an expert who will ensure you get all the refunds and benefits that you're entitled to. Naturally, you will be required to shell out a fee to access this feature. What I like about this app is that it's designed for practically anyone. So if you have a moderate tax returns to show or have a large pile of documents to record, the app will make it incredibly easy for everyone.
H&R Block is free to download, and has in-app purchases. There are no ads, however. You will require a smartphone or tablet running Android 4.1 or above to download this app.
Conclusion
When it comes to doing your taxes, we really don't think there are a lot of apps out there that can make the process as easy as these two apps we've mentioned here. But if we were to pick a favorite, I would definitely go with H&R Block as it comes with a comprehensive set of features to do all your tax work right from your smartphone. TurboTax, on the other hand, won't get all of it done, but covers most of it. It also comes down to personal preference, so we strongly recommend users to try out both apps before picking one. Good luck!