Tough Tested is a manufacturer of specialized products for people who depend on their equipment. Just like the rest of their product range, their Solar Dual USB 15,000mAh battery pack is designed to withstand extreme conditions and demanding, continuous use.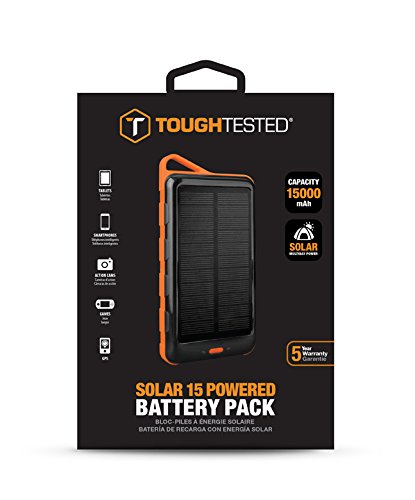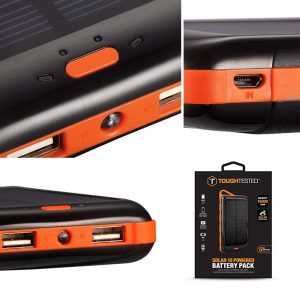 Features
This rugged power bank combines a very high capacity of 15,000mAh with 200mAh solar panel, while retaining a small form-factor. Depending on how large the battery in your device is, the Solar Dual can provide anywhere between 3 to 10 full charges. The IP65 rated water-resistance and dust-proof rating allows you to take this battery pack for your outdoor adventures.
The entire device is enclosed in a highly visible orange molding, which provides a high degree of protection against impact and also features a built-in carabineer clip for comfortable belt or backpack carry.
Tough Tested use their proprietary InstaSense technology to accurately recognize what kind of device is connected to the charger, in order to provide optimal and safe power for charging. An additional benefit of this technology is that you can charge two devices at the same time without having to worry about whether each device has its power requirements met.
Last but not least, the charger also features a bright LED flashlight – a great thing to have in case of an emergency. Because the flashlight is powered by the same 15,000mAh battery with solar charger, it can last a ridiculously long time.
Device Charging Time
With the 15,000 mAh capacity, the battery can easily charge your latest and greatest smartphones about 5 times. Just to give you some perspectives, the Samsung Galaxy S7 has a 3,000 mAh battery, so roughly 5 charges is possible with this Tough Tested TT-SOLAR15 battery pack.
Smartphone
30 minutes – 50% charge
60 minutes – 70% charge
90 minutes – 100% charge
Tablets
30 minutes – 30% charge
60 minutes – 50% charge
90 minutes – 70% charge
Usage
Before you can use the Solar Dual battery pack, you should charge it to its maximum capacity. This usually takes around 5 hours. You can tell that the battery pack is fully charged by pressing the power button, which activates the power level indicator. If all lights on the indicator are blue, you know that the battery has reached its maximum charge and you can start using the charger.
Charging of other devices via the power bank is done through either of the two USB ports located on the bottom side. The port on the left provides 1.0A output, and the port on the right provides 2.1A. All you need to do is connect your smartphone or tablet with the power bank and press and hold the power button for 3-5 seconds until the LED light comes on. When you want to stop the charging, you can either press down the power button again until the LED light turns off, or simply unplug the USB cable and wait for the power bank to automatically shut down after 90 seconds.
The integrated solar charger works automatically whenever the power bank is exposed to sunlight. It also works indoors, but you have to keep in mind that indoor lighting gives only 1/10th of the power of direct sunlight. Under ideal conditions, you can expect around 10% charge in approximately 2 hours – more than enough for emergency purposes.
Pros
IP65 rated water-resistance
Very high battery capacity
Built-in solar charger
Rugged construction
Integrated flashlight (simply double-click on power button)
Intelligent charging (over voltage, over current, short circuit protection)
Dual USB charging, 2.1 amp fast charging and 1 amp regular charging
LED display remaining power by 25% increments
Comes with a 1 amp USB car charger
Cons
Solar charging function essentially for emergency use only, charges extremely low, but its standard with most solar charging batteries, stick with wall charging when available
Though not its primary function, it lack of different power levels for the flashlight
Verdict
The Solar Dual USB 15,000mAh battery pack from Tough Tested can easily be recommended to anyone looking for a dependable device that won't fail even in extremely demanding conditions.