Are you tired of seeing the same old font style every time you use your Android device? Well, you're in luck! With stylish fonts for Android, you can now give your texts a fresh and stylish look. Whether you're messaging your friends, designing a graphic, or updating your social media status, unique and eye-catching fonts can make a huge difference.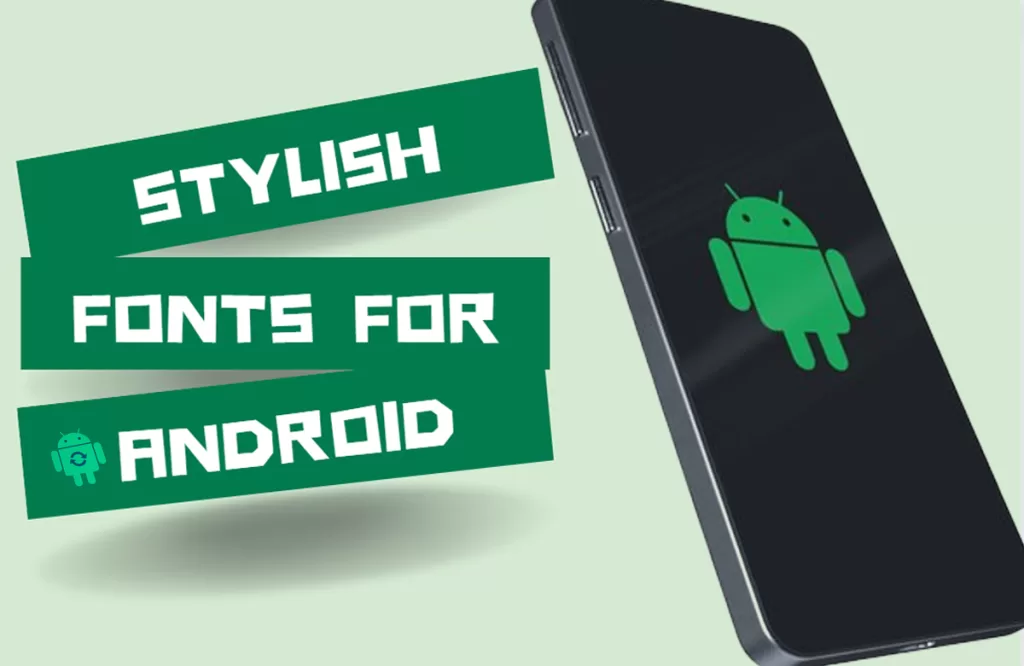 There are several options available when it comes to text fonts for Android. You can choose from many stylish fonts that instantly make your messages stand out. These fonts come in various styles and designs, allowing you to add a personal touch to your texts. From elegant and classic fonts to bold and funky ones, there's something for everyone's taste.
Not only can stylish fonts enhance the appearance of your text, but they also add a touch of creativity and individuality to your messages. So, why stick to the default Android font styles when you can explore a new world of exciting options? Transform your text with stylish fonts and make a statement with every message you send.
Getting Familiar with the Concept of Stylish Fonts
Stylish fonts are a piece of art and design that provides an amazing text option on your Android device. These typefaces come in various styles and can significantly enhance the look of the text displayed on your Android phone or tablet. A stylish font helps the message stand out and adds an aesthetic appeal, making it more visually appealing.
If you want a new way to display your texts or messages, using stylish fonts is perfect. It offers a cool and unique change from the usual default fonts on Android devices. Interestingly, there are a lot of free fonts available for download.
Where To Find Stylish Fonts?
The best and easiest way is through a font app designed specifically for Android devices. These apps allow users to download and install different text styles directly onto their devices. The Stylish Text app and Fonts app are two popular apps you can try.
These apps make it possible to change your device's font style, and some even let you create your signature fonts. Additionally, they support over 50 languages, making it even more user-friendly for people from different regions.
How To Use Stylish Fonts For Android?
Upon opening one of those font apps on your Android device, you'll find a list of fonts available for free download. Click on the font style you like, then select the "install" option. The installed font will then be available for use.
Please bear in mind that though these apps give an easy way to change your phone font design, they won't change the system's built-in default fonts due to restrictions imposed by device manufacturers such as Samsung and other developers.
Making Stylish Text Messages With Stylish Fonts
Once you have downloaded and installed your chosen stylish fonts, it's time to display them. You can use these typefaces when sending social media messages on platforms like Facebook and Instagram, giving you different text styles that fit your message character and case effectively.
On platforms where you have control over text input, such as in a keyboard for Android, you can change the font style from its default setting to any of your downloaded stylish fonts before typing out your message. With this ability to add style options to your phone font collection, you're not limited by what comes preinstalled with your Android device.
Exploring Over 50 Different Stylish Font Styles
The variety available in these apps will astound users and allow them to differentiate their devices through various customization options. They can select from more than 50 sleek-looking fonts that provide their texts with a unique design signature.
Moreover, these applications are compatible with the latest version of most Android devices and are frequently updated by developers who strive to perfect their application's performance and interface.
Key Takeaways When Using Font Apps
Using these applications requires minimal effort yet gives maximum functionality by letting one change the look of their texts completely. Not only do they give control over something typically so standard as our phones' texts, but they even allow us to get creative with our messages.
Getting stylish fonts for Android requires just a few simple clicks in applications designed specifically for this purpose – simple yet amazingly powerful tools that can help bring about beautiful changes in our routine digital interactions.
By making use of font apps available on Android devices, users can now enjoy adding an element of personal touch while using their devices in everyday life.
Stylish Fonts for Android FAQs
Question 1: How can I download stylish fonts for Android?

Answer: To download stylish fonts for your Android device, you can visit the Google Play Store and search for font apps such as "Fonts for Android" or "Stylish Fonts." These apps provide a wide variety of fonts that you can download and use on your device.

Question 2: Can I use stylish fonts on my Android device?

Answer: Yes, you can certainly use stylish fonts on your Android device. Once you have downloaded a font app from the Google Play Store, you can select and apply the desired fonts through the app's interface. The new font will then be applied to your device's system font, allowing you to enjoy a unique and stylish look.

Question 3: How do stylish fonts work on Android?

Answer: Stylish fonts work on Android by replacing the default system font with a new font of your choice. When you apply a stylish font using a font app, it modifies the system font files on your device, allowing you to see the selected font in various applications and interfaces.

Question 4: Can stylish fonts make my phone look more beautiful?

Answer: Absolutely! One of the key benefits of using stylish fonts on your Android device is that they can significantly enhance its visual appeal. By customizing the font, you can give your phone a unique and stylish look that aligns with your personal preferences.

Question 5: Which app provides the best stylish fonts for Android?

Answer: There are several font apps available on the Google Play Store that offer a wide range of stylish fonts for Android. Some popular options include "iFont," "GO Launcher Fonts," "HiFont," and "FontFix." Each app has its own collection of fonts, so you can explore different options to find the ones that suit your taste.

Question 6: Where can I find more information about stylish fonts for Android?

Answer: For more information about stylish fonts for Android, you can visit online communities and forums dedicated to Android customization. These platforms provide valuable insights and recommendations from other users who have explored a variety of fonts and apps. Additionally, you can also check out tech blogs and websites that specialize in Android tips and tricks.