Starfield, the upcoming space RPG from Bethesda Game Studios, contains over 120 unique Starfield star systems for players to explore. With such a vast amount of star systems, it can be overwhelming trying to navigate the galaxy. This guide provides an overview of every star system in Starfield to help you plan your journey through the Settled Systems.
Starfield aims to provide players with a massive open world galaxy to explore at their own pace. There are hundreds of planets across over 120 handcrafted star systems, each containing their own stories, characters, factions, resources, and mysteries to uncover.
While the freedom to chart your own course is part of the appeal, it helps to have a general roadmap of the star systems available. This guide lists every star system in Starfield along with its recommended player level, giving you a reference to help decide where to go next.
The star systems are loosely organized from left to right based on their position on the in-game star map. You can use this list to plot efficient exploration routes, identify star systems with challenges suitable to your current level, and mark off each system as you complete it. Keep this guide handy as you venture into the unknown!
Complete List of Starfield Star Systems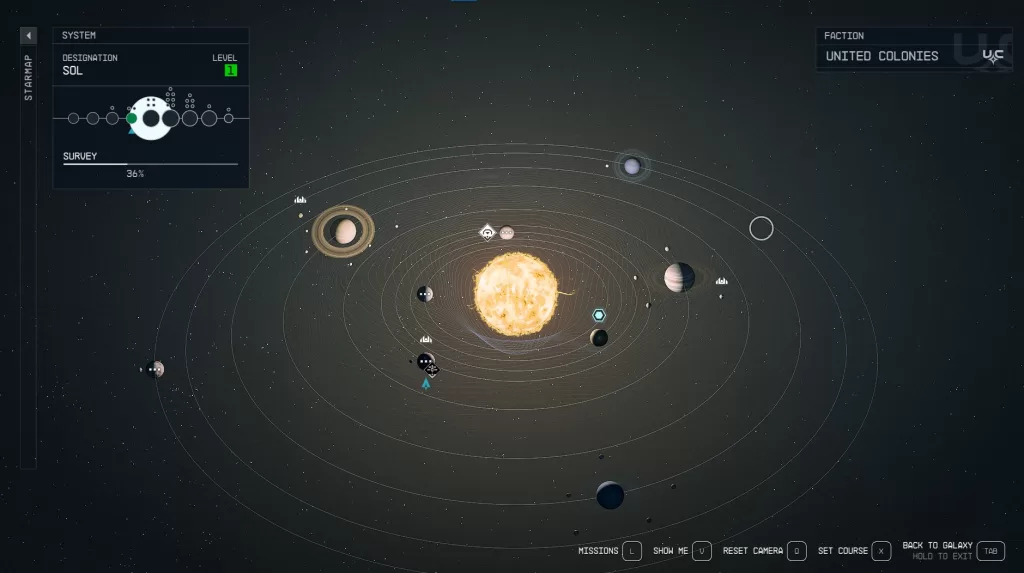 Here is the full list of all 120 star systems in Starfield made by a Redditor, ordered by recommended player level:
Here's your list numbered:
Star System | Level
Van Maanen's Star – 10
Tau Ceti – 10
Eridani – 20
Alpha Andraste – 30
Beta Andraste – 20
Carinae – 20
Eta Cassiopeia – 20
Kapteyn's Star – 10
Delta Pavonis – 25
Sirius – 5
The Pup – 10
Bessel – 10
Piazzi – 10
Altair – 15
Sol – 1
Alpha Centauri – 1
Toliman – 5
Luyten's Star – 10
Procyon A – 10
Procyon B – 5
Barnard's Star – 1
Wolf – 5
Narion – 1
Valo – 5
Vega – 25
Sakharov – 15
Guniibuu – 20
Indum – 20
Linnaeus – 45
Olympus – 10
Aranae – 15
Oborum Prime – 20
Oborum Proxima – 25
Andromas – 15
Nikola – 40
Newton – 55
Cheyenne – 1
Maheo – 1
Leviathan – 55
Lunara – 25
Alpha Tirna – 35
Beta Tirna – 35
Groombridge – 25
Kumasi – 25
Ursae Majoris – 30
Ursae Minoris – 20
Bradbury – 20
McClure – 20
Bardeen – 70
Nemeria – 35
Rasalhague – 40
Feynman – 55
Zeta Ophiuchi – 50
Xi Ophiuchi – 50
Volii – 5
Alpha Marae – 45
Beta Marae – 45
Schrodinger – 65
Lantana – 30
Jaffa – 35
Porrima – 30
Kryx – 20
Denebola – 30
Sagan – 15
Tidacha – 45
Alchiba – 50
Muphrid – 15
Arcturus – 15
Copernicus – 30
Copernicus Minor – 30
Heisenberg – 55
Celebrai – 70
Zosma – 50
Shoza – 35
Ixyll – 40
Freya – 40
Sparta – 60
Bolivar – 35
Rivera – 35
Nirvana – 40
Al-Battani – 35
Khayyam – 40
Ophion – 45
Decaran – 60
Hyla – 40
Heinlein – 45
Rutherford – 45
Moloch – 40
Nirah – 55
Serpentis – 55
Bara – 45
Masada – 75
Delta Vulpes – 50
Gamma Vulpes – 50
Alpha Ternion – 60
Beta Ternion – 40
Proxima Ternion – 65
Katydid – 75
Kang – 60
Zelazny – 60
Foucault – 60
Enlil – 65
Bannoc – 50
Bannoc Secondus – 50
Maal – 60
Charybdis – 65
Leonis – 65
Archimedes – 75
Bel – 55
Syrma – 55
Marduk – 70
Algorab – 70
Huygens – 75
Hawking – 75
Verne – 70
Bohr – 75
Fermi – 75
Strix – 70
Pyraas – 70
Rana – 65
As evidenced by this list, Starfield contains a wide range of star systems catering to different player levels. Early star systems like Sol, Alpha Centauri, and Barnard's Star only require level 1, while formidable sectors like Linnaeus and Leviathan recommend being level 45-55.
Highlighted Star Systems
While every star system in Starfield promises unique adventures, some stand out for their importance, challenge, or rewards. Here are some highlights from the list that interstellar explorers won't want to miss: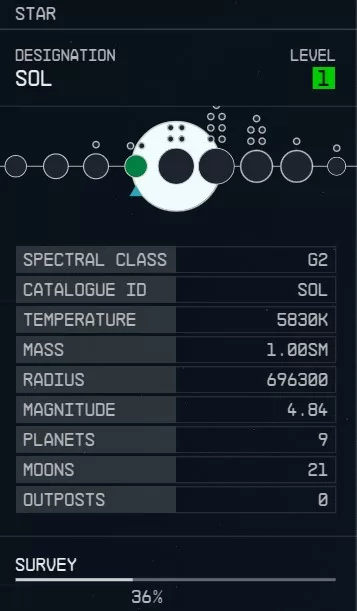 Sol – Earth's home star system needs no introduction. Visit historic locales on humanity's homeworld and see how civilization has progressed in the years since departing Earth.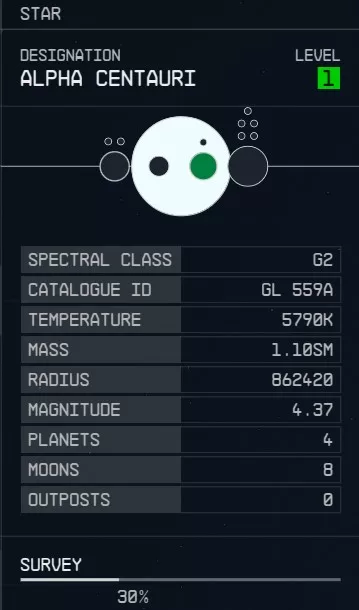 Alpha Centauri – The closest star system to Earth is an obvious early destination. Study the planets and moons to understand how our nearest stellar neighbors formed.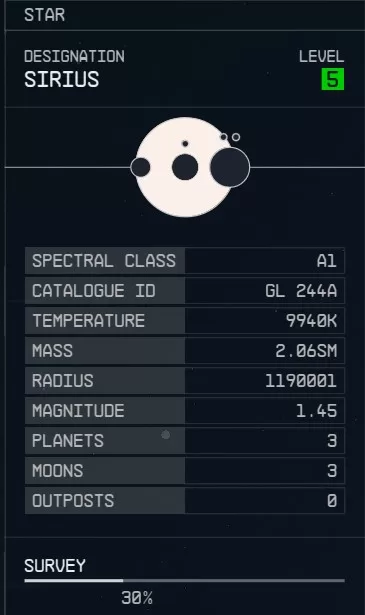 Sirius – The brightest star in Earth's night sky. Scour the system for clues to its strange luminous properties that have intrigued astronomers for centuries.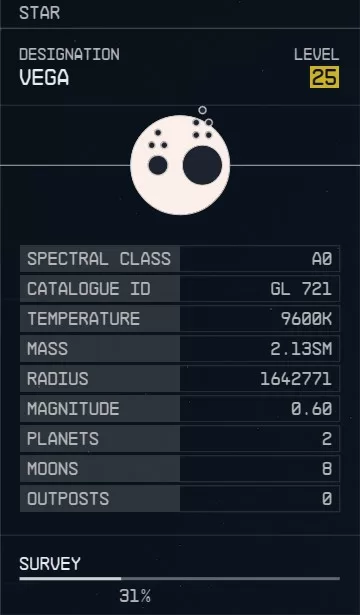 Vega – One of the most luminous stars visible from Earth. The difficult trek to this remote system promises lucrative rewards for those who make the journey.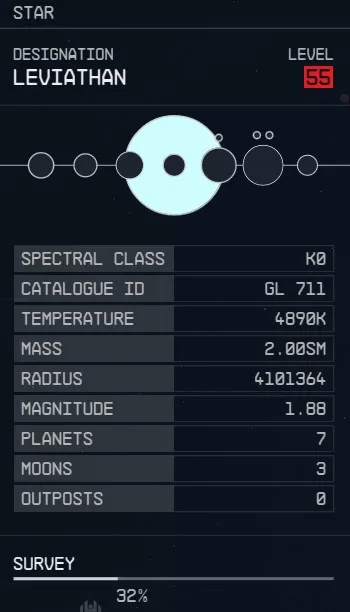 Leviathan – A mysterious system accessible only by warp gate. What monstrous secrets does this foreboding star system hold?
Masada – The seat of power for the tyrannical Crimson Fleet faction. Brave the dangers of this hostile system to unlock its hidden wealth.
Celebrai – Starfield's most challenging star system, rife with deadly cosmic anomalies. Surviving Celebrai is the ultimate test for elite explorers.
Tips for Exploring Star Systems
When venturing into a new star system, keep these tips in mind:
Check the recommended level before traveling to higher tier systems unprepared. Enemies and challenges scale up in difficulty.
Complete missions and activities in lower level systems first to upgrade your gear and ship. A more formidable vessel will better handle threats in deadlier sectors.
Scout ahead with long range scans before warping into unknown systems. This reveals points of interest and potential dangers.
Bring plenty of resources and crafting materials. New systems may not have stations stocked with supplies.
Visit space stations to find missions, services, traders, and intel about the region.
Investigate distress signals – they often lead to intriguing encounters, rare loot, and story threads to pull on.
Catalogue resources, collectibles, points of interest and settlements as you explore planets and moons. Valuable finds yield credits and crafting components.
Watch for environmental hazards like electrical storms, toxic atmospheres, extreme cold/heat, and radioactive areas.
Following these tips will help you safely traverse Starfield's star systems and uncover their secrets. Never hesitate to retreat and regroup if challenges arise. There's no shame in coming back later when you're better equipped!
My Early Game Exploration Story
As I finished the opening missions and departed Sol for the first time, I decided to be bold and attempt one of the level 20 systems nearby rather than playing it safe. The Eridani system seemed like the perfect next stop to test myself.
Upon exiting hyperspace, I immediately realized I may have bitten off more than I could chew. My long range scans detected a heavy Constellation battlecruiser patrolling near the space station. If its cannons turned on me, I'd be space dust in seconds with my dinky starter ship.
I cautiously approached the station while hugging the asteroids, hoping to break line of sight from the Constellation. Suddenly, my proximity alarm blared as a trio of outlaw interceptors screamed past in pursuit of…something. I had no interest in getting caught in the middle of their dogfight, so I slammed the thrusters and zipped behind the station.
The outlaws and my erstwhile foe, the Constellation cruiser, proceeded to battle it out as I watched safely from cover. Turrets on the station eventually assisted in destroying the interceptors, but not before they crippled the Constellation's engines with ion missiles.
As the cruiser drifted away venting plasma, I knew this was my chance. I left the protection of the station and blasted to the nearest moon before the Constellation could recover. After narrowly escaping that close call, I decided to play things safer and chart a course back to more beginner friendly star systems. There would be time to return to Eridani once I was better prepared!
Final Thoughts
I hope this guide gives you a helpful overview of the star systems available to explore in Starfield. The Settled Systems are full of wonders to encounter, factions to meet, resources to collect, and upgrades to earn. Just be sure to check the recommended levels and tread cautiously until your capabilities improve. The rewarding journey ahead will be filled with adventures, mysteries, and new frontiers to chart. See you among the stars!