Switching servers is an important troubleshooting skill in NBA 2K24, especially when your default region is experiencing issues. We explain why you may need to get a new server and the steps on how to change servers on NBA 2K24 in this guide.
Online multiplayer games like NBA 2K24 run on a network of regional game servers worldwide. Your account is automatically assigned to connect to the server closest to your geographical location for the lowest ping.
However, there are times when you may want or need to manually change which 2K24 server you connect to for better performance and reliability.
Why Would You Want To Change Servers in NBA 2K24?
There are a few key reasons you may want to connect to a different region's servers in NBA 2K24:
Your default server is down or having connection issues. Switching regions is an easy fix when your closest server is unreachable.
You want to play with friends or players located in other regions. You can reduce lag by selecting the server closest to them.
Certain game modes or events may have less competition or better matchmaking on different regional servers.
Playing on a foreign server can provide a unique experience and player pool you don't get on your local server.
Your region's server has a very high skill level. Switching to a smaller region may provide easier games against lesser competition.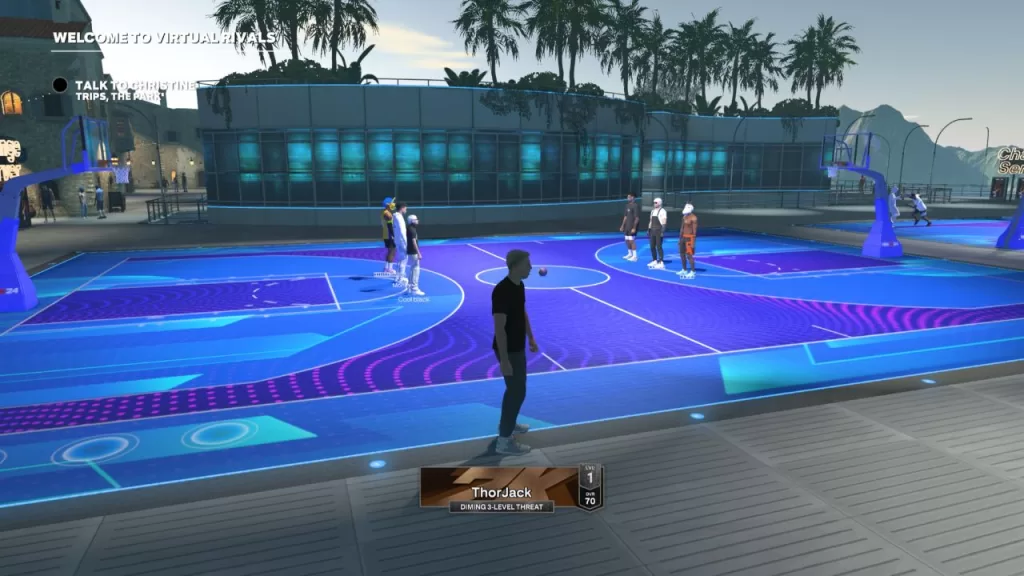 A Redditor's Server Struggles
One NBA 2K24 player on Reddit described their frustrating experience dealing with their default North American East server constantly going down at peak times:
"Every evening when I finally get free time to game, the East servers go down for maintenance or just crash altogether. I can never get online when I actually want to play. And 2K Support just says to wait it out instead of moving me to a working server. I wish I could manually select West or Europe servers so I could reliably play every night after work."
As this player's venting demonstrates, swapping servers manually provides more options when your default region lets you down.
Step-By-Step Guide On How To Change Servers On NBA 2K24
Fortunately, the steps on how to change servers on NBA 2K24 are simple.
Here's how it's done:
Run NBA 2K24 and launch MyCareer Mode.

Go to Virtual Rivals by staying in the What's New tab and pressing the Back button.

In the playground, find the sign that says Change Server.

Press A or confirm if you want to change the server.

Wait for the game to restart. You may also get a disconnection error or the NBA 2K24 error code 727e66ac. This is normal. Re-launch the NBA 2K24 if necessary.
Keep in mind that there's no option for you to select a specific region or server to play. When you confirm the button to change the server, the system automatically picks the best server for you.
Servers and Ping Matters in Online Modes
Note that switching servers most impacts network-dependent online modes like Park and Rec. Playing on a server farther from your physical location increases ping, which can introduce some lag. Make sure to balance performance and distance when choosing a 2K24 server.
For largely offline modes like MyCareer, your selected 2K24 server has less impact on gameplay. Focus more on stability and connecting to functioning servers as your primary goal.
How do I check the NBA 2K24 server status?
Sometimes, connection issues may occur in the game. You want to make sure that there's no issue with the servers.
Here are the key points on how to check the NBA 2K24 server status:
Go to the NBA 2K24 server status page at nba2k.com/gamestatus. This tracks whether the servers are up across different platforms.
You can also check the @NBA2K Twitter or X account. They often tweet updates on server status and known issues.
Visit subreddit r/NBA2k – Users frequently post about server issues here.
Use Down Detector to check for user-reported issues with NBA 2K24 servers.
Try logging into NBA 2K24. If you get error codes like 4b538e50, it likely indicates server problems.