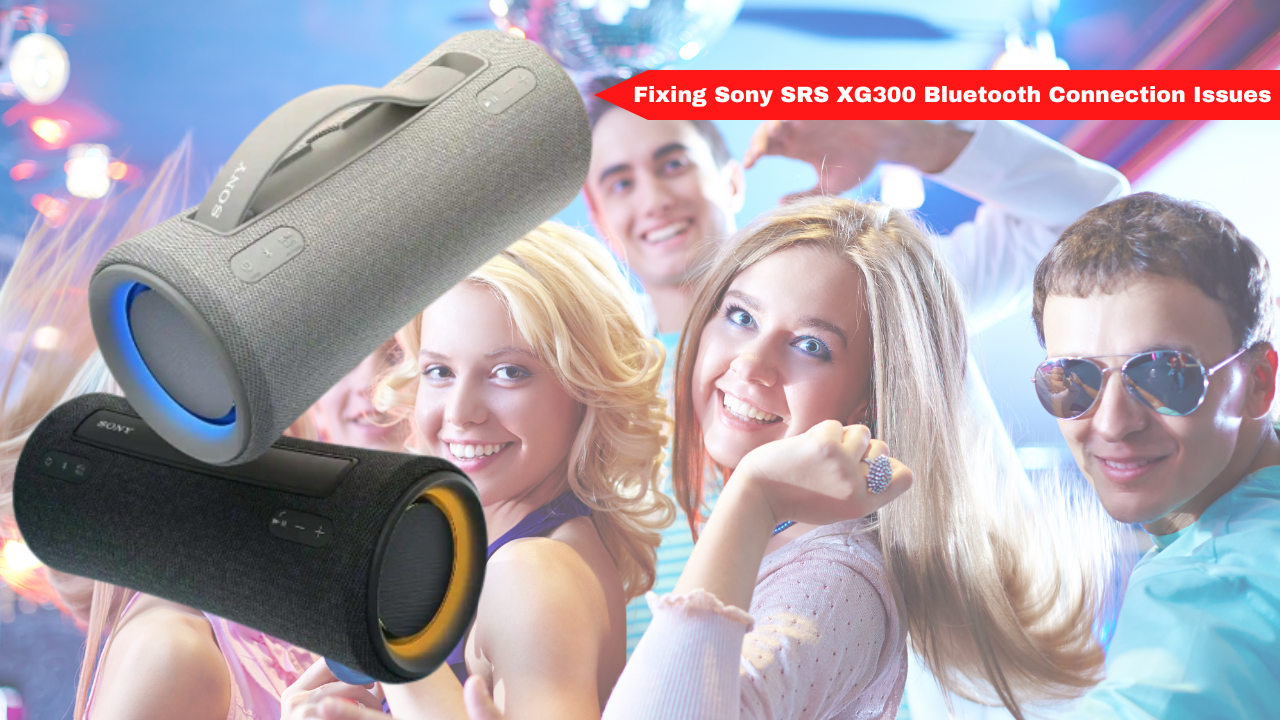 Are you experiencing Bluetooth connection issues with your Sony SRS XG300 speaker? There are various factors that can cause this issue such as a software glitch, low battery, device still in pairing mode, or paired devices not within range. To fix this, you will need to perform several troubleshooting steps.
The Sony SRS-XG300 is one of the latest compact, portable Bluetooth speaker models designed for delivering powerful and clear audio. The speaker has a long battery life of up to 25 hours, allowing you to enjoy your favorite music or podcasts for hours on end. The Sony SRS-XG300 supports Bluetooth 5.2 for stable wireless connections making it a great choice for anyone who wants great audio in a compact form factor.
Technical specifications:
SPEAKER TYPE: Woofer (L / R) / Tweeter (L / R)
SPEAKER SIZE: Tweeter Unit: Approx. ⌀20 mm, Woofer Unit: Approx. 61 mm x 68 mm
DIGITAL SOUND ENHANCEMENT ENGINE: Yes
CUSTOM EQ: Bass/Mid/Treble
HANDS-FREE FUNCTION: Yes
COMMUNICATION SYSTEM: Version 5.2
SUPPORTED CODECS: SBC, AAC, LDAC
SPEAKER ADD FUNCTION: Party Connect, Stereo Pair
FREQUENCY TRANSMISSION RANGE: 20 Hz–20,000 Hz (44.1 kHz sampling)
FREQUENCY RANGE: 2.4 GHz band
COMPATIBLE PROFILES: A2DP, AVRCP, HFP, SSP
INPUT AND OUTPUT TERMINALS: Stereo Mini Jack (IN), USB C, USB A (Only for DC OUT)
BATTERY LIFE: Approx. 25 H
WATER PROTECTION: IP67
POWER CONSUMPTION: Approx. 17 W
Why won't my Sony SRS XG300 speaker connect to Bluetooth?
One of the issues that you might experience with your Sony SRS XG300 Bluetooth speakers is when it does not seem to pair with other Bluetooth devices. It might refuse to connect to another Bluetooth device such as your smartphone (pairing problems) or your Sony SRS XG300 speaker might keep on disconnecting.
Here's what you can do to fix this Sony SRS XG300 Bluetooth connection issue.
Solution 1: Restart your Sony SRS XG300 Bluetooth speaker
One of the reasons why your Sony SRS XG300 speaker can't connect to another Bluetooth device is because of a software glitch . In order to fix this you should restart the Sony speaker i to refresh its software.
Restarting Sony SRS XG300 speaker
Press and hold the power button until the LED light of the speaker turns of
Wait for at least a minute.
Press and hold the power button to until the LED light will turn on and start flashing to indicate that the speaker is in turned on.
You will also need to restart the Bluetooth device the Sony Bluetooth speaker is connecting to. Once the Bluetooth device has restarted try to check if both devices can be successfully paired.
Solution 2: Make sure your Sony SRS XG300is in pairing mode
If this is the first time you will be using your Sony Bluetooth speaker with another Bluetooth device then you will need to pair both devices first.
To put the Sony SRS XG300 speaker in pairing mode
Turn on the speaker: Press the power button to turn on the speaker.
Enter pairing mode: Hold down the "Bluetooth" button on the speaker until the indicator light flashes rapidly, indicating that the speaker is in pairing mode.
Initiate pairing from your device: On your device, go to the Bluetooth settings and search for available Bluetooth devices. Select "SRS-XG300" from the list of available devices, and initiate the pairing process.
Confirm pairing: If prompted, confirm the pairing on both your device and the speaker.
Solution 3: Charge your Sony SRS XG300 speaker
One of the reasons why your speaker will have Bluetooth connectivity issues is because of a fully drained battery. You should make sure that the battery life of your Sony SRS XG300 is adequate.
To charge your Sony SRS XG300 speaker
Connect the charging cable to the speaker: Locate the USB-C charging port on the speaker and connect the charging cable to it.
Plug in the AC adapter: Connect the AC adapter to a power source, such as an electrical outlet.
Charge the speaker: The charging time for the Sony SRS XG300 speaker will depend on the battery level, but typically it takes around 10 mins to get 70 mins of music playback time.
Solution 4: Factory reset the Sony SRS XG300 speaker
Sometimes this Bluetooth pairing issue with another Bluetooth device is caused by the software of the speaker freezing. A factory reset should be done in this case which will delete the data on this Bluetooth speaker and bring it back to its default settings. Take note that the speaker cannot be initialized while the power is off.
To perform a factory reset on your Sony SRS XG300 speaker
While the speaker is turned on, press and hold the (play)/(call) button and the MEGA BASS button until the speaker turns off (5 seconds or more).
The speaker is initialized. Settings such as volume, etc., are restored to the default settings, and all pairing information is deleted.
Solution 5: Bring your Sony SRS XG300 speaker to a service center
There are instances when your portable speaker will experience connectivity problems because of hardware issues. This can be due to a faulty circuit board. If this is the case then you will need to have the speaker fixed at a service center.
Frequently Asked Questions
Can I use the Sony SRS XG300 speaker with a non-Bluetooth device?

No, the Sony SRS XG300 speaker is a Bluetooth-only speaker and does not have a 3.5mm auxiliary input.

Can I connect two Sony SRS XG300 speakers together for stereo sound?

Yes you can using the Party Connect function. Sony Party Connect is a feature that allows multiple Sony Bluetooth speakers to be connected together for a multi-room listening experience. Here's how to use it:.
Make sure all speakers are up-to-date: Update all of the Sony Bluetooth speakers that you want to use with Party Connect to the latest firmware version.
Put the speakers in pairing mode: Press and hold the "Bluetooth" button on each speaker until the indicator light starts flashing rapidly. This will put the speaker in pairing mode.
Connect the speakers: On your mobile device, go to the Bluetooth settings and search for available Bluetooth devices. Select all of the Sony speakers that you want to connect, and initiate the pairing process.
Use the Sony Music Center app: Once the speakers are paired with your device, you can use the Sony Music Center app to control the party connect feature. You can adjust the volume, skip tracks, and even choose different music for each speaker.
The Sony Music Center app is available for both Android and iOS devices. Some models of Sony Bluetooth speakers may also have a dedicated Party Connect button, which can be used to initiate the party connect feature without the app.

What is the battery life of the Sony SRS XG300?

The speaker can last 25 hours when fully charged.

How do I charge an Android device or other devices using the Sony SRS XB300 speaker?

You will be able to charge a USB device, such as a smartphone or iPhone, by connecting it to the speaker USB port. This can be done even if the speaker is not connected to an AC outlet as its battery can supply power to a USB device.

How do I make a Bluetooth connection with the Sony SRS X300?

Turn on the speaker.
Press the(BLUETOOTH) button. You hear a beep from the speaker and the(BLUETOOTH) indicator starts double flashing (pairing mode).
Select "SRS-XG300" on the Bluetooth device you are connecting. If a passkey is required on the display of the BLUETOOTH device, enter "0000."