If you're looking to get rid of your cable subscription, finding something to replace it with can be a difficult task with all of the different cord-cutting TV services available. Sling TV and DIrecTV Now are two popular ones that are available, and today we're going to show you which one is the better option for your home.
Sling TV and DIrecTV both offer different types of content, and since one is an independent company and the other is backed by AT&T, you're going to get two pretty different experiences. Follow along below, and we'll compare the two side by side.
Sling TV Vs. DirecTV Now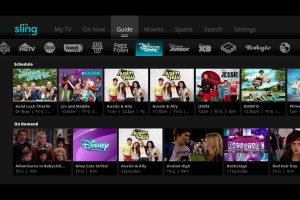 Sling TV is a unique TV service that operates on a "a la carte" business model. This means that you can purchase a base TV streaming package for only $20 a month, and then you can add on individual channels to your plan at an additional cost of a few bucks a month. Similar to a cable service, they have packages that will give you a whole bunch of channels for as low as $20 a month and as high as $40 a month.
Adding individual channels might be a great way for some people to save cash on their "cable" subscription. If you were previously paying a ton of money for a whole arsenal of channels, but only watched one or two, now you can purchase those two channels individually with Sling TV without having to pay upwards of $80 a month.
While you can add individual channels to your subscription, it's worth noting that Sling TV has most of the great stuff you can find on a normal cable subscriptions. If you're on the fence about getting rid of your cable subscription, keep in mind that you can still add channels like FOX, ABC, NBC, etc to your plan. You can even get favorites that are industry leaders in top television series like HBO and AMC. It costs extra, but you'll still get to keep up with the latest Game of Thrones or Walking Dead seasons.
The great thing about Sling TV is that there are no hidden fees. There's no contracts, there's no fees for ending your subscription — it's totally up to you for how long you want to have it as well as what you want to pay for.
The one downside is that there's not a whole lot of on-demand content outside of what the TV channels offer. You're also not going to be able to get your hands on any exclusive content that, say, Netflix might have — like House of Cards. Renting movies is kind of a downside, too. Sling TV offers some free for subscribers, but there's still a fee — $0.99 for most movies, but that can go all the way up to $4 for new releases.
One bonus that Sling TV does offer now is what it calls Cloud DVR. This one comes at an added cost, but it's excellent for those shows that you're looking forward to, but think you're going to miss. For example, think you're not going to make it home on time for your favorite show on HBO or AMC? Cloud DVR will let you go back and watch that show, no questions asked. Cloud DVR, depending on your subscription package, is considered to be an extra or addition that you'll have to add to your plan. But worry not, it only costs a couple of extra bucks!
Another neat thing about Sling TV is that there's opportunities for free gadgets — right now, based on a certain criteria, you could get a free Fire TV stick or Roku Express with your Sling TV purchase. If you're not sure about Sling TV, they do offer a 7-day free trial.
Get started with Sling TV at the link below.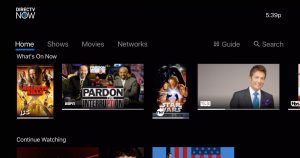 DirecTV Now
DirecTV Now is almost a replica of Sling TV in a lot of ways. There are similar as well as comparable channel lineups, you can rent movies, view On-Demand TV shows and more, just like Sling TV. The biggest differences come down to features.
For example, DirecTV Now doesn't have Cloud DVR, but Sling TV does. This lets you save movies and TV shows to watch at your leisure, and is something nonexistent on DirecTV. DirecTV Now also operates more like cable/satellite provider than offering a cord-cutting service. You pay for packages of TV, just like you would from a cable provider. With Sling TV, there are add-ons you can pay for individually. This makes Sling TV a whole lot cheaper option. DirecTV Now can actually end up costing you upwards of $80 in packages, not including movie rental fees. DirecTV Now even starts out at a whole $15 more per month than Sling TV — $35 a month.
On the other hand, DirectTV Now is definitely one of the nicer streaming platforms. The user interface is easier to manage, and it looks nicer overall. With a subscription to DirecTV Now you can catch all of your favorite programming that you would see on a traditional cable subscription. You can watch live, or you can use DirecTV Now's own DVR feature to record shows that you think you're going to miss! Never miss the next Game of Thrones episode again!
One of the areas where SlingTV actually lacks is in sports. DirecTV Now honestly excels in this area, putting you in touch with sports content from ESPN, ESPN2, Fox Sports, CBS Sports, and more. It does cost a little extra, but it's not a huge deal, as you still stay way under normal cable subscription costs.
You can try DirecTV Now out at the link below.
Buy on Amazon
Sling TV Vs. DirecTV Now Verdict
So, which service should you go for? DirecTV Now might be attractive with AT&T backing the service, but really, it resembles a cable or satellite provider in a lot of different ways. That said, we recommend going with Sling TV. You'll get a much better experience for nearly half the cost even if you go for Sling TV's most channel-packed option. You can save even more money if you decide to use Sling TV's most basic package and add their add-ons to your subscription based on what you want to watch.
Not only that, but Sling TV has much better features, such as Cloud DVR. If there's a show you're afraid of missing because of work or an event, Cloud DVR can digitally record it for you so you can watch it whenever you get around to it. DirecTV Now has no such feature. Sling TV is without a doubt the way to go.