The SOS feature of the Samsung Galaxy Watch 5 allows users to to make an SOS call and send and SOS message in an emergency. Your emergency contacts will receive an SOS message with your current location. This feature must be set up first before it can be used.
The Samsung Galaxy Watch 5 is the latest wearable device available in the market which runs on Google's wear OS and is primarily designed for the active individual. It has several health and fitness features allowing users to easily keep track of their workout data.
Technical Specifications:
Display: 1.19″ Sapphire Crystal Glass AMOLED 396 x 396px (40mm) or 1.36″ Sapphire Crystal Glass AMOED 450 x 450px (44mm)
CPU: Samsung Exynos W920
RAM: 1.5GB
Storage: 16GB
Battery: 284mAh (40mm) or 410 mAh (44mm)
Connectivity: NFC, GPS, Bluetooth 5.2, Wi-Fi (2.4Gz & 5Ghz), LTE (optional)
Durability: IP68, Waterproof to 50m (5ATM), MIL-STD-810H
Software: One UI Watch 4.5 atop Wear 3.5
Health sensors: Optical Heart Rate, Electrical Heart Sensor (ECG), Bioelectrical Impedance (BIA), Continuous SpO, Skin Temperature Sensor
Mobile payments: Samsung Pay, Google Wallet
Use your Samsung Galaxy Watch 5 in an emergency situation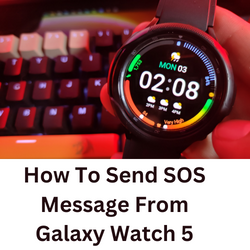 Most Android phones have an SOS feature that allows the user to easily call 911 or any emergency services when activated. The Samsung Galaxy Watch 5 also has this feature however it will send a message or SOS call one of your emergency contacts.
Before you can use this feature, you must first set it up.
Set up SOS from Galaxy wearable app of paired Android device
In order to use the SOS feature of the Galaxy Watch 5 you must first set it up using the Galaxy Wearable app of the paired phone.
On your paired phone, open the Samsung Wearable app.
Select your watch and tap Watch settings.
Scroll down to Safety and emergency and tap it.
Toggle on SOS with Home key. Configure additional settings like contacts to message and call.
You can choose multiple message recipients and one contact to call during an SOS activation.
Tap SOS with Home key to change how many key presses it takes to activate or turn on a countdown.
Send SOS requests using Samsung Galaxy Watch 5
After you have set up the SOS feature you can now use it to make an SOS call or send out SOS messages you your emergency contacts.
To send SOS requests during emergency situations just quickly press the watch's home key (Power key) three times. Your emergency contacts will receive SOS messages containing information about your current location and how to track you. If you also assigned contacts for SOS calls, your watch and connected phone will automatically call those contacts so you can speak to them.
Cancel the SOS alert
Your Galaxy Watch 5 will continue to send alerts and updated location information every 30 minutes for a span of 24 hours to your emergency contact. Here's how to cancel this once the emergency has passed.
Check if your watch is still sending alerts. A red siren icon will appear on your watch's home screen if it still is.
If you see the icon, swipe left on the home screen to access your notifications.
Tap the SOS notification, tap Stop sharing, and then tap the checkmark.
Frequently Asked Questions
Does the Galaxy Watch 5 SOS mode call 911?

No, it doesn't. It will only call your set emergency contacts.

Does SOS on the Galaxy Watch 5 work without my phone?

If you have the LTE model then it will work without a connected phone. If you have the Bluetooth model then it will need to be paired to a phone.

How to make Galaxy Watch 5 call 911 in emergency?

You can add 911 as one of your emergency contacts then force the watch to call this number in emergencies.

How do I pair my Galaxy Watch 5 to an Android phone?

To connect your Galaxy Watch to a mobile device, install the Galaxy Wearable app on the mobile device.
Launch Galaxy Wearable. If necessary, update the Galaxy Wearable app to the latest version.
Tap START THE JOURNEY.
Select your device on the screen. If you cannot find your device, tap MINE'S NOT HERE.
Tap TURN ON when the Bluetooth activation request window appears.
Follow the on-screen instructions to complete the connection.

Why does my Samsung Galaxy Watch keep getting disconnected from my phone?

Your Samsung Galaxy Watch will be disconnected due to a Bluetooth issue, software glitch, or because of hardware problems.